We know winter can be a drag with colder temperatures and nasty weather conditions, but who says that you can't still look stylish while staying warm? For years, the winter fashion rules dictated sticking to dark colors such as blacks and grays while bright and vibrant colors were strictly worn in the spring and summer months. This season, the rules have changed.  
Women can trade in their dark coat for one with more color. If you pair it with a neutral color palette, a bright coat can add spice to your outfit with little effort. For example, the nearly all-black outfit with pops of red, pictured above, is a standout. 
If color isn't really your style, liven up your outfits with winter accessories in interesting textures. You can play around with different hats, scarves, gloves or even a funky bag with faux-fur or leather details. 
Cold weather can put you in a dreary mood, but don't get stuck wearing your least flattering clothes. Winter does not have to be synonymous with baggy items. Instead, gravitate toward structured clothing that that provides warmth. Also, wearing layers not only protects from frigid temperatures, but it can also be a major fashion statement. Try pairing a button-down in an interesting print with a fitted sweater like the one below.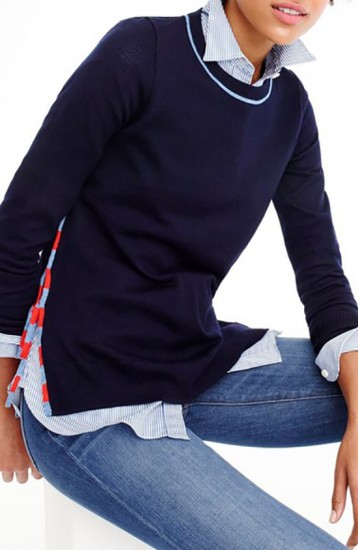 Staying on-trend is a must, but you should be wary of mixing too many trends in one outfit. Stick to one or two trends that you are most comfortable with. Wearing a faux-fur vest underneath a bright jacket, for example, might come off as distracting rather than polished.  
Men aren't an exception to the fashion rules. Spruce up your wardrobe this winter by experimenting with different styles of coats.This season, stick with a classic pea coat (like the one pictured below) or go trendy with a bomber jacket.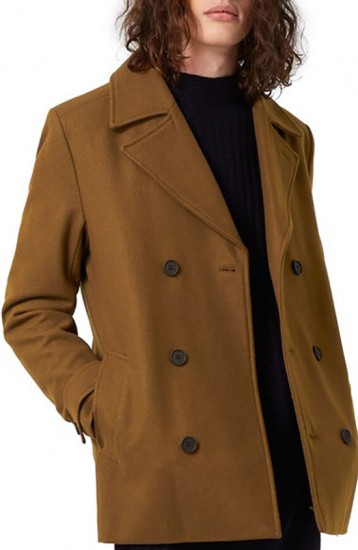 When in doubt, stick to the basics. Don a tailored suit, but play around with the shirt and tie in a bold print or color, or pair the jacket with fitted jeans, a sweater and a stylish pair of tennis shoes or Chelsea boots. And finally, avoid wearing too many contrasting colors at once. Stick to a cohesive color theme, like wearing an all-black outfit with a muted olive bomber jacket.