Luray's scenic backdrop and thriving businesses and arts and culture scene makes it an ideal spot for a second home, particularly those from Northern Virginia and D.C. Here's everything you need to know about finding the right vacation home in the area. Then, once you pick the spot, here's everything you need to see and do to properly take in all Luray has to offer.
Developments and Vacation Homes

Purchasing a second home
"More and more people are seeing this as an attractive place to come and retire to," says Dudley, adding that the new $37 million dollar hospital, Page Memorial Hospital, is a nice draw for retirees.
Pulling numbers from the past year, Bill Dudley of Bill Dudley and Associates Real Estate says of the 177 properties sold last year, he can comfortably say that 15 to 20 percent of those were second home or vacation home sales, indicating the great drive second home purchases have on the Luray market. And while retirees from the Metro-D.C. area tend to go for the $250,000-plus market, there are also lots available for custom build projects. And with a minimum lot size of 1.75 acres, 40 of which are available for sale as of this writing, and 50 parcels of land available with over 1.75 acres, there is plenty of opportunity for more growth. And these options are growing in popularity. "In 2016 we had 10 lot sales less than 1.75 acres and 21 sales of land with 1.75-plus acres," says Dudley. In 2015, the 10 lot sales at 1.75 acres stayed the same, yet lots at 1.75-plus acres only had 13 sales. Dudley also mentions that in town there are hundreds of platted lots that are ready for development if one were to want a downtown second home.
Related: What to do and see during a vacation in Luray
In downtown Luray, looking at a raw land lot, Dudley says you're looking at an average of $25,000 to $30,000 for the land with an additional $11,000 for sewer and water tap fees. Out in the county, with the minimum lot size of 1.75 acres, Dudley says you're looking at a similar price set for an average of $25,000 to $35,000 with about $18,000 in setting up well and septic.
For vacationing
If only taking a week or so to call yourself a resident of Luray is in your plans, there are numerous options for vacation rentals. Page County is considered the cabin capital of Virginia with over 250 cabin rentals to choose from. And whether you go for rustic options or high-end inns or bed-and-breakfasts, you're sure to find accommodations that will fit your desires.
Brookside Luxurious Vacation Cabins: This remodeled 1940s motel boasts log cabins decked out in Williamsburg-style furnishings and has been doing so for over 80 years. Located near the Shenandoah National Park entrance, the cabins have views of the naturalscapes via decks or sunrooms, and none of the cabins have TVs or phones.
Mountain Meadows Cottage: Mountain Meadow Cottage is available year-round and offers nightly and weekly options for the space with a screened-in porch and wrap-around deck overlooking the George Washington National Forest. Outfitted with a cook's kitchen, gas log fireplace in the living room, modern baths and an outdoor jetted hot tub, it is a modern sanctuary for respite.
Big Meadows Lodge: Its location, just a mile from mile 51 on Skyline Drive, gives credence to name of this lodge as this grassy meadow offers great nighttime stargazing. There is a range of accommodation available at this seasonal lodge, from rustic cabins to lodge rooms, and the lodge is pet-friendly, offers free Wi-Fi and houses The Spottswood Dining Room, New Market Taproom and Craft Shop in the main building. // 877-847-1919
The Mimslyn Inn: Part of the Historic Hotels of America and recently going through a multimillion-dollar renovation, The Mimslyn Inn is vacationing at its finest. There are 45 rooms available at the inn that all come with access to Circa '31 and The Speakeasy for dining, imbibing and entertainment, plus entrance to the spa with massage, reflexology, aromatherapy and more.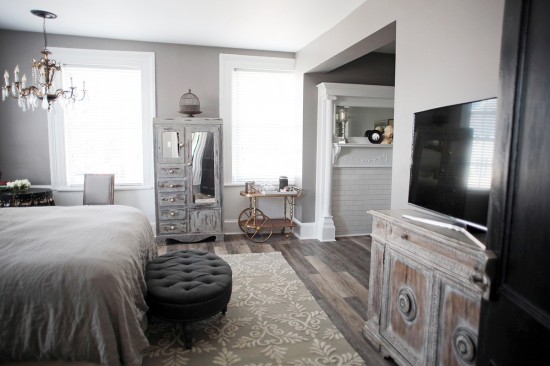 Hotel Laurance: This luxury hotel run by Loudoun resident Melinda Kramer just went through a renovation that brings patrons clean, modern decor with a cozy, inviting welcome, a far cry from its original purpose as a mercantile establishment in 1830. Later, in 1883, it was converted into a hotel. Today's version boasts 12 rooms, most with full kitchens, large flat-screen TVs, Wi-Fi and a continental breakfast.
Piney Hill Bed & Breakfast and Cottages: Covering 2 acres in Luray, Piney Hill Bed & Breakfast and Cottages offers its guests vistas and relaxation. There are two private cottages for rent and three guest rooms in the main house. Numerous packages are available for a bit of romance or adventure, and in true B&B form, a country-style breakfast is prepared each morning.
South Court Inn Bed and Breakfast: This classic Victorian-style home is replete with everything you need to feel like one of the family: 24/7 coffee, tea and snacks along with lounging spots throughout the home. Adelheid and Mike Osmers purchased the home in 2012—he is in the airline business; she is a former preschool teacher from Ashburn. The property includes the home with four rooms, two cottages, gardens, a rustic barn and carriage house.