Each county in Northern Virginia offers its residents something different, with communities, food and beer scenes, arts and culture offerings. If you're new to town, don't worry: We break down each county by its population, must-see destinations and more. Once you have the stats, scroll to the bottom of the page to see our handy guide to where you should live based on why you moved here.


History meets modern day in the City of Alexandria. While the city is getting its notice through the recent PBS drama Mercy Street, the city has so much more to offer its residents and visitors than just its historical significance to the nation. Known as a shopping mecca for local boutiques, Old Town holds so much more than quaint stores, coffee shops and museums. The historic area is one of the most expensive for real estate, and the homes all stick to a strict design keeping with the foundations of the initial town, but there are modern establishments and family-friendly options just off the main strip, mainly in the Del Ray area with its own Main Street shopping and restaurant scene. The arts are a huge component of the area with the famed Torpedo Factory on the waterfront, where massive development is underway to broaden the offerings. While it was a contention point with some residents, the property did get the go-ahead a couple years back and is now in the midst of bringing a public plaza, a riverfront promenade, an art walk and historical elements along with infrastructure improvements.
Dining
Alexandria isn't all shopping and art. At night Old Town supports two speakeasy-style cocktail bars, with both the decade-old PX and newcomer Captain Gregory's (attached to Sugar Shack, a shop dedicated to the most recent pastry to turn into a phenomenon: the doughnut). Recently revived with the addition of a pan-Asian family-style tasting menu, Restaurant Eve feels fresh again. Between the yoga and pilates studios in Del Ray, find a coffee and biscuit shop turning into an eclectic neighborhood dining room in Stomping Ground, and in the summer, the patio in front of the high-end Planet Wine turns into a laid-back party with sandwiches and a top-tier beer selection. Though D.C. is known for its Ethiopian restaurants, Virginia claims some, too. Check out the tiny, low-key Meda Market, and take home your own supply of berbere and enjera after dinner. –SG
Annual Events to Mark on Your Calendar
• St. Patrick's Day Parade (March)
• Historic Garden Tour of Alexandria (April)
• Memorial Day Jazz Festival (May)
• An American Celebration at Mount Vernon (July)
• USA & Alexandria Birthday Celebration (July)
• Alexandria Sidewalk Sale (August)
• Alexandria King Street Arts Festival (September)
• Art on the Avenue (October)
• Alexandria Film Festival (November)
• City of Alexandria Holiday Tree Lighting (November)
• Scottish Christmas Walk Weekend (December)
• Holiday Boat Parade of Lights (December)
Must Do
1. The Lyceum
2. George Washington Masonic National Memorial
3. Gadsby's Tavern Museum
4. Alexandria Black History Museum
5. Colonial Ghost Tour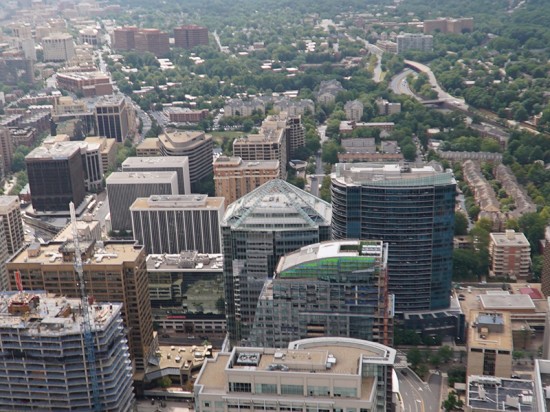 Arlington is the place for young professionals as it has the highest concentration of singles in the region; it is also the nightlife and innovation hub for the region. And while restaurants, bars and the latest craze in fitness boutiques line the streets throughout Clarendon and Ballston, it is also a place for families. This dense area is as close as you're going to get to a true urban feel, if that is what you're looking for, but that doesn't mean there aren't open spaces to play in. There is always something going on in Arlington that will appeal to any and every taste. Local theater? Check. Art galleries? Yes. Farmers markets? Many. Festivals? There are food ones, art ones, cultural ones and many more. It's even home to many of the nation's top treasures: Arlington National Cemetery, The Pentagon, The National 9/11 Pentagon Memorial and the Marine Corps War Memorial (Iwo Jima). Being made up of eight urban villages—Ballston, Clarendon, Columbia Pike, Courthouse, Crystal City, Pentagon City, Rosslyn and Shirlington—there is a little piece of every living experience possible.
Dining
Close to the city, Arlington restaurants rival those just over the river and can turn chefs into regional players. Already a national player, Mike Isabella's restaurants in Ballston, the more-than-ramen Japanese-inspired restaurant Yona and the Greek seafood mammoth Kapnos Taverna, are places where good food and a trendy scene intersect. Arlington can provide most edible necessities: exquisite drinks from the espresso bar are created at Caffé Aficionado (but if you want to sip languidly, go to Northside Social), the tiny Pupatella is known for pizza (and not the New York kind), and if you never thought you'd find barbecue at a proper sit-down restaurant with a well-curated beer list, try Texas Jack's. Like the rest of NoVA, Arlington can play to the world's taste with the Uyghur Queen Amannisa and the Szechuan Peter Chang. –SG
Annual Events to Mark on Your Calendar 
• Clarendon-Courthouse Mardi Gras Parade (February)
• Taste of Arlington (May)
• Air Force Association Cycling Classic (June)
• Columbia Pike Blues Festival (June)
• Fourth of July Celebration at Long Bridge Park (July)
• Arlington County Fair (August)
• Rosslyn Jazz Fest (September)
• Vintage Crystal: Sip & Salsa Wine Fest (September)
• Clarendon Day (September)
• Marine Corps Marathon (October)
Must Do
1. Arlington Arts Center
2. Arlington House
3. Lubber Run Park and Community Theater
4. Iota Club and Café
5. Theodore Roosevelt Island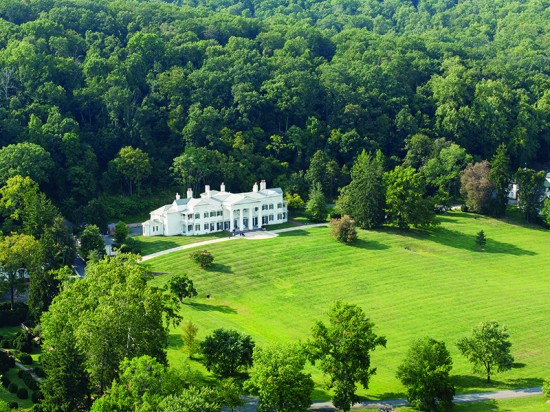 Loudoun has boomed over the last decade or so, changing its rural feel into full-blown suburb while still retaining the agricultural and small-town elements. The county encompasses seven towns—Hamilton, Hillsboro, Leesburg, Lovettsville, Middleburg, Purcellville and Round Hill—and 18 villages, each with a character all its own. While all areas of Loudoun are extremely family-friendly—really anything you desire can most likely be found in the county: think fine dining, historical sites, sporting activities, tech incubators and the like—the county has been getting noticed lately mostly for the entrepreneurial spirit of its residents in the wine and brewery game; there are 50 wineries and more than 20 breweries and distilleries. And while this industry is not only good for the county's cache and its bottom line, it speaks volumes for the entertainment and nightlife scene, something that is starting to grow in this western suburb.
Dining
The gazebo. The twinkle lights. The hills of green everywhere. There's not a more romantic scene or an adventurous dinner than that at The Restaurant at Patowmack Farm in Lovettsville. A few miles into downtown Lovettsville, Market Table Bistro turns seasonal fare into charming dishes. Loudoun County is where farm-to-table is not only the mantra of restaurants but where restaurants count farms as their neighbors. A curious cross between Korean and Cajun reveals the stunning Mokomandy, and the gift of Chipotle is not burritos but the trail of fast-casual chains, like the Pakistani-themed Toosso. –SG
Annual Events to Mark on Your Calendar
• Martin Luther King Jr. Day Annual March & Celebration (January)
• Easter Egg Hunt 2 Ida Lee Park (March or April)
• Leesburg Flower & Garden Show (April)
• Memorial Day Celebration (May)
• Western Loudoun Artist Studio Tour (June)
• Classic Car Show (June)
• Purcellville Wine and Food Festival (July)
• Loudoun County Fair (July-August)
• Luckett's Fair (August)
• Epicurience Virginia (September)
• Lovettsville Oktoberfest (September)
• Waterford Fair (October)
• Middleburg Film Festival (October)
• Kiwanis Halloween Parade (October)
• Christmas Tree & Menorah Lighting (December)
• Christmas in Middleburg Parade (December)
Must Do
1. Great Meadow's Twilight Polo
2. Morven Park
3. Oatlands Historic House and Gardens
4. Town of Middleburg
5. Ball's Bluff Battlefield Regional Park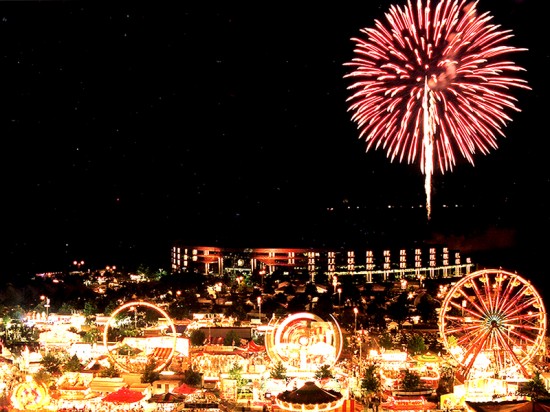 Fairfax County is the largest jurisdiction in Virginia and in the Metro-D.C. area (that's Northern Virginia, Maryland and Washington, D.C.) and reaches from the shores of the Potomac River to the valleys of the Bull Run Mountains. Not only is the county a major player in the region—eight Fortune 500 companies are headquartered here, and it has the second highest median household income—but it is also a major player in the nation, housing a number of intelligence agencies (CIA, NRO and NGA; get to know acronyms, you'll be hearing them a lot). Even though many of your neighbors are going to be high-ups, "spies" or working for these major employers, Fairfax is a booming county for families and young professionals. The county is as diverse as its residents, and the new development that is taking hold in the already dense county is only making living in this area better. The Tysons Corner and Reston areas are expanding in both housing and retail with the new Silver Line Metro stations, and the once industrial-focused Merrifield area got a recent face-lift with Mosaic, bringing another major town center to the area. And more retail is expected with the continuing Metro stops along the western edge of the county.
Dining
Go to Tysons Mall and you will see humans from all over the globe. Step outside and into Fairfax and there's the food to match. There's Annandale for Korean (try Kogiya for your first time with Korean barbecue) and Eden Center for Vietnamese (Rice Paper for sit-down and Bahn Ta Deli for bahn mi). There's Yemini in Springfield (Marib), Saudi in Vienna (Aldeerah) and Thai in Merrifield (Elephant Jumps). Buy a grass-fed cut of steak at RedApron or cross through the open door frame and let B Side cook it for you. Looking for Indian? Try the food court (Punjabi by Nature) in Chantilly's Lotte, a grocery store where each aisle transports you to a different country. –SG
Annual Events to Mark on Your Calendar
• Chocolate Lover's Festival (February)
• George Washington's Birthday Celebration at Mount Vernon (February)
• Mount Vernon's Spring Wine Festival & Sunset Tour (May)
• Celebrate Fairfax! Festival (June)
• Independence Day Celebration (July)
• Air & Scare (October)
• Mount Vernon's Fall Wine Festival & Sunset Tour (October)
• Mount Vernon Fall Harvest Family Days (October)
• Meadowlark Gardens' Winter Walk of Lights (November-January)
• Christmas at Mount Vernon (December)
Must Do
1. Cox Farms
2. George Washington's Distillery and Gristmill
3. Angelika Film Center
4. Meadowlark Botanical Gardens
5. Great Falls Park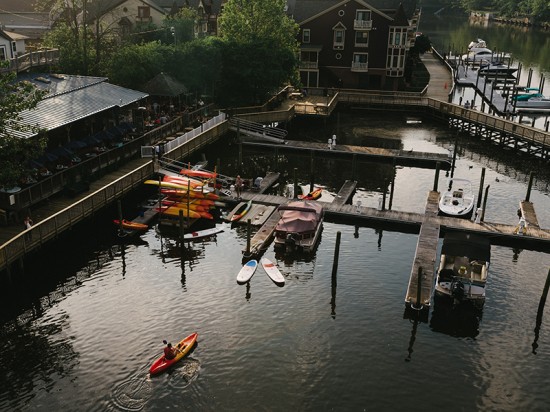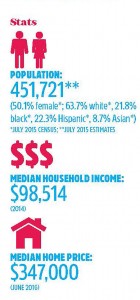 The area to the south on Interstate 95 gets a really bad rap solely based on traffic—seriously, it's best to avoid the roadway at all costs, especially on weekends, rush hours and really… just try to avoid it. But this growing suburb is bringing in culture, retail and restaurants that make it a place to get to and think about staying a while. Since it is a farther-out suburb from the metropolitan area, the real estate is less costly but still offers all the amenities homeowners want. And the natural resources this area holds are beautiful. The eastern section of Prince William—Woodbridge, Lake Ridge, Dumfries—abuts the Potomac River, which has a multitude of public spaces that take advantage of the scenery and water sport options. The western edge of the county—Gainesville, Haymarket, Manassas Park and the City of Manassas—includes rolling hills, forested trails and mountain peaks. There is a smorgasbord of chain retailers in the area, a lot of which can be found in and surrounding the popular Potomac Mills Outlet Mall, but there are also a ton of historical sites to be taken in: Bull Run Park, Weems-Botts Museum, Marine Corps Heritage Center and the soon-to-be-built Americans in Wartime Museum. And the county continues to grow. Though it is already the second most populous county in the state, Prince William is a hotbed for continued housing construction.
Dining
Step away from the Ikea food court. Try Manassas for Mexican with the unassuming Don Lencho or the live music at Mariachis Tequileria & Restaurant. Newly built-up Gainesville offers upscale Irish pub food with Grafton House and modern Austrian food in a cafe setting at Trummer's Coffee & Wine Bar. –SG
Annual Events to Mark on Your Calendar
• Manassas St. Patrick's Day Parade (March)
• Potomac Nationals Opening Day (April)
• Spring Gallery Walk in Old Town Manassas (May)
• Nokesville Day (May)
• Dumfries Multicultural Festival (May)
• Manassas Air Show (May)
• Arts Alive! (May)
• Taste of Historic Manassas (June)
• Manassas Heritage Railway Festival (June)
• Occoquan Spring Arts & Crafts Show (June)
• Manassas Wine & Jazz Festival (June)
• Fourth of July Celebration in Manassas and Dale City (July)
• Prince William County Fair (August)
• Civil War Weekend (August)
• Bands, Brews and BBQ (September)
• Haymarket Day (September)
• Prince William County Farm Tour (September)
• Occoquan Fall Arts & Crafts Show (September)
• Manassas Fall Jubilee (October)
• Fall Gallery Walk in Manassas (November)
• Manassas Veterans Day Parade (November)
• Christmas Parades in Manassas, Dumfries and Quantico (December)
• Merry Old Town in Manassas (December)
Must Do
1. Manassas Battlefield Park
2. Leesylvania State Park
3. Town of Occoquan
4. SplashDown Waterpark
5. Ben Lomond Historic Site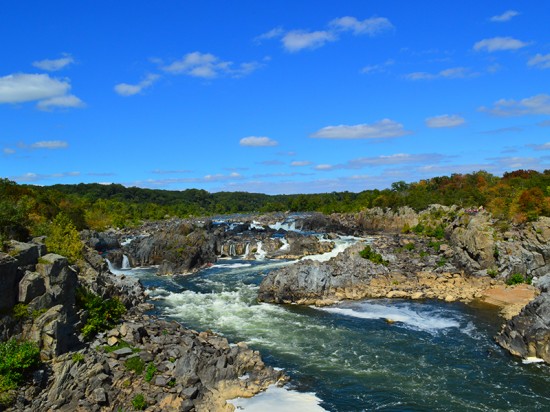 Where You Should Live Based on Why You Moved Here
If you… love the Real Housewives franchise and can afford the lifestyle
Then live in… Great Falls
If you… are a hipster, techie or wannabe entrepreneur
Then live in… Arlington
If you… are a wine aficionado
Then live in… Leesburg
If you… want to take your dog with you everywhere you go
Then live in… Alexandria
If you… have kids into every sport possible
Then live in… Fairfax
If you… love Pleasantville
Then live in… South Riding
If you… are just starting your family
Then live in… Gainesville
If you… don't own a car but still want to go places
Then live in… Arlington and Alexandria
If you… want walkability and family-friendliness
Then live in… Del Ray
If you… work in software development
Then live in… Reston or Herndon
If you… love beer
Then live in… anywhere
If you… are interested in city life but scared of the real city
Then live in… Clarendon
If you… are becoming a brewer
Then live in… Purcellville
If you… are retired and looking for love
Then live in… Sterling or Ashburn area
How to Survive our transit systems
• If you are going slow or standing on an escalator, stay to the right.
• HOT Lanes are free to those with three or more passengers, but you need a special pass for it.
• We're trying to be more bike-friendly, but if you're in an accident and you are partially at fault, you won't get a cent. (State laws might change on this soon.)
• For Metro, have your card out, swipe and move. Don't just stand there.
• If you plan on being a Metro user, think about purchasing a life raft and a gas mask and learning to avoid fireballs.
• Make sure your brakes are in good condition because you'll be riding them.
• Download a podcast, book or newspaper and practice your don't-talk-to-me look.
• Don't own a bike? Don't worry. There are bike-shares all over.
• Become an Uber driver.
• Fuel your rage @UnSuckDCMetro