There is a store on the main strip of King Street in downtown Leesburg that sets itself apart from the antique and shabby chic stores that have become synonymous with home decor shopping in the historic area: 27 South Interiors, which opened in April 2016 by husband-and-wife team Nick and Carolyn McCarter.
Walking into 27 South is like walking into a photo shoot for House Beautiful. Shopping at 27 South is more like hanging out, sipping a drink with friends and then realizing you can buy the piece of furniture you've been lounging on. That is exactly the feeling the McCarters were going for in their store.
"We want the store to be a personal, comfortable and laid-back shopping situation, an experience," says Carolyn whose design sense—"modern farmhouse with a casual, lived-in feel with a touch of chic and transitional elements"—is what started them on the route toward store ownership.
"We don't want to be the standard furniture store or even compete in the traditional store market," adds Nick.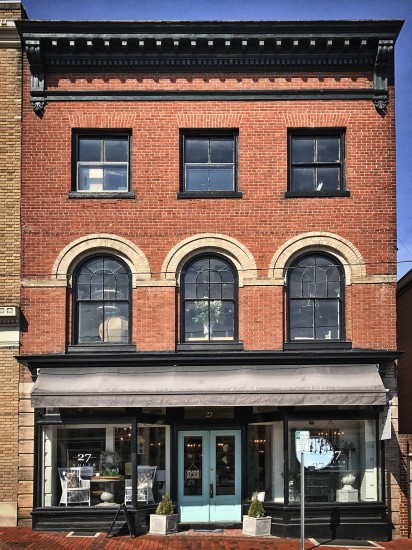 In 2011, the McCarters moved from a condo in Washington, D.C., to a home in Leesburg. They ran, and still run, an engineering firm in the city but have shifted their main focus to the 3,600-square-foot store. And business has been booming. The couple is already focusing on ways to expand their footprint, with Nick saying that after only a year they have a necessity to expand because the store is filled to the brim; they're filling it up and almost emptying it out and replenishing it weekly.
The business motto behind the store is not like the typical furniture store. Nick says they know their clientele is "a generation of Amazon Prime people. Everyone wants instant gratification, and we realize that." 27 South offers custom-designed pieces ready in six to eight weeks just like other stores, but shoppers can also walk out the same day with pieces. "We have people coming in right at the holidays or before a big party for pieces," says Nick, and 27 South accommodates. "We offer all of our products off of the floor. We also have a delivery service that delivers within the week, so turnaround is high."
The McCarters pride themselves on bringing shoppers a store filled with unique private labels, but they also offer popular brands such as Gabby Furniture and local brands like Syndey Hale candles and Lauren Bruce oil paintings. And they are looking to partner with more, as they've just brought in bath and body offerings to complement the furnishings, decor, lighting and artwork.
The couple is also going back to the root of why they opened the shop with interior design services, which they began offering earlier this year when clients began to ask, "'I want to live in your store; can you do this to my house?'" explains Carolyn.
When the McCarters lived in D.C., many friends who visited the couple's condo would ask who decorated their home, and once they found out it was Carolyn, who at the time also upcycled vintage furniture and sold it at antique stores, they asked for her services. She agreed, and Nick got involved by making farm-style furnishings like tables, mirrors and benches. Now they are back to styling as well, offering three levels of interior design services. The first level is as simple as a client bringing in a photo of their space and sitting down with Carolyn in-store to go over options of what to change, rearrange, purchase or DIY. The second level goes a bit further with Carolyn going out to the client's home and walking through design options, some as simple as reworking existing pieces. Then the full-on service is mainly for those who've bought a new home, with Carolyn helping design the home from top to bottom. // 27 South Interiors: 27 S. King St., Leesburg; 703-771-7025
(May 2017)