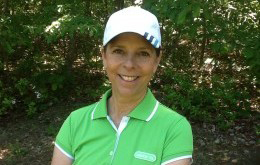 Leslie Guttenberg is proof that it's never too late to master the game of golf.
Growing up in the Midwest, Guttenberg was irritated that her high school's golf program didn't have a girls team. At age 28, she challenged herself to not only learn the game but also to successfully acquire membership in the Ladies Professional Golf Association. Since then, she has been named one of Golf for Women Magazine's Top 50 Women Teachers and now serves as the vice president of Guttenberg's Golf Development Programs in Aldie.
As a result, Guttenberg understands firsthand the advantages of getting clubs in the hands of beginners and young golfers. Likewise, she says Northern Virginia is "a mecca for golf and golf courses," making it a great place to teach and train beginner, amateur and professional golfers. Here, she offers her advice for the most common mistakes and struggles her students encounter:
Have reasonable expectations
Beginners who expect that, after their first swing, they will be steps away from winning The Masters are likely to get discouraged. Guttenberg notes that beginners who jump into the game with high expectations based on watching pros play on TV are likely to become frustrated when success is not immediate. Learning to grow your game takes time, discipline and practice, which will not materialize overnight.
Practice where it makes sense
As is the case in any sport, golf instruction and practice is available to accommodate different levels of experience. From casual greens to private golf courses, there is a course suitable for each player's unique skills and needs. Guttenberg recommends a par-3 golf course for her students.  "It is shorter and 100 times more fun [because] you play it in less time," she says.
Additionally, it's important to take into consideration the course regulations and protocols and respect experienced golfers.  Similarly, beginners should be aware of the talent levels each course attracts and the corresponding pressures and expectations. Instead of diving into a "high-end dollar" golf course, Guttenberg says it's better to choose a course that's less formal and more suitable to your skill level. 
Play with the right equipment
Golf is typically considered an expensive sport.  Equipment, training and course costs can be a deterrent for beginners, but Guttenberg says it's nevertheless important to invest in the right clubs—but that shouldn't set you back thousands of dollars. "I would rather someone buy four to six clubs that are lightweight and more modern instead of [using] 14-year-old clubs," she says. 
Guttenberg says beginners often use clubs that are too heavy, tall or outdated to properly learn the game. Starting out with the basics helps players develop their skills so that as they improve, "they can add clubs to their bag to make it [a] regulation set."