By Dave Ungrady
The allure of sleeping later than normal on a day off from work one mid-October morning failed to restrain my enthusiasm for a long, easy run. It had been months since I enjoyed such a run on the W&OD Trail, and I reached the trail by 6:30 a.m. Each yawning stride embraced the day's dawn. My energy elevated and my strides quickened as darkness softly yielded to an exhilarating light. Within minutes, I had reached my Zen zone.
About a mile in, near the trail's 40-mile mark, I looked left and noticed a rich, murky mist hanging over a space the size of a football field, hiding the early-fall glow of the trees' colorful leaves. The scene helped place me in a reflective mood. My new teaching job was barely two months old, and each new day brought a series of unanticipated challenges. Stay the course, I told myself; it will get better. And it has. I thought of the thousands of miles I've logged on the trail walking, running or inline skating with my dog, Kaylee; walking with my wife, Sharon, on pleasant evenings; and introducing our son, Cayden, to the trail in a stroller when he was only a few days old. He has since adopted the trail as his favorite playground and has embraced an appreciation for fitness I hope never wanes. I recalled the times I laughed with friends and chatted with new acquaintances and the time I broke down in hysterical tears, sitting alone on a hill overlooking the trail, a beer in hand, absorbing the reality of a dear friend taking his own life.  
But mostly, I remembered how the W&OD Trail has served as my force of nature. The trail is teasingly some 200 paces from the end of our driveway, and I've used it religiously. Barely a day has passed without a walk, run, inline skate or bike ride.
The W&OD Trail offers its own diverse ecosystem, composed of varied energies and interests. I have come to appreciate it as a bathtub of life. Comforting experiences float to the water's surface, entering the atmosphere like a soothing steam rising from the water. Moments of frustration and anger—brought on mostly by a small number of rude bicyclists—along with any negative thoughts I'm sorting through flush down the drain with the dirty bathwater. Still, the trail surrounds me mostly with a warm, refreshed feeling.
By the end of the October run, I solved problems, conceived ideas and accepted compromises. The run even helped me frame the lead to this story. The W&OD Trail again had birthed me into a new day with optimism and inspiration. I returned home energized and motivated to embrace any challenge.
My first trail experience took place in the early 1990s when I worked as an analyst for a running and racing television show that aired a piece about the Wheelchair Race of Champions, a 54-mile race that traveled the full length of the trail, from Purcellville to Arlington, before ending at Freedom Plaza in Washington, D.C. Along the way I enjoyed fresh visions of Ashburn, Reston, Herndon, Vienna and Falls Church. Throughout most of the '90s, I skated often on hilly portions near Rosslyn and Clarendon while I lived in North Arlington.
I've run in Rock Creek Park, on the Mount Vernon Trail and on park trails in Maryland and Virginia. None offer the exhilarating combination of raw nature, isolation and inspiration as the portion of the W&OD Trail from miles 35 near Leesburg to 44 in Purcellville, which I frequent.
During my first run along that stretch, I trotted up a small rise on the horse path within the first half-mile. I startled a herd of deer, which scampered away, their white tails bouncing not far in front of me. Over the next decade, I focused my fitness on that 9-mile section, using it mostly as I trained for the Boston and New York City marathons.
Kaylee has joined me on most of those runs, forging a bond that continues today with daily trail runs or walks. My first run with Kaylee proved ominous. I cavalierly allowed her off the leash, thinking she would bother no one. But toward the end Kaylee spotted a cyclist pedaling unthreateningly and chased him. She nipped at his feet as he rode, prompting profanities from the bicyclist, who called Loudoun County Animal Control to complain. They kindly reminded me to keep her on the leash.
Over the next 10 years, I experienced dozens of unpleasant run-ins with a small minority of reckless bicyclists. They fail to slow down or show any caution as they approach pedestrian trail users from behind without warning.
At times I've asked them calmly to next time offer a "heads up" as they rode away. But other times, regrettably, I spewed less kind responses when they reacted with hostility.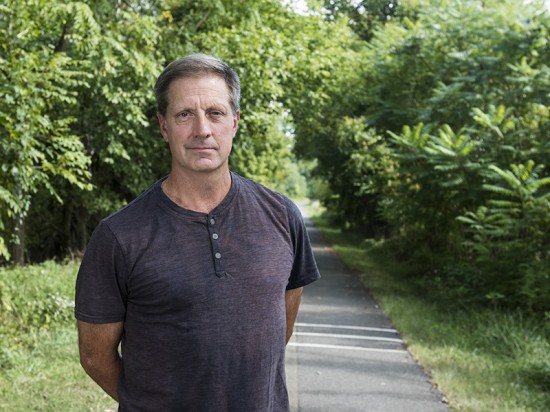 When Ed Heinz first started using the W&OD Trail in 1986, he lived near Marshall High School in Falls Church, about a half-mile from the trail. Heinz had been an avid hiker, most memorably as part of a Volksmarching club in Stuttgart, Germany, when he lived there while in the Air Force. Each Sunday he marched a 10-kilometer course with thousands of others hikers, finishing the venture with a tent-covered beer fest.
In Falls Church, the trail prompted Ed and his wife, Gloria, to take up bicycling. They rode lots of miles together on the trail, around 30 on a weekend. Access to the W&OD Trail became much easer for Heinz when he moved to Leesburg in 1996. He drove down a steep driveway from his house to the bottom near the back entrance to the Loudoun County Fairgrounds on Dry Mill Road. When I first saw Heinz about a decade later, he used the trail only for walking with his dog, Casey, an Australian shepherd. When we crossed paths on the trail, we stopped to chat for a minute or so. We'd update each other about our families. Heinz was one of the first people to meet Cayden, now 5. He proudly told me about the success of his children and sadly provided updates about Gloria's struggling health.
Heinz briskly walked 3 miles a day with Casey. Only days too hot kept the two off the trail. Rain was not a deterrent. "It was certainly a major part of our life," says Heinz, who spent 39 years in the Air Force and retired as a lieutenant general. "Walking on the trail was spiritual for me," he says. "I'm a big Catholic boy. I'd always say my morning prayers out there."
A couple of years ago I noticed Ed's trail walks had stopped. He and his wife, suffering from cognitive impairment, moved to a senior community in Potomac Falls in 2014. "I have very fond memories of that trail," he says wistfully. "Sometimes we'd see the sun come up. Just being out in the nature, seeing the vultures fly above us, the leaves changing colors, that old barn, sitting on top of the silo (near the fairgrounds). It was very peaceful."
The trail promotes character diversity. Over a decade I've met a potpourri of people, some more intimately than others. They have all enriched my life, but none more profoundly than Michelle Harris and John Davenport, whose Paeonian Springs house sits close to the trail. Their two retrievers have become buddies with Kaylee. They have been gracious party hosts for Sharon, Cayden and I and, more than anyone else we've met since we moved to Leesburg, have provided a familial presence.
Most encounters have been more fleeting, such as three young men walking briskly with heavy backpacks. Two were training to become Marines, the other to hike the Appalachian Trail. The young lady riding her Elliptigo trainer, who claimed to be an Elliptigo champion and a member of the Temple University track and field team. The group of thinly clad, thinly framed and fleet runners from Loudoun County High School's cross country teams, whose brisk August trail runs were annual reminders that the school year was fast approaching.
The disheveled man pushing a cart of what appeared to be his personal belongings. An American flag draped the front of the cart and a portable radio played rock music. A pint of Budweiser sat neatly in the cart. He kindly greeted Kaylee as we approached each other, and we talked for about a minute. I was impressed with his good cheer. "Not everybody is comfortable around me," he said with a British accent as Kaylee unthreateningly sniffed him, her tail wagging.
I asked him to have a good day. "I always do," he said. Later as I skated alone past him, he flashed a thumbs up.
The trail also compels compassion. Last March, adventurer and motivational speaker Rosie Swale-Pope parked her mobile tent in our neighbor's driveway, prompting the neighbor to perform a series of goodwill acts. Pope stepped off the trail to take a break from her cross-country walk to raise money for cancer research. It was a relatively simple trek for Pope, whose adventures include running around the world (21,000 miles) and sailing solo across the Atlantic Ocean. I enjoyed a brief chat with Pope before our neighbor invited her inside their home for a drink and some rest.
Pope later parked her tent near a bench on the trail across the street and slept there. She resumed her journey before daybreak and headed west toward Winchester. Over the next few days, our neighbor washed her clothes, gave her food and arranged a promotional event with Pope at the Winchester Medical Center, where she works.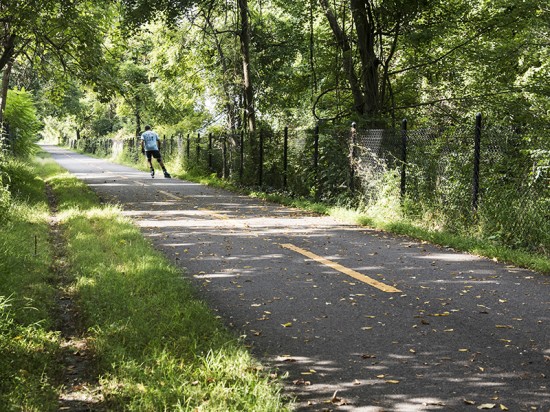 I first noticed her black-clad, trim figure approaching me one morning a couple of years ago as I walked west on the trail near mile marker 39. I was intrigued by seeing her almost every time I ventured there. Her shuffling stride, slow pace and arms swinging high to her face reminded me of a boxer on an easy training run. Last spring, I noticed a little belly bump, and then soon after I wondered why she passed me several times in the course of a two-mile walk. Tara Briggs later told me that she was well on in her pregnancy, and she wanted to stay close to her car in case of an emergency.
The trail is a lifeline for Briggs, and its pull even compelled her to run 10 miles—her typical daily distance—the day her son was born two summers ago.
Briggs was a distance runner on the cross country and track teams at Langley High School and James Madison University. When single and living in Reston, she took daily runs on the trail. After getting married, she and her husband moved to Waterford. She drives a few miles to the trail on early mornings and, once running, listens mostly to news programs on NPR.
"My daily morning run is like my cup of coffee," she says. "I start out drowsy, but as soon as I breathe in the fresh air, I'm awake and thinking about my day ahead. My runs allow me to process through my thoughts without even knowing it.
"The trail is my peace," she says.
For me, the trail has been a sanctuary that soothes my senses and soaks me in solace. It's where I find time to breathe deeply. On it I've enjoyed surreal predawn runs lit by a full moon, joined only by my moon shadow and the surrounding quiet. While walking I've yelled hellos to horses grazing on farms across Dry Mill Road and stared down confused deer mere feet from me. I have developed both comfortable and distant friendships with regulars and visitors, many whose names I don't know. I've shared smiles with Kaylee as we finished a run or walk and have witnessed Cayden's maturation as what I call the "mayor of the trail." Rarely does someone pass us without Cayden saying hello.
The trail even compelled me to a spell of civic activism. For a couple of years I joined the "Save the Trail" group that helped convince Dominion Virginia Power to build utility wires under the trail rather than above ground.
And to think, all of this nearly ended. We had planned to sell our house two summers ago, but my new teaching job in Leesburg changed those plans. Not knowing when its easy access may end, I savor every minute on the trail. I can't imagine a life without it.