Northern Virginians who dream of one day dominating the hospitality trade can test their business acumen at a growing number of communal kitchens, shared spaces evolving from utilitarian storehouses into hubs of economic development.
Would-be restaurateurs were once limited by the amount of available counter space at home and access to time-saving appliances. Renting commercial kitchens during off-hours was one way to grow the business. But scheduling often proved erratic, and professional guidance was typically off the table.
Today there's comprehensive food labs Chefscape and Frontier Kitchen.
Chefscape, which debuted last spring in Ashburn, has attracted a clientele composed of seasoned chefs, expansion-minded bakers and raring-to-go food truckers.
Co-founder Rob Batchelder knows the terrain well, having operated a pair of food trucks (Union Dog, Tailgater Toby) for several years.
"We can provide value because we've done the trucks," Batchelder says of the real-world experience he shares with new recruits, adding, "We can't make your business successful. But we can help you get from A to B very quickly."
Batchelder books appearances at local wineries, breweries and festivals on behalf of food truckers (for a fee), arranges pop-up dinners led by participating chefs and assembles holiday menus from members' specialties.
Chefscape also hosts educational seminars in conjunction with pro-business groups such as Loudoun County Department of Economic Development and the Mason Enterprise Center to assist clients with administrative challenges.
Tailgater Toby was recently converted into a promotional vehicle members can use to road-test dining concepts. "We're going to start our own truck leasing program to help them basically kick-start everything," he says. "They can build up their audience prior to spending thousands on a truck they've never really operated before."
Frontier Kitchen CEO Brenda Brown has seen her business double since temporarily setting up shop two years ago, a growth spurt that's resulted in over 10,000 square feet of launchpad split between her distribution base in Lorton and a baking-friendly operation in Haymarket.
"We're not just offering a facility. We're offering a full service for startups," she says of her vision.
Brown's background in business consulting informs the Foundations Program, a 16-week boot camp focused on training members to tackle regulations, certifications, web design, fundraising and any other potential impediments to success.
"They'll have a chance to pitch their company to a panel of investors at graduation," she says of the Shark Tank-like vetting process awaiting the inaugural cohort.
Her latest innovation: building a relationship with Amazon's food shopping outlet, Fresh. With over a dozen members already shipping their wares (gourmet ice cream, baklava, salsas) across the mid-Atlantic, Brown is beefing up ancillary services—setting up virtual stores, shooting promotional pictures, packing up and shipping out orders for clients—for those interested in online sales.
"We don't want to keep them forever," Brown says. "If we're being successful, they're going to graduate out into their own space as a stable, strong company. And that's our goal."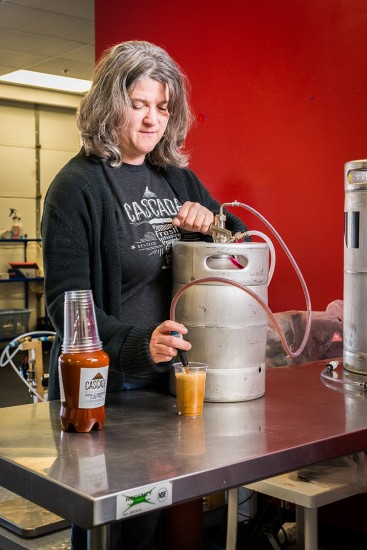 Cascade Beverage Company
Having a Gas
Cascade Beverage Company co-founder Jane Hyde will be the first to admit she knew very little about pressurized java before her godson talked up the trendy beverage.
"We had heard of nitro coffee, but we had never had it," Hyde says. In researching nitrogenation, her husband, Rob, a retired Air Force pilot and engineer, concluded that the nascent process is "inconsistent and unreliable."
Experimentation led to discovery. "We basically wound up making coffee shaving cream," Hyde says of their aha! moment.
The foam-filled trial-and-error has evolved into a line of shelf-stable coffees, teas and kombucha. They've also developed a custom BPA-free growler to transport their goods as well as proprietary technology allowing existing vendors to easily adopt their methods. "We absolutely see the opportunity to distribute," Hyde says.
Hyde treasures her time at Frontier Kitchen—"it has been a phenomenal service," she says—but already has her eye on a new conquest.
"We're hoping to be in Union Kitchen soon," she says of the D.C.-based incubator and retail space. "Not as a client. But we want to be selling in their market."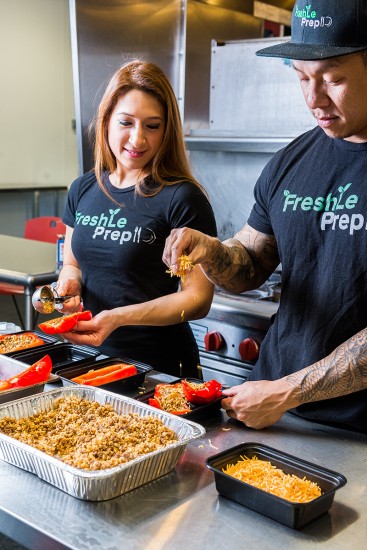 FreshLe Prep
Leading By Example
FreshLe Prep co-founder John Le's father owned a restaurant in Eden Center for 15 years, providing Le a peek into the service industry. Excess weight—"I was the 'big guy,'" he says—pushed Le to reinvent himself via exercise and nutritionally balanced meals. He's shed 70 pounds in the process.
While he was tending bar downtown, his co-workers often commented on the appetizing lunches he'd bring from home. The interest fed Le's desire to strike out on his own.
He started making carefully proportioned meals—each order contains 5 ounces of protein (save for steak-based offerings, which feature 4 ounces of meat) plus vegetables and carbs—for friends. Thanks to Frontier Kitchen, he now fills between 400 and 700 orders per week.
Menu options range from turkey meatloaf to reduced-calorie shaking beef (a Vietnamese dish referring to the pan-shaking cooking method.) "We cater to everybody," he says.
Within the next three years he and co-founder Vi Nguyen hope to open a series of Chipotle-like locations featuring their healthful cuisine.
"We want to be our own success story … living proof that you can do this," Nguyen says. "There's no turning back now."
Flavour
Rolling With It
Ammar Ikram might have kept punching a clock at chain steakhouses and Buffalo Wing Factory had he not encountered one seminal production.
"I got the motivation from this movie called Chef," Ikram says of the apparently life-changing flick (written, produced, directed by and starring Jon Favreau) prompting him to try something different.
He quit working, enrolled in culinary school and later spent six months manning one of Batchelder's trucks before investing in his own (set to debut this month).
The Pakistani chef enjoys spicing things up. "Taking American dishes and putting a little twist to them" is how he describes his passion for locally sourced yet globally minded cuisine. Ikram's sliders feature short ribs infused with garam masala. He puts his stamp on mac and cheese by weaving cumin, oregano and truffle oil into the Southern dish.
Ikram has made it his mission to introduce new flavors. "I would like to open a brick-and-mortar with a couple of trucks as well," he says.
Until then, he plans to continue participating in Chefscape's member showcases. And he'll keep pumping Batchelder for tips on how to stay ahead of the competition.
"If I do have a question, I call Chefscape," says Ikram.