Appetites: A Cookbook by Anthony Bourdain
FOR: The Cheflebrity Groupie
From those who fell in love with Tony Bourdain in his back-of-the-house tell-all Kitchen Confidential to those now watching the silver fox on CNN's Parts Unknown, readers will relish his first cookbook in a decade, Appetites, delivering the same blunt, trash-talking tone that is somehow still endearing coming from a 60-year-old millionaire. Recipes reflect his life with Portuguese squid and octopus soup from childhood summers in Provincetown and Kuching-style laksa from today's noodle-slurping in Malaysia. And now, family man: Bourdain provides a Thanksgiving game plan with instructions for a "stunt" and "business" turkey and the permission to smoke a joint when guests leave. Maybe he hasn't changed.
The Short Stack Cookbook: Ingredients that Speak Volumes by Ni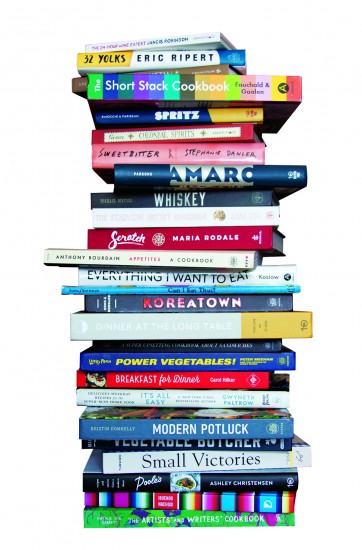 ck Fauchald, Kaitlyn Goalen and the contributors of Short Stack Editions
For: The Modern Home Cook
Divided into 18 chapters anchored by ingredients common, trendy and timeless all at once—apples, eggs, cheddar cheese, Greek yogurt, kale—The Short Stack Cookbook is a friendly and inventive friend for the modern kitchen. Tacos here are filled with crispy chicken skin (skin is the new chip), and cherry tomatoes are oven-dried to the depths of pepperoni (produce is the new meat). The design is clever with vivid photography of brightly lit shots and even bolder patterns signaling the end of the dark and moody snaps of precious, pretentious cookbook culture.
Dinner at the Long Table by Andrew Tarlow and Anna Dunn
FOR: The Brooklyn Wannabe
It is with no hyperbole that Kate Huling writes in the introduction of husband Andrew Tarlow's cookbook, "There is no getting around the fact that these dishes are challenging." Duck confit for a cassoulet, fish stock for a bouillabaisse, roasted bone marrow for a vinaigrette over grilled eggplant. In his first book, Tarlow, known for his Brooklyn empire starting with Diner, captures moments in time, meals of meaning, in Dinner at the Long Table. It is a soulful, gorgeous book of full-page photos and powerful, sparse instructions: "The shape of pasta should be carefully considered and debated," and later, on portion, "Restraint is romantic." Written with Anna Dunn, editor of Diner Journal, which was started a decade ago by Tarlow, Long Table is a sumptuous, coffee table-beautiful tome based on ambitious meals made for friends, family and that bartender you have your eye on with the colorful sleeve.
Amaro: The Spirited World of Bittersweet, Herbal Liqueurs with Cocktails, Recipes and Formulas by Brad Thomas Parsons
FOR: The Cocktail Geek
With the recent release of single-subject books celebrating the Negroni and the spritz, it was time for an encyclopedic embrace of amaro. Italian for bitter, amaro's generous definition includes not only its classic role as a digestif (after-dinner drink) but also a range of bitter liqueurs including Campari, Aperol, Fernet-Branca and the German Jägermeister, with which we can admit we're probably already familiar. The book introduces a new wave of American distillers, like D.C.'s Don Ciccio and Figli (worth a visit). With a primer on the complexities of defining amaro, plus entries on particular amaros, cocktail recipes and instructions for DIY amaro, this attractive book with modern matte pages and understated photography makes bitter easy to swallow.
Modern Potluck: Beautiful Food to Share by Kristin Donnelly
FOR: The Host (who can't spend all day in the kitchen)
If there's a cookbook outlining deviled egg fillings by season, Modern Potluck is it. (Winter calls for smoked paprika and toasted rosemary, by the way.) Miso updates molasses baked beans, and kimchi enlivens corn bread. But there's more to Modern Potluck than rejiggered classics, though of course there's a chapter dedicated to the 9-by-13-inch pan, the casserole's permanent address. Mimicking the tenets of cooking today, recipes are heavy on seasonal vegetables and global influences and light on processed foods. And like any good host, she offers something to wash it all down: spiked punch.