By Dana DiSante and Cameron Wall
March 2017 marks the 30th anniversary of Women's History Month becoming a nationally recognized holiday after the National Women's History Project petitioned Congress. In each successive year, the sitting president has signed a proclamation marking that year's March National Women's History Month, featuring a theme for the year's celebrations and honoring a group of women who have made an impact in business, education, technology, economics and civics.
Business Women's Giving Circle
What is Business Women's Giving Circle?
Donations are pooled from different businesswomen and given to young women and girl groups to promote women in leadership, entrepreneurship and STEM.
"This is a group of women who pay it forward to the next generation. They appreciate where they came from, and they want to give back to those individuals through the education system and give them the opportunity to be even better in future generations." –Wendy Lemieux, member of BWGC
"The ability to be in a group where it is comprised of women from different organizations, different industries, different backgrounds sitting in a room making decisions together is an incredibly rewarding experience." –Faith Boettger, founder of BWGC
How did you get started with BWGC?
"I had the good fortune of talking to some folks at the Community Foundation and learned that this was something they were going to be starting up, and what resonated about the group with me was the opportunity not only to make a difference personally through my contributions but also to have an opportunity to network with other women I would otherwise not have an opportunity to meet." –FB
How can people get involved?
"The way to get involved is call us and join! And come to our events. It's an opportunity to meet the other members, it's an opportunity to meet some of the grantees that we've supported or that we are supporting, and it's a good way to get to know us. Normally, once someone comes to an event once or twice, they usually join because they're so inspired." –Sari Raskin, director of grants and community leadership for BWGC
Martha Washington from Mount Vernon
Played by Mary Wiseman
How does Women's History Month influence character interpretation?
I was at the Colonial Williamsburg Foundation, working as the artistic director for character interpretation. It occurred to me we needed to do something for women, so I got together a group of women who could have some influence at the foundation. In 1991, I formed what was called the Women's History Project or Forum for Women in History. We decided to have themed programs each year [during] Women's History Month. One of the themes I chose in my early year of programming was called "Beside the Great Man." Notice I didn't call it "behind the great man." That is the program that brought me to Martha Washington. I realize history has really forgotten this wonderful, extraordinary woman. She led me to explore women's history.
What surprised you about Martha Washington and other women in NoVA?
I remember being at the research library at Mount Vernon and almost causing too much noise as I read about her life. [I was] thinking, "Why doesn't anyone know this? Why don't they know that she went to every single camp during the war?" She set the entire path for all first ladies to follow.
What role did Martha Washington have as the president's wife and first lady?
History has left her behind. Reading all the accounts of visitors who came to Mount Vernon, who knew her during the presidency, [and] the soldiers who loved her when she cared for them. They called [her] Lady Washington, the soldiers' friend.
We have wonderful letters [describing her] taking up the duties managing a huge tobacco plantation, [which was] over 17,000 acres. She organized sewing circles; the women [went] to these horrible situations in the camps filled with danger [and] deprivation. She [went to] every single [camp]. She got stuck in the snow trying to get to Valley Forge.
How did Martha Washington set the stage for future women and first ladies?
She touched so many lives and proved you didn't have to marry again. Even though she's known as the general's lady, she was managing a business on her own. She led the women to their patriotism and is a part of the fabric in the beginning of our country.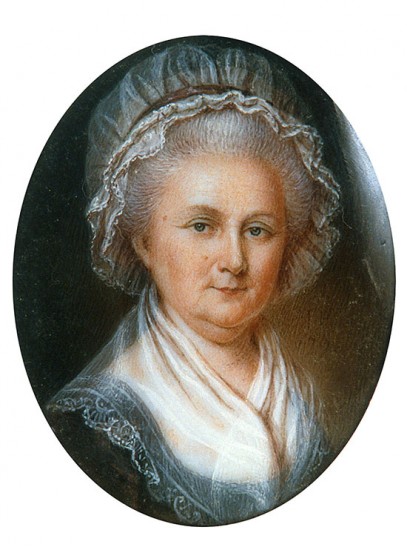 NoVA Women Empowering the Community
Terri Stagi, founder and president of Women Giving Back
What started the Women Giving Back organization?
I joined the board of HomeAid Northern Virginia in 2003, which is the charitable arm of the Northern Virginia Building Industry Association. I was on the board [as] the only female. They tasked me with finding a way to get the women in the building industry involved. I went to a bunch of different shelters, and it became obvious that clothing was the biggest problem.
What is Women Giving Back?
We are 100 percent volunteer. This is our passion. It's really incredible people don't realize how much ability they have to give back. I found when people show up to volunteer once, they're back every single time. We have over 2,500 volunteers, majority of them women. We have a lot of mother-daughter service groups and even the new students from George Mason University who participate in Women Giving Back as a part of new student orientation.
We put together a group that would take gently used clothing and distribute it to the shelters. In many cases, women are escaping abusive situations with their children who are escaping with only the clothes on their back. We started in a closet, and now we've grown into an 11,000-square-foot facility.
How can people get involved in NoVA?
Just do it. We welcome everybody. We have Girl Scout troops and elderly people. At the events, women walk in feeling like they're nobody, but after we get them their clothing, they walk out standing up straight and smiling. You go home and think, "I really made a difference."
Junior League of Northern Virginia
Lori Ann M. Terjesen, Ph.D., president, 2016-2017
The mission of the Junior League is to promote volunteerism, to develop the potential of women and to improve the community. In 1958, Northern Virginia women wanted to make a difference in their community, so the Service League was formed. The group was later changed to the Service League of Arlington, and in 1985, the Service League formally joined the Association of Junior Leagues as the Junior League of Northern Virginia.
Lori Ann M. Terjesen explains, "leadership training is an element of the Junior League that is a nice bonus" for people who already have an interest in volunteerism but want to give back more to the community. This element is a way to "send out trained volunteers into the community to try to make a broader impact with their local regions."
Each league chooses its own focus, which in NoVA is to help to combat childhood obesity within the region by working with the Arcadia Center for Sustainable Food and Agriculture. "Volunteers help maintain the community garden and harvest produce, which goes towards a mobile farmers market that brings fruits and vegetables to communities who need it," Terjesen says. Additionally, the Junior League works with food banks to provide nutritional programs at the food bank.
100 Women Who Care
Traci Richards, co-founder of 100 Women Who Care NoVA
What is 100 Women Who Care NoVA?
[Our] first meeting [was] in November of 2012. [Since then we've] given over $70,000 to nonprofits in the Northern Virginia community. The idea is to get a hundred women into a room, each bringing their $100 check to give an impactful $10,000 donation to a nonprofit. Members nominate groups that they want funded, and then the group votes on who will get funding every quarter.
How did you get started with the group?
This is a growing movement. It's a way to give back without having to give out a lot; there's power in numbers.
How can other people in NoVA get involved?
They can come to the next meeting. In all honesty, that's very true. The groups meet quarterly; there are three groups here in Northern Virginia.
Events for Women's History Month
Women's History Tour at Gadsby's Tavern
This tour will focus on the role and responsibilities women, ranging from enslaved workers to proprietors, had in a tavern.
March 5, 1-4 p.m. // Gadsby's Tavern Museum: 134 N. Royal St., Alexandria
Women's History Book Club
Join this free book club to discuss the topics and themes of The Witches: Salem, 1692 written by Stacy Schiff. The book focuses on the real life trails and unbridled justice for women in the 17th century.
March 6, 7 p.m. // DC Public Library: 330 Seventh St. NE, Washington, DC
Women's History Month Keynote Speaker: Marianne Schnall
The University of Mary Washington is hosting activist and writer Marianne Schnall as a key speaker during Women's History Month. She founded Feminist.com and is cofounder of EcoMall.com.
March 20, 7 p.m. // University of Mary Washington, Fredericksburg
A Timeline of Landmark Moments in Women's History