For Radcliffe Bailey, art is the quest for knowledge.
"Sometimes I operate from a place where I don't really paint about what I know. I paint about what I want to know," says the Atlanta-based artist, whose work is featured at the Metropolitan Museum of Art and the Art Institute of Chicago.
From April 21 through July 8, Bailey's work will be on display in Radcliffe Bailey: The Great Dismal Swamp at the Greater Reston Arts Center. The exhibit, funded by a grant from the Arts Council of Fairfax County, marks the first time Bailey's artwork will appear in a solo show in the Metro-D.C. area.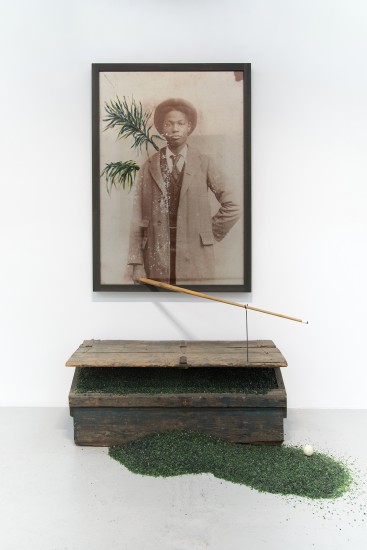 Exhibit curator Holly Koons McCullough collaborated with Bailey on the show concept, which will join new works inspired by the swamp with past works, and notes that his art has not had a big presence in the area. "His work continues to be recognized and grows ever more complex, and yet he just had a very low profile here," Koons McCullough says.
Straddling an area of Virginia and North Carolina that spans more than 112,000 acres, the Great Dismal Swamp is a protected habitat for hundreds of animal and plant species and became a National Wildlife Refuge in 1974. It was also an area where escaped slaves once took shelter, some of whom remained at the swamp or traveled through it along the Underground Railroad.
The site, which Bailey visited this past February, piqued his interest for both its history and proximity to his grandfather's family in Virginia. Bailey—a mixed-media artist who often uses railroad tracks and other "migration" symbols in his work—recalls taking trains to visit his extended family while in art school and wondering what routes escaped slaves might have taken. He adds that his father was a railroad engineer whose predecessors had utilized the Underground Railroad.
Answer-seeking is the core of Bailey's creative process. "It's really me asking questions more than anything," Bailey says. "I think that we constantly live with trying to put all the pieces together—almost like a collage, a quilted way—things that come from different time periods, different moods, different sounds."
Though some artists depicted the swamp in the 1800s and Harriet Beecher Stowe novelized life there in a follow-up to Uncle Tom's Cabin, the area largely has been overlooked in recent years.
"It was known in the 19th century that slaves had run into the swamp and were living there, [that] there were communities and that it was a pass-through," says Koons McCullough.
But she adds that there was little coverage of the area in recent decades until American University anthropology professor Daniel Sayers began an excavation in the early 2000s. Sayers' findings are included in an exhibit at The National Museum of African American History and Culture.
With this exhibit, Bailey continues to explore what he defines as a key interest: the "bigger ideals of family."
"It just deals with being human," Bailey says. "At the end of the day, that's what it's really about: being human."