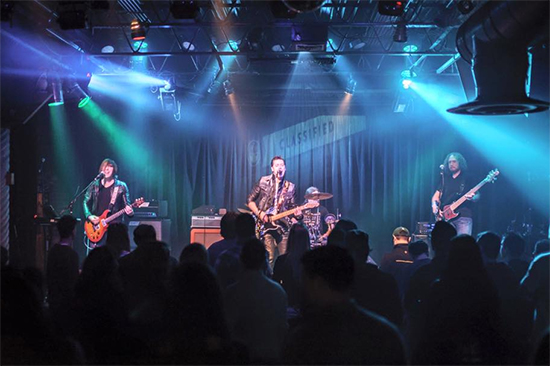 Four preliminary rounds. One final night. The pressure is on: The crowd is roaring, and the spotlight is shining on you. Your band's performance can either make or break your ascent to the top, and only one band will survive. "One … two … three …," and you're off, proving why your group should be the last standing at Jammin Java's annual Mid-Atlantic Band Battle.
Seven to eight local bands will face off during each round with the winner from each night advancing to the final battle. Additionally, one walk-on band from the four preliminaries will be added to the last round because either the judges believe it deserves a second chance and want to reevaluate its performance or because the band received a stellar crowd response during its first showing. This year, The Mid-Atlantic Band Battle received about 50 applications and admitted 32 bands to the competition. Aspire Presents talent buyer Mark Bradley, who was in charge of selecting the bands, says, "I wanted to see bands from the area that showed potential.
"I listened to everyone's songs, made sure it wasn't their first show ever, [made sure] they weren't too rough or unpolished," he adds. "Other than that, Jammin Java has a 'no moshing' policy, so sometimes, if there seemed to be an issue with that, we [don't] let the band play."
This year there will be a variety of bands spanning country, rock, folk and pop-rock. Most of the bands are from the region but some travel from as far as Maryland and Charlottesville.
"The main thing for me is that I want to make sure that the bands are working really, really hard to get their fans and their crowd out," Bradley says. "There's not going to be a band from out of state that doesn't have a fan base in the area. You want to keep it as local as possible so the bands in our area can benefit."
The panel of judges comprises prominent members of the local music industry, including studio owners and managers. Jim Ebert, a well-respected, self-made producer and Cue Recording Studios' chief engineer whose resume boasts work with All Time Low, Hot Chelle Rae and Madonna, will appear on that panel.
In the past, the Battle has adopted a winner-take-all system, but this year, prizes will be awarded to the top three bands to help them jump-start their careers. Prize winners will receive recording time, gear and promotional materials as well as the first-place winner receiving a  $2,000 cash prize.
For 15 years, the Mid-Atlantic Band Battle has served as a gateway into the music industry. "Jammin Java is a fantastic venue, and we are very excited to have the Battle there," says Bradley.
The Mid-Atlantic Band Battle's first preliminary round goes down Tuesday, June 28, followed by the second prelim on Sunday, July 3. The third and fourth rounds take place on Tuesday, July 5, and Wednesday, July 6. The final battle takes place Friday, Aug. 26, at 7 p.m.
So head to Jammin Java to cheer on your favorite local acts at the 2016 Mid-Atlantic Band Battle, and who knows—maybe one day you will see those same bands grace the music charts. Advance tickets cost $10, same-day tickets are $13 and seated section tickets are $18.