For 25 years Mystique Jewelers has occupied an airy sunlit spot along the waterfront in Old Town Alexandria's The Strand. The store opened with Elizabeth Mandros having one jewelry case and an appointment-only structure. Now the store boasts four employees, a full-time on-site goldsmith and a very loyal clientele.
"We're not a type of store that carries large name brands," says Mandros. "We hand-select pieces that, from my years of experience, will stay in style."
The main designer is the namesake Mystique Collection, "which is mainly our customer's redo of what they have—[pieces] they don't wear to heirloom pieces they don't want anymore—and recreating with them our style and their style together," explains Mandros, who also curates other designers on her two main buying trips each year.
The store carries 10 featured designers, currently including Jude Francis, Mazza and Reston-based Dina Mackney, and offers services such as jewelry repair, ring sizing, appraisals, stone matching, cleaning and polishing and pearl and bead restringing.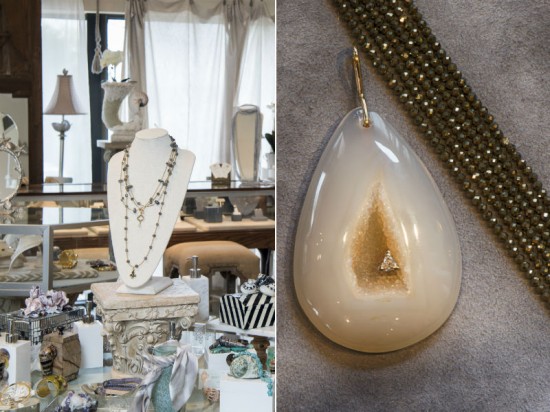 Along with the unique and custom offerings, what keeps bringing customers back to the store is the atmosphere and client-based services. "With a jeweler there is a bond," says Mandros. "[You] create a piece from a jeweler, then your children come, then their children. You feel comfortable, and there is trust."
Mandros and her team take note of pieces clients purchase and make recommendations so a client's collection can grow. Clients can create a wishlist, and staff will notify them when the designer is holding a trunk show or when a piece comes into the store. They will also, at the client's request, send an email to a significant other hinting at items that would make a great gift. But first and foremost, Mandros says she wants anyone who comes into the store to be comfortable and happy. "We want to get to know [the customer]. We're not a hard sale. I would rather [a customer] come in and experience and see the store than purchase something [they] wouldn't be happy with." // 211 The Strand Waterfront, Old Town Alexandria; 703-836-1401