The driving force of moving to Smith Mountain Lake seems to be a visit. When Brian Raub and his wife, Lisa, who both grew up around lakes, were looking for a place to move to, Smith Mountain Lake topped their list. "Virginia's top recreational lake; very low property taxes; a strong economy that welcomes and supports vacationers and retirees; four seasons of mild weather; gorgeous mountain scenery; a 20,800-acre lake to play on; rural, friendly people; no traffic to fight; two dozen affordable restaurants; easy access to services and shopping; and lots of reasonably priced real estate choices, waterfront and otherwise," Raub says, describing the reasons behind choosing the place they've called home for over a decade. In 2001, two weeks after their daughter graduated from high school, they packed up their suburban Philadelphia home and moved themselves and their internet travel-related business to the freshwater, 40-mile lake with 500 miles of shoreline.
"There are many retirees and semiretirees at Smith Mountain Lake who give generously of their time, talents and money to the lake area," says Raub, who also runs smith-mountain-lake.com, an insider's website. "That makes living here even more of a pleasure than we could have anticipated."
In fact almost half of Smith Mountain Lake's population is retirees or second-home owners, says Glenda McDaniel, a real estate agent with Long and Foster. The year-round population, which she said is growing due to the commercial construction and new health care options like the Carilion medical centers, only makes up 40-50 percent of the population.
Related: What to do and see during a vacation to Smith Mountain Lake
"A large percentage of the people that move here and retire here are from Northern Virginia, and that starts with second homes or vacation homes," McDaniel says. "People have been coming down here for years with their families from Northern Virginia, and then they retire here. A lot of that is because they still have their families in the Northern Virginia area, North Carolina or Richmond. Their families have grown up vacationing here and have a lot of fond memories, so when their parents retire here they continue to come visit and vacation."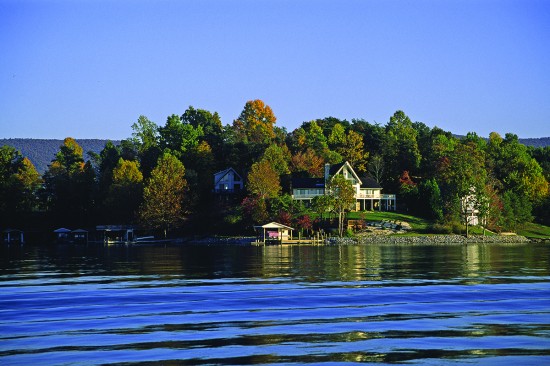 Developments and Second Homes

While the Smith Mountain Lake area used to be a seasonal spot, it has really grown into a year-round area.
"In the fall, [there's] so much to do with the Blue Ridge Mountains nearby and football. Virginia Tech, Ferrum College, Liberty, even UVA: They come here and stay," says McDaniel. "They buy second homes here, stay here and then go to the games. They go riding on the parkway, visit the wineries; there's a lot to do here in the fall season. Then in the winter season we get people who rent either visiting or who are passing through."
Those who are looking to purchase a second or vacation home where they have the option of renting it out will have more luck on the Bedford County side of the lake. "It's a lot more liberal on short-term rentals, which is anything under 30 days," says McDaniel. The Franklin County side of the lake has zoning laws that don't allow short-term rentals in the residential neighborhoods, she adds, but there are some opportunities for them in the townhomes and condos.
But McDaniel says Bedford is the "on golden pond" area of the lake with its postcard-perfect lake getaway setting with golf courses, dining and entertainment. This is where you'll find Bernard's Landing, a large condo and townhome resort that sits on 70 acres right on the water. On-site is the Landing Restaurant and Bruno's Gastropub, two indoor pools, private beaches, fitness centers, beach and indoor volleyball and more, and this is not just a vacation resort, though you can rent spaces instead of buying them.
Over on the Franklin side is where McDaniel says she sees people move to year-round. "There are more master planned communities on the Franklin side, and [it] tends to be better for people who are retiring full time," she says, reiterating that the zoning laws make up a majority of the reason for this.
And when it comes to buying on either side of the lake, there is a host of options. McDaniel says that this year she has seen a lot of new construction start up again.
But if buying isn't in the cards, there are plenty of options for renting.
Smith Mountain Lake offers everything from renting individual homes, cottages and townhomes to condos to bed-and-breakfasts—Angel Guest House, Bedford Landing, Early Inn at the Grove and Sans Souci at Smith Mountain Lake—plus almost a dozen campgrounds, hotels and houseboats.