Pete Evick has made a name for himself in the music industry: He's the guitarist with the Bret Michaels Band, he worked on Michaels' shows Rock of Love and Bret Michaels: Life as I Know It, and he is a producer and author. He's now growing another empire, one that he hopes will be the best in the world.
"In the music industry you don't succeed unless you think you're going to be the best," says Evick. And that is the mentality he is taking with his latest endeavor, Shining Sol Candle Company.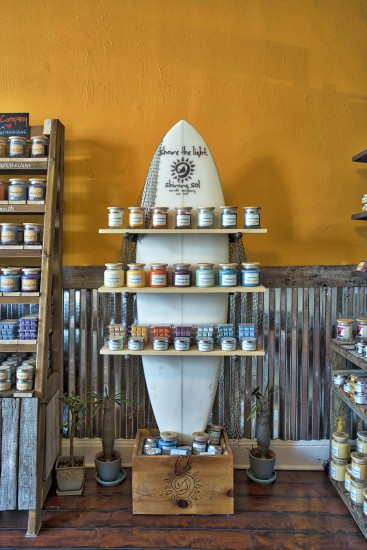 Though the company has been up and running since 2012 and has made quite the name for itself online, this past winter Evick opened the first brick-and-mortar store in Manassas, his hometown.
After touring nonstop for nine months, Evick was taking some relaxation time at home. He just had a fireplace/entertainment center built in his home with the fireplace designed toward the likes of those found in places like Arizona, where instead of an actual fire, candles are used. He had gone out and purchased a candle that was meant to smell like a wood-burning fireplace, but it wasn't giving the effect he wanted. He went out and bought more hoping quantity would help. It didn't. So he decided to make one himself.
After immersing himself in candle-making research, he set off to a craft store with $5. From that, he made one candle. Using money he made from that sale, he made two. Then he made a business.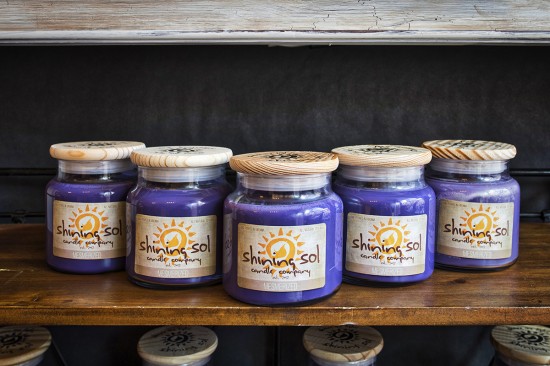 At the Manassas shop, all of the more than 100 versions of candles are hand-poured in-house. The names of the candles take on a Ben & Jerry's approach, as Evick says he wants them to be like art, and they go through a brainstorming process that could take from 10 minutes to months. "It's like painting a picture," he says of the process that includes the scent, the color and the name of each candle. "Sometimes we get it on the first try, sometimes by accident, and sometimes it takes months."
Shining Sol candles are made from soy wax and wood wicks, all sourced from farms in the United States. Along with seasonal lines, there is the music line (KISS, Warrant, Aerosmith and Def Leppard), the Star Struck line (soap opera and celebrity-designed scents where each personality played a part in creating the scent) and Evick's favorite line that he creates himself, the Coastal Collection based off of beaches he's visited.
Even though Evick is only a handful of months into the Manassas shop, he already has plans for branching out. He wants to keep the same formula at each of his future locations: set on a main street with the candles being made in each shop. But his innate desire to be the best is part of that too: "I want Shining Sol [Candle Company] to be bigger than Yankee Candle," he says. // 9109 Center St., Manassas