Pierre Paret, proprietor of Acme Mid-Century + Modern in Old Town Alexandria, tries to always have at least one Plycraft lounge chair in his store because it is his favorite piece.
"It becomes your chair," he says. "You say 'that's the most comfortable chair,' and you sit in it every night. It's nice for a piece of furniture to be both attractive and comfortable."
Acme Mid-Century + Modern purveys modern and vintage artifacts, furniture, accessories, sculpture and art. The store has a broad selection of periods and styles, but it specializes in Danish and Scandinavian modern, including designs by Charles and Ray Eames and George Nelson.  
Most of his customers, Paret says, are 20-somethings moving into their first house and looking to trade in their hand-me-down furniture for higher quality products.
"People that are attracted to that clean look but want a high-quality product often end up being drawn to midcentury design," he says.
Paret, whose mother is Danish, grew up with midcentury and modern furniture in his house, but he didn't appreciate the efficiency and aesthetics of the style until adulthood. As he accumulated more and more pieces, he decided to begin selling some of his collection.
He first worked out of a store on Route 1 in Alexandria before moving to Old Town. The current location, which opened almost two years ago, he says, is much larger and better for foot traffic.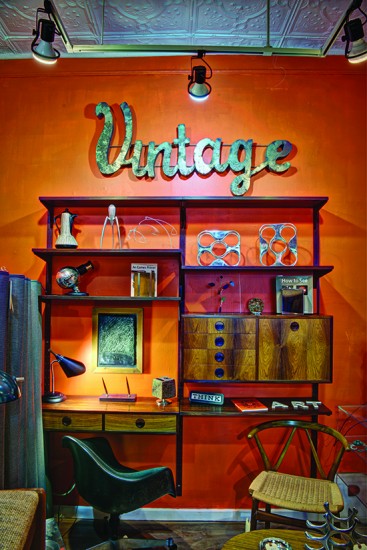 Paret gets his pieces from various sources: auctions, direct purchases and walk-ins. Most of what he acquires, however, he receives from people transitioning into assisted living facilities.
"I've sort of developed a reputation for being very open and honest about pricing and how everything works," Paret says.
His pieces, he explains, range in age. While some of the furniture, books and other knick-knacks in Acme were made in the middle of the 20th century, others were made recently with a midcentury look.
Acme also repairs and restores furniture and lighting, consults on design and decor, stages homes and offices and rents furniture and props for television, movies and the stage.
Paret says that George Nelson bubble lights and credenzas are some of his most popular pieces right now. Fifteen or 20 years ago, Paret says, buyers wanted armoires because they could hide the back of the bulky televisions. But now, buyers want credenzas because they can hold a flat-screen television on top and the compartments below can house all of the boxes and wires.
When it comes to shopping for modern furniture, Paret says patience is a virtue. Too often, he says, visitors in Acme admire a chair and regret that they recently settled for a less desirable one.
"Wait until you find the piece that you really love," he says. "If you need a chair, find a chair you really love where both the form and function are really beautiful to you."