There is a reason that, one, you were not asked how you wanted your steak cooked and, two, that you'll be glad the normally mandated inquiry wasn't extended to you. When dinner is in a butcher shop, the cooks know meat, exactly how each muscle, tendon and strata of fat behaves.
But we didn't think about this at the time, when slices of bavette, almost as pruned-looking as brisket, arrived with much less red than we usually expect. We wanted to complain, to find fault in the server or the kitchen, but we couldn't. It tasted just right. Tender but meaty, with some crusty bits lining the slivers. Crazy juicy. It was 8 ounces of meat, about six or seven slices. $16. It came with a choice of sauce, and we picked the herby chimichurri. Sides are a la carte. It's the steakhouse model without the pomp. It's a butcher shop with cooking on-site.
Last fall when Derek and Amanda Luhowaik moved The Whole Ox from The Plains to Marshall (which, by the way, is in the midst of a food boom with Red Truck Bakery, Field & Main and Riccordino's), they knew they wanted to rebuild their butcher shop with a restaurant component. Partly inspired by wine shops serving funky food in Paris, a handful of butcher shop-restaurants in Pittsburgh, Philadelphia and New York, plus a hat tip to Red Apron in both Merrifield and D.C., which has full-service restaurants connected to its butcher business, Luhowaik's Butcher Bar is still a fairly unique concept, especially in Fauquier, a county with very few ambitious places to eat.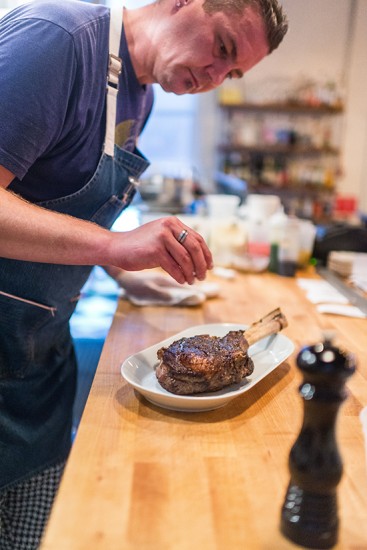 The space is one open room. To the right are a butcher counter and a cold case filled with cuts of meat, housemade charcuterie and a few other sundries like cheese and vegetables. To the left are shelves stacked with the contents of a dream-scenario pantry: pickled vegetables, artisanal crackers, local hot sauces, exotic fruit vinegars, plus wines, bitters and French aperitifs (also found on the menu).
The center of the room is filled with chrome-colored metal tables and chairs. The back is an open kitchen with a bar and maybe 10 stools. It's both bare-bones and highly stylized. The giant wooden Edison bulb-studded chandeliers come right out of Pinterest porn. It's minimal but attractive. It indicates the casualness of the menu and the operation in general. Water jugs are empty wine bottles with the labels only three-quarters torn off.
Service is cheery and enthusiastic, even when faced with my disappointed face: What do you mean the bone marrow doesn't come with any bread? Where will I smear this meat butter? The server will encourage you to order the bread for $4. It's hauled in fresh daily from Lyon Bakery, but the best part is the lardo, for another $2. It's the better option for spreadable meat product, whipped with herbs and seeping into the warm bread creating a glistening, heady sheen.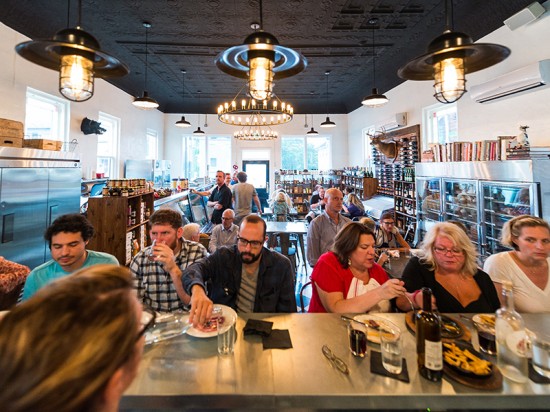 Starters and sides are the only meatless items. (The website directly states: "We have no vegetarian options.") More like salsa than soup—in fact, it's most like the consistency of a Slurpee—the celadon-hued gazpacho is a little spicy but mostly bright and tomato-y. It is simple and straightforward, a part of the restaurant's paradigm of the unfussy. A tartare lets mustard shine, though it doesn't take away from the clean beef flavor.
Yes, meat reigns here, but chef Steve Sexton (Ashby Inn, The French Hound) also uses a light hand on seafood, barely battering summer's golden child, softshell crabs, so that the crustacean stars instead of its fried coating. Like in most applications, the thigh is the winner in a three-piece fried chicken platter as that naturally juicy meat hides under a crunchy crust. Don't trust the fryer for a side though. The french fries, one of the only items not made here, aren't worth the table space. Instead, the mushroom mélange of beech, maitake and trumpet, first cooked sous vide then finished on the flattop, is a box of roasty-tasting treasures.
A frenched rib chop of veal is a singular stunner on the plate; not as primitively meaty as lamb, it's a more subtle hunk blessed with hints of char. A reminder dinner is manufactured by butchers: the sausage selection changes seemingly by the week. But turn to the drink menu and once again you're fooled into thinking Butcher Bar fits into the esoteric sip scene with French aperitifs Bonal and Byrrh (pronounced beer), the latter served with ice and lime.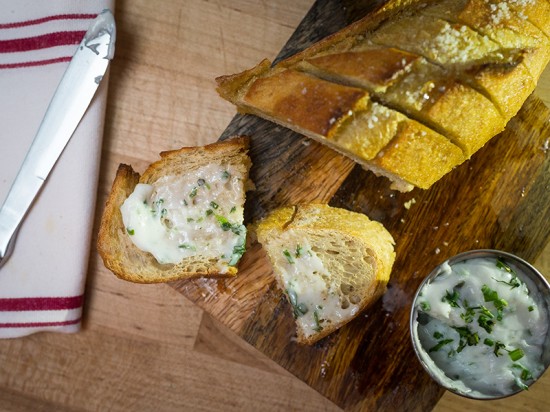 A slice of pie, filled with whatever is in season, is the solo dessert. It's topped with cinnamon whipped cream for $8. A scoop of housemade ice cream costs two more. It was only as sweet as cherries naturally are, no cloying syrup. The crust was thin, light. But as we took turns forking bites into our mouths, we kept saying how this little slice is a lot of money. We looked at the board above the bar. Little plates add up here, here as we sit on metal chairs, in what feels like a non-air-conditioned room, next to a cold case of ground beef.
Diners today are conditioned to appreciate rustic charm and to shun white tablecloths and formal service. I get that. The disconnect lies in eating in a butcher shop and paying $22 for a single veal chop, adorned only with porcini butter.
That is also where the restaurant industry is today. I heard myself saying, with such pretentious, hipster glee, "I ate an amazing dinner in a butcher shop in Marshall." Gorgeous food, sustainable food, seasonal food found in eclectic surroundings: Butcher Bar is everything we've asked for.
NOTES
The Whole Ox Butcher Bar
8357 W. Main St., Marshall
Open Tuesday through Saturday for dinner
Small plates: $4-$12;
Meat/fish a la carte: $8-$40