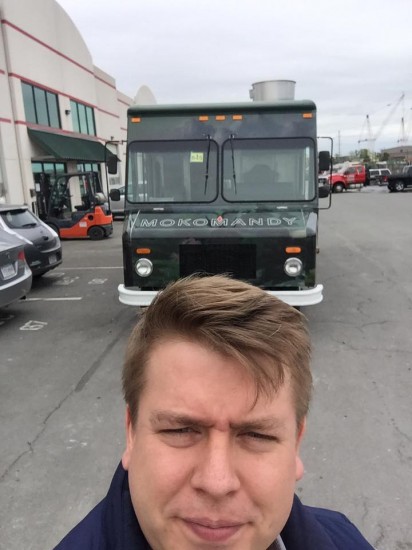 This story originally appeared in our weekly Food newsletter. Sign up here.
"A lot of people's definition of a food truck is a little myopic in terms of what they expect a food truck to be a capable of," says Daniel Wilcox Stevens, who picked up his new food truck today.
After the requisite piles of paperwork, the executive chef of Mokomandy hopes to get the food truck to events, catering gigs and the weekend crowds at wineries and breweries in the next couple months.
Instead of continuing the Korean and Cajun brand of the Sterling restaurant, the Mokomandy food truck will adapt to wherever it roams. Says Stevens, the menu can oscillate from "heavy on the probiotics" for wellness festivals or eco-friendly jam bands (think: kimchi) to "grease bombs" for the rock concerts.
While the trend had been turning truck concepts to brick-and-mortar locations, that's now not always the case. The food incubator ChefScape and food service industry firm MindSet Solutions launched an in-house mobile pop-up at Stone Tower Winery in Leesburg. There, chefs like Chris Edwards, formerly of Middleburg's Salamander Resort & Spa and The Restaurant at Patowmack Farm, and Johnny Ray, with his Sultry Soul Food brand, cook for weekend guests.
But then again, trucker dreams still do come true. The food truck Meggrolls is now an Alexandria restaurant selling chicken parm eggrolls.