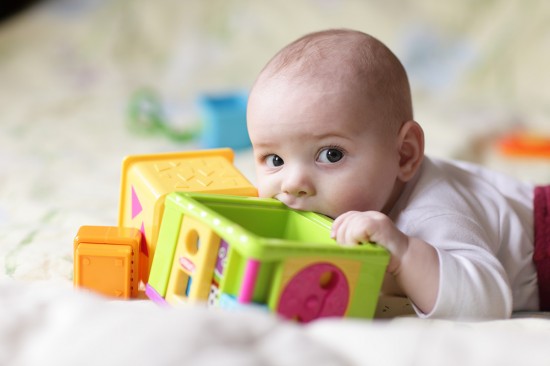 Your adorable tot is contentedly sitting on the living room floor, chewing on her favorite rubber giraffe. But beside her sits a crate of toys inhabited by a veritable menagerie of invisible germs. What's a parent to do?
Keeping the bottomless collection of stuffed elephants, plastic planes and bouncy balls squeaky clean is a daunting task, but it's one that's vital to keeping young children healthy. That's especially true in day care settings.
Tina Ceesay, former school employee and current triage nurse at Pediatric Associates of Alexandria, says toys that are regularly used by other children should be wiped down with a mixture that is one part bleach, 10 parts water. Many children's health websites also recommend bleach/water solutions but remind parents to keep tiny hands away from bleach bottles.
It's also helpful to know the differences among cleaning, disinfecting and sanitizing. "Cleaning removes germs, dirt, and impurities from surfaces or objects," read school flu-prevention guidelines on the Centers for Disease Control website. "Disinfecting kills germs on surfaces or objects. … Sanitizing lowers the number of germs on surfaces or objects to a safe level, as judged by public health standards or requirements."
For toys used only at home, pros suggest cleaning every few weeks or once a month, unless there has been recent illness or the toys are particularly soiled.
Fisher Price lays out methods for cleaning a variety of toys, as well as how often to clean. Plastic toys without batteries can be washed in dishwashers or by hand with soap and water. Wood and metal toys should be cleaned with soap and water and then wiped with a bleach/water solution. And most fabric toys can be washed in the washing machine with hot water.
Ceesay, who is also a mother, recommends microbial wipes for most hard toys and says she rinsed her children's toys off and let them air dry in the dishwasher rack as needed.
Preventing your children from sharing items that come in contact with their mouths is also key to reducing germ exposure. Healthy Children, a website run by the American Academy of Pediatrics, reminds parents of the dangers of sharing pacifiers, toothbrushes and cutlery when their children are ill and adds that germs can hang out on surfaces for hours.
Parents who seek cleaning products with a smaller environmental footprint have plenty of options, too. Organic toy cleaners and DIY toy-cleanser recipes are readily available online.
One more piece of advice from many children's health sites: Don't forget to wash hands.