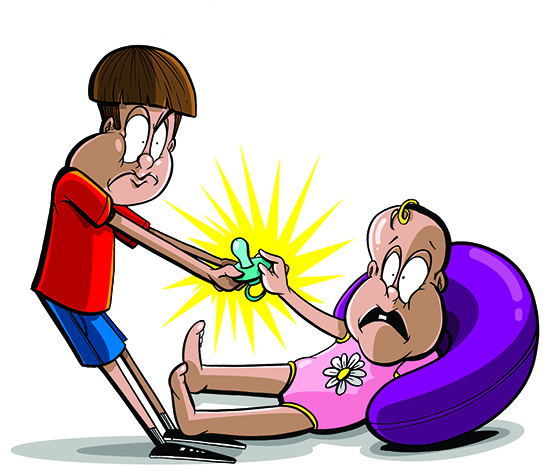 Since my daughter was born a little more than nine months ago, I've spent eight unbroken months breastfeeding, three weeks Googling how long I had to breastfeed and one combined week sleeping a sleep that I prayed would be dreamless or, if there had to be dreams, that they wouldn't be about breastfeeding or a heartless internet rearing up out of my laptop as a dragon to lash me with fire for considering stopping breastfeeding.
I've had about 12 total seconds of time to reflect.
In that time, though, I've thought about my new daughter, whom it's hard not to think about in relation to her brother, who's 2. My kids have the same color eyes, the same hair. They are both willful and freakishly tall. I can still remember all the milestones Jane's hitting now back from when my son hit them. The biggest difference is there's an extra person around, watching her do it.
Before I had Jane, I didn't think much about my kids as a duo beyond thinking "there will be two of them" and "this will be challenging." I guess I was thinking that whatever would be between the two of them would be, and it certainly has been.
Jane worships Ozzy. She follows him around the room with her eyes and, more recently, body. She also doesn't take any of his crap. Before she could feed herself, before she could drink from a bottle or maneuver her own body into a roll, she figured out how to swat the pacifier from his mouth when he was being a little punk.
It took my own kid brother at least three years to fight back, but we always suspected Jane would be advanced for her age.
Now I think a lot about Jane and Ozzy. Ozzy and Jane. As a pair, a twosome, one that will together outlive their grandparents and parents, if everything goes swimmingly. In my kids' lives, there may be another person they can always call to come help pack moving boxes or fill in as a babysitter. Then again, there may not be.
My husband and I both come from families of three kids. He's youngest; I'm middle. When we first got together, he said he wanted a huge family, or what I thought was huge: four kids. I said I was game for two, maybe three if he caught me off-guard and in a good mood. It was interesting to me that neither of us ever said we definitely wanted three, the number we knew best—really, the only number we knew whatsoever.
Both of us would tell you we had happy childhoods and that we love our siblings very much, so don't start reading into things. But I do think we wondered whether we might be lucky enough to hit on the perfect number, the one that would make everyone happy, and equally so. We talked about birth order and whether it was fair to plan for a single middle child, the alleged victim of neglect and oversight. To think, however, of Jane in the role of victim is to suspend reality—actually one second, that's her right now, screaming.
The birth-order stereotypes are probably all bunk anyway. Probably. I never felt like the clichéd middle child. If anything, I think my parents showered me with too much of what I wanted—like my back-to-back summers at band camp, which was a really, really nice band camp. My sister takes credit here and refers to herself as trailblazer. It checks out: By the time my brother rolled through, he was free to date! In high school! Something I obviously would have done so much of if it hadn't been for guardian restrictions. Ugh, parents.
We're spaced out, if that changes anything. Between my sister, the oldest, and my brother, the youngest, there are 13 years, but for all that, there are few discrepancies on paper. We grew up in the same house on a cul-de-sac in Manassas. We dragged our dogs around the same blocks. We had scores of the same teachers and delighted in learning from my sister that the bad ones were just as terrible more than a decade ago as they were in my brother's day. We are different people, my siblings and I, but I wouldn't attribute those differences to the sequence of our show times. (So middle child of me, according to some blog.)
My husband says he got away with murder as the youngest, something I fact-checked with his siblings, who wanted to fact-check it the next three years with underscores and italics. Haha, I joked back one time. Not literal murder? It could be my husband lays claim to the best, most loyal siblings because I've never gotten a clear answer on that.
And yet. As hard as it is to imagine Jane flying under the radar, it's even harder to picture Ozzy as the alpha, go-getter firstborn. My son maintains strong opinions and voices them, but most of the time it's about how his sister is being too loud or how I deny him a satisfactory amount of Peppa Pig.
Jane and Ozzy have two cousins whom I admit slot perfectly into their typecasts as older and younger siblings. Adam is 5 and easygoing, a free spirit. Thomas is 7 and scares the crap out of me. The last time we saw them, I took video footage of Ozzy and Adam running home the full mile from the park, holding hands the whole time and giggling. When we got there, Thomas had built a fort to which he denied everyone entrance. That was a month ago, and Thomas has gone back to his house in Connecticut. I'm still kind of nervous walking into my living room.
Cousins, naturally, have something to do with it. I've always felt close to my cousin Cait, a year older than me and desperately cool—though, it should be pointed out, never once a band-camp attendee. If I ever did feel assigned to someone else's shadow, it was Cait's (but only rarely, and I love her shadow so). When we were little kids, Cait would choreograph dances for us; I just happily, mechanically danced. As preteens, Cait entered a tie-design contest with a really killer blue-checkered-background, pizza-slice design; I didn't even know about the contest until after she'd won. On one hand, it was all so unfair. On the other hand, it was pretty great when my uncle showed up at her wedding wearing that tie.
Last weekend, my brother flew in to visit, and the subject of birth order came up. I asked him if he thought I'd been overlooked as a child. He asked me if I was being serious. Then I asked whether he thought he got away with murder. Not for being youngest, he said, but for being the only one of his sex.
So, to Ozzy and Jane: I know your game.
If my husband and I do decide to have a third baby, maybe we'll wait a few years—for Ozzy and Jane to settle into their roles as siblings to one another, for the perfect time to pull the next rug right out from under them. For my feelings to heal from the terrible things people on the internet said to me about breastfeeding. For me to come to grips with raising a middle child, whatever that means, and with eventually sending her, plus all of her baggage, off to a really excellent band camp.
Bon voyage, Jane. You'll be so much more, or less, middle for it.