Amid the clusters of office buildings that provide Rosslyn its famed skyline is newcomer Central Place. The pair of towers offers luxury living, communal space, restaurants and top-notch office units. 
Development overview
• Broke ground in February 2014
• JBG property
• 31-story mixed-use property with two buildings: one residential and the other office space
• The entire development totals more than 1 million square feet.
• A 17,000-square-foot plaza sits between the buildings, including three high-speed elevators that service the Metro.
• The plaza features a pergola, small stage and sprayground and will be home to farmers markets, outdoor concerts and other public events.
• The buildings are the tallest in Rosslyn with views of the National Mall.
• Buildings designed by Hany Hassan of Beyer Blinder Belle
• Both buildings' lobbies feature TransitScreens that show the projected travel time to various Metro stops.
Restaurants
• Compass Coffee
• Nando's Peri Peri
• Sweetgreen
• The Little Beet
• Cava Grill
• A signature plaza restaurant to be announced this summer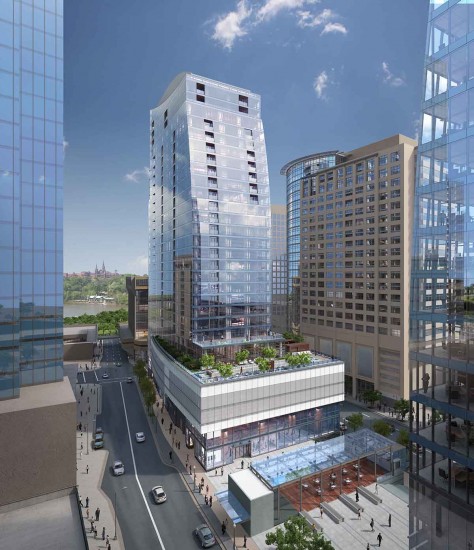 Office building
• Trophy Class-A office space
• The building's highest level is an observation deck with a café and bar and offers unobstructed views of D.C., including the National Mall, downtown and the Kennedy Center. The deck will be free for Arlington County residents two days per week and on the Fourth of July. Outside visitors will pay a fee.
• CEB (formerly Corporate Executive Board) is the building's primary tenant.
• The office building is set to open January 2018.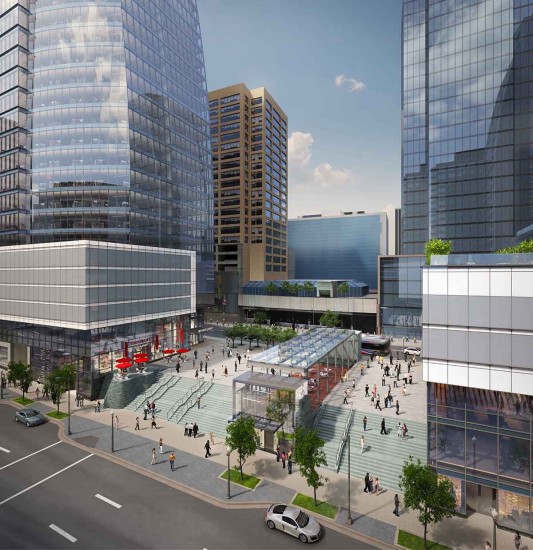 Residential building
• The residential building interior was designed by Toronto-based Cecconi Simone.
• The residential building is now open with 75 units leased (as of March 30). All 377 units should be complete by May.
• About 200 units are one-bedroom and have fully integrated kitchens.
• The lobby of the residential building features artwork curated by Vancouver-based Farmboy Fine Arts.
• Rent starts in the low $2,000s and rises to more than $10,000 per month.
• The residential building features 20,000 square feet of amenities, including a gym, lounge, video game room, billiards, pool, grills, a firepit, a 6-foot all-season outdoor TV, terrace, a business center and a private dining room.
(May 2017)