My favorite pieces from 2015 in NVM: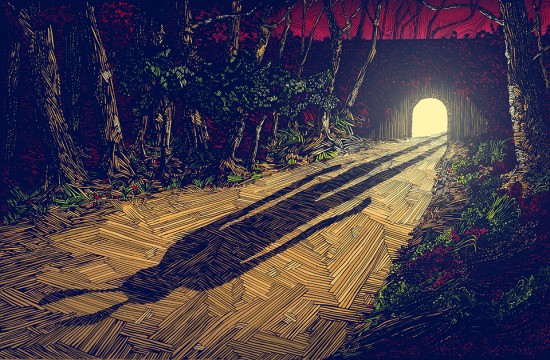 "Long Live the Bunnyman" by Jenny Cutler Lopez
It was so great working with Jenny Cutler Lopez that we ended up hiring her full time.
"Transcending the Worst of Times" by Helen Mondloch
This English teacher in Fairfax County Public Schools consistently churns out compelling prose on our area's most intriguing people.
"What happens when a 4-year-old and a restaurant critic review the same meal?" 
The dueling review by Stefanie Gans and Bennett Kaufman is just too cute: "One thousand stars!"
My own writing:
Writing "Innovative Teaching," I was able to interact and speak with some of our area's dedicated teachers. Not only did this make me feel fortunate to have my two boys in the public school system, but it also made me enthusiastic for what our future will hold once these conscientious and entrepreneurial students take over.
Speaking with area scientists and authors about human behavior—"Embrace the Dark Side" and "Work-Life Balance Isn't Real"—made me realize that all of the emotions that run through us, no matter what mood, actually keep us sane, and that no one has their shit together all of the time.
Some of my favorites from local authors:
"The Brittle Limit" 
by Kae Bell
Amazon Digital Services
Taking the tone of today's compelling spy novels, Kae Bell brings us to Cambodia, a country that is in the early stages of outside greed. Starting with the death of a young American, one warlord makes it his mission to rid the country of Ch'kais, foreign vermin. It is up to Andrew Shaw, a CIA agent on vacation in Cambodia, to uncover the warlord's plot and save the country. (December 2014)
"Courtship" 
by RL Sommer
American Bar Association
Ronald Goldfarb (RL Sommer) debuts his first novel that bookends an honorable story of the life of a lawyer who is a beacon of justice with a true love story. Micah Lehman sets sail on the Queen, and readers are taken on a journey of love at first sight reminiscent of "An Affair to Remember" when he meets Anne Marbrey Strong. The story follows their 50-year love affair and life, ending in remembrance and new love. (March 2015)
"The Calm Before the Storm" 
by Kimberly Campbell
Mascot Books
In this charming story of loss and rediscovery, a widow and mother of two finds herself the owner of a downtrodden horse after a girl's night out. As she and her children give everything they have to bring the young colt to its glory on the racetrack, they also find themselves rebuilding a life of happiness after the death of their husband and father. (March 2015)
"Twisted" 
by Bert Ashe
Agate Publishing
Our appearance is the persona we want others to think we embody. Bert Ashe, for most of his life, wanted to wear dreadlocks, but the timing didn't feel right until he turned 40. The morning of March 21, 1998, was the day he looked at his past life—a childhood similar to a character on "The Wonder Years," a graduate student at VCU and now a professor at the University of Richmond—and adopted the iconic hairstyle. "Twisted" is the story of how friends, family, colleagues and strangers took to his appearance and how Ashe evolved as the wearer of dreadlocks. (June 2015)
"Beyond the Call" 
by Lee Trimble with Jeremy Dronfield
The Berkley Publishing Group
As the Red Army pushed across Europe dispelling Nazi troops from Poland, Allied POWs were left unaided in a land decimated by war. After his 86-year-old father, Robert, fell at a nursing home in 2005, Lee Trimble went to see him to document his life. Armed with a voice recorder, he expected to hear tales of bombing missions he ran over Germany and France. He did not expect to hear of his father's covert mission of rescuing American POWs, slave laborers and concentration camp survivors who were left for dead. (February 2015)
Outside the magazine:
Podcasts I'm loving:
"New Yorker Radio Hour" hosted by The New Yorker's editor David Remnick: The new podcast put out by one of my favorite publications has my attention for now.
"The Moth": A podcast dedicated to storytelling, of course I'm going to devour it.
"Longform" hosted by Aaron Lammer, Max Linsky, and Evan Ratliff: Being able to hear the journalists' efforts on getting, reporting and writing the story is a fascinating way of digesting culture and news.
"Call Your Girlfriend" hosted by Ann Friedman and Aminatou Sow: This is one way I try to keep in tune with the younger audience (same with binge-watching teen shows—"Pretty Little Liars," "Vampire Diaries") but I rationalize this by considering it research: I have a tween.
Favorite books I read this year:
"Mrs. Bridge" and "Mr. Bridge" by Evan Connell: It is so true that an amalgamation of what seem like simple daily stories can capture the true picture of a person, a time, a generation. Connell examines the life of Mrs. Bridge in his 1959 tome, then followed it up 10 years later with the same stories as told from the perspective of Mr. Bridge.
"Go Set a Watchman" by Harper Lee: Not because I loved the book, but from an editor's perspective, it was amazing to see what the first draft became: "To Kill a Mockingbird."
"Overwhelmed: Work, Love and Play When No One Has the Time" by Brigid Schulte: Her life sounds so close to mine.
Stories I couldn't stop talking about:
Kathryn Schulz's "The Really Big One" for The New Yorker
Ta-Nehisi Coates' "The Case for Reparations" for The Atlantic
Shows I couldn't stop watching:
"Flesh and Bone" It's dark.
"The Knick" Thank god I don't live in the early 1900s.
"Odd Mom Out" If I lived in NYC, I would definitely be Jill.