No soldier is ever buried alone at Arlington National Cemetery, at least not since the mid-19th century.
At every burial service on the hallowed ground, one will always see at least two women quietly in attendance. They are known as The Arlington Ladies, a volunteer group of women (and some men) whose purpose is to make sure that no member of the armed forces is buried alone at Arlington National Cemetery.
The group is organized according to service (Army, Air Force, Navy and Coast Guard), and each Arlington Lady represents that service's chief of staff or equivalent. Arlington Ladies also attend services at the Armed Forces Retirement Home in Washington, D.C.
The Air Force Arlington Ladies were founded first by Gen. Hoyt Vandenberg and his wife, Gladys, in 1948. Gladys asked her friends to start attending Air Force services so that the military chaplain was not the only one in attendance, eventually creating the Officer's Wives Club. Gen. Creighton Abrams' wife, Julia, founded the group's Army branch in 1973.
The Marines do not have an official group of Arlington Ladies; instead they send a Marine Commandant representative to their respective funerals.
Operations differ slightly from service to service, though their function remains the same. The Army Arlington Ladies, for example, are escorted to the funeral by a military escort from the 3rd United States Infantry (The Old Guard). Army Arlington Ladies typically sport a nametag, pin, dress or slacks and stockings. Arms are covered, and women can wear anything but red.
After the flag is presented to the next of kin, the Arlington Lady walks up to the spouse, loved one or parent, introduces herself, explains who she is representing and presents them with two condolence cards: the first from the service's Chief of Staff and his wife and the second a note from that specific Arlington Lady.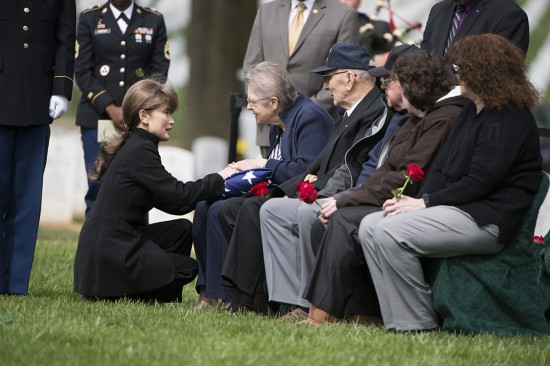 "The military funeral is very precise, cold in some ways, and we add that personal touch," Margaret Mensch, chairman of the Army Arlington Ladies since 1999, says.
While it has been widely claimed that Arlington Ladies tell loved ones "If you need anything …" after passing out condolence cards, Mensch says that this very popular phrase should be avoided. One should also be careful about saying "God bless you" in the event that the relatives are not religious, so Mensch says that Ladies largely have to "get a feel for the family."
"We can't help with words on the tombstone or anything like that," Mensch says. "But some women have had widows contact them about putting flowers on a grave for their husband's birthday. It doesn't take but five minutes to do now that graves can be located so quickly."
Contrary to popular belief, it is acceptable for an Arlington Lady to cry.
"These services are difficult to do, so you have to be a pretty hard person," Mensch says. "It's just something that we must do. I make it a habit not to look over at the next of kin. Just focus on a twig of a tree, and you will get through it."
So what makes for a good Arlington Lady? Each service's recruitment criteria may vary, but Mensch says that a lot of it comes down to dedication, communication and whether or not they emit a "good vibe."
"Every time an article comes, we get besieged with women who want to be Arlington Ladies," Mensch says. "These new women can shadow ladies for one, two, three days until whenever they feel comfortable, and then they are placed on a substitute list. They can sit on a substitute list for a long time before they get a permanent day, and that's because those that have permanent days guard them."
There are 66 Army Arlington Ladies and 16 substitutes total. Mensch receives a call from Arlington National Cemetery concerning upcoming Army services and then relays that funeral information to the two women scheduled to work that day. Mensch also sends out a monthly newsletter and calendar.
Since 2000, the Army Arlington Ladies alone have attended over 30,000 funerals, averaging about 2,000 per year. April through August is usually their busiest time of year (those who have their loved ones cremated usually want to have a service during warm, sunny months), when they average nine services per day.
Special accommodations can be made if a family wants to request a specific Arlington Lady.
"We consider it an honor and a privilege to be in attendance at the military services," Mensch concludes. "It's important for the families burying their loved ones to know that they Army has not forgotten the sacrifice that they have made."
(May 2017)