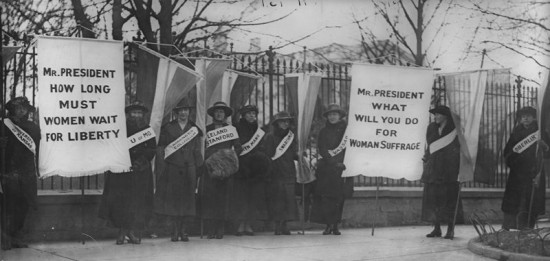 Editor's Note: This story has been updated to correct a prior version, which stated that Alice Paul was held at the Occoquan workhouse. Paul was held at a District jail. 
Women were beaten. Thrown against iron beds. Dragged. Chained to cell bars.
On November 14, 1917, members of the Silent Sentinels—known for picketing President Woodrow Wilson's White House for women's right to vote—were brutally imprisoned at the Occoquan Workhouse in what would be called the Night of Terror.
Chief among them was Lucy Burns, co-founder of the National Woman's Party and key organizer of the protests. Burns—born in Brooklyn and educated at Vassar, Yale and Oxford University, among other institutions—was arrested multiple times and spent the most time in jail of any American suffragist and was at one point chained to her cell bars with her hands over her head. Yet Burns was undeterred from demonstrating, leading a hunger strike from inside the workhouse and continuing to protest once released.
A century later, Burns' legacy will be honored with the new Lucy Burns Museum at the site of the former Occoquan Workhouse.
"It's been an idea since day one by those who founded and first conceived the property," says Ava Spece, CEO of the Workhouse Arts Center, which opened in the prison space in 2008. "Being on the National Artistic Historic Registry for the story of the suffragists gives us an additional impetus and eagerness to present that story."
Between July and November 1917, 72 suffragists from the National Women's Party were held at the workhouse. Though the center's prison museum has a temporary space to showcase the history of these imprisonments, board members and staff desired a more formal gallery to tell the story.
"We said, 'Hey, let's establish a museum, because not enough of that is going on around the country," says Todd Hitt, board member and one of the project funders. "I haven't seen one that honors these women and really just the amazing job they did and what they put up with."
The 10,000-square-foot museum will feature about 4,000 square feet of exhibits as well as cell blocks and open space that the public can tour, Hitt says. The museum committee is hoping to raise $1.5 million in private funds to complete construction.
The original workhouse was essentially an experiment in prison reform under the direction of President Theodore Roosevelt. "He appointed a penal commission to develop a new and more appropriate option for prisoners than what was then available, which was essentially the D.C. jail, which was in bad shape and disrepair," Spece says. "It was about hard work, it was about reforming prisoners. It was a key connection to the prison reformation era that was happening."
Early prisoners helped rebuild the facility from wood to brick and engaged in agricultural activities in an effort to keep the prison self-supporting, at one point supplying all of the milk used in D.C. public schools, Spece says. In the 1950s and '60s, the Lorton Jazz Festival brought the biggest names in jazz music to the prison, including Duke Ellington, Ella Fitzgerald, Sarah Vaughan, Louis Armstrong, Oscar Peterson, Count Basie and Frank Sinatra.
The prison also had its fair share of famous occupants, such as Norman Mailer and Noam Chomsky, Spece says. The godfather of go-go, Chuck Brown, also had a prison stay. "While he was here," Spece says, "he traded cigarettes for the materials with which he made his first guitar." The prison closed in 2001.
Once open, likely in October or November of this year, the Lucy Burns Museum will continue to evolve as it gains local and national attention. Organizers will build on existing workhouse prison archives with additions from the D.C. prison archives, and they have reached out the Smithsonian, too. "A museum is a living thing," Hitt says.