By Juliane Kim
The product of months of teaching, learning and teamwork, Materialized Magic: Mythical Creatures in a Yarn Artistry Habitat was willed into existence by artists Stacy Cantrell and Erika Cleveland and 130 volunteers from all over NoVA. The art exhibit opened at the Torpedo Factory Art Center in Alexandria on Aug. 8 and will remain on display until the the end of the month.
The exhibit is a virtual wonderland featuring mythological characters, including a baby cyclops named Baby Clyde, a mermaid and Baba Yaga, an ancient Slavic grandmother figure. Cleveland is a healing-doll artist—an art therapy that she explains employs dolls as a medium for "healing … physically, emotionally and spiritually"—with an interest in folk tales and spiritual symbols. Her folklore inspiration can be seen in the exhibit's prominently featured woodland tree and the creatures that inhabit it. Cantrell is a free-form sculptural crochet artist with a background in Greek mythology. The latter drove the appearance of classical elements like Baby Clyde in the exhibit.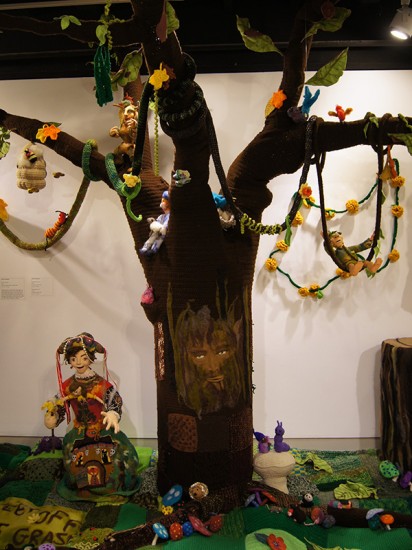 The two artists first met at another art exhibit and decided to collaborate. "We both have similar aesthetics and love to create magical, mythical creatures and make stories around them," says Cantrell.
The decision to invite members of the community to participate in the creative process came about naturally, as Cantrell previously worked on community fiber arts projects.
Materialized Magic was created during more than 20 meetings in Arlington and Alexandria over the course of several months, with participants ranging in age—3 to 94—and experience. Cantrell and Cleveland taught crochet, needle-felting and knitting to the volunteers, and their students' creations now appear in the exhibit.
Cantrell and Cleveland both agree that giving the volunteers a sense of accomplishment and community "was the best part of the exhibit; it was a very rewarding feeling."
That communal experience is at the heart of Materialized Magic. In addition to the volunteers who contributed to its creation, others generously donated yarn and other supplies for the project. What's more, Upcycle allowed Cantrell, Cleveland and other contributors to use its space as an art studio for free.
Materialized Magic is on display now at the Torpedo Factory until Aug. 31.