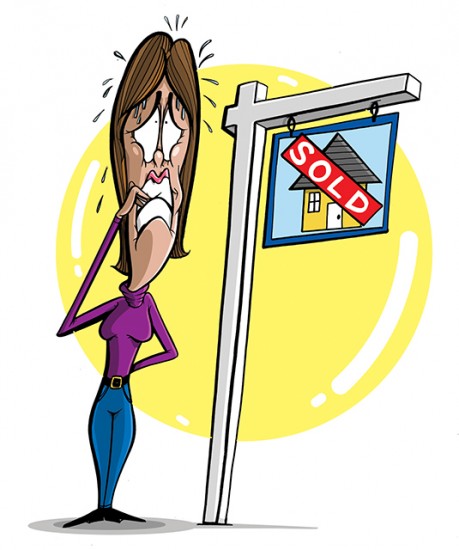 I am going to buy a house.
I am going to buy a house.
I am going to buy a house.
There. If I write it down enough times, I'll be in control of the words and what they mean. I need to swing into wanting to buy a house, away from not wanting a house and insisting you can't make me buy one, not ever ever ever.
But buying a house seems inevitable, like turning 40 or a melting ice-cream cone. I have two children, a spouse and more than one kind of garlic press. I can check for a fever on a toddler four different ways, and you're not a grownup until you've had to do the third one. That's it, though: I'm a grownup. A middle-class one. For most people like me, owning property is a question of when.
I tell myself I don't like the predictability of it. Wouldn't everyone always know where to find me? Would my phone number have to be in the phone book? The truth, though, is I love predictability. Every night I have a glass of wine at 6 p.m. sharp. It's something I look forward to all day. When my offspring go to bed at their bedtimes and when they sleep until when they are supposed to wake up the next morning, that is always an excellent night.
So really it's more a fear of commitment, a juvenile squeamishness about putting down roots.
True, we don't have to live there forever, but it feels like we do because what if we're the last people to ever want our future-bought house? If it's so great, then why are the people who live there now selling? What does everyone see, in this hypothetical house we'll be one day tricked into buying, that we don't?
Part of this stems from my parents still living in the house where I grew up and where they first brought me home from the hospital. And I love that house. I celebrated all of my holidays there. That house saw my first sleepover and my wedding. It has four bedrooms, a spacious back deck, a grassy lawn sloping down to a babbling creek. My parents could easily sell. But forgive me for saying my whole life seems like a very long time.
Furthermore—and when I tell you this, try to hold your surprise—living in Northern Virginia isn't cheap.
So if we do buy a house, I want to love that house. I want to love it so much that the rush of endorphins every time I think of the house overpowers the crippling fear of signing my name to a 30-year mortgage.
Growing up, my dream house was where my aunt and uncle live, on the other side of the Beltway, in Kensington, Maryland. Here's what I liked about their house: They had cable. My cousins lived there. There was a hammock in the backyard. End list.
I still like all of those things. But I'm hopeful, not delusional, and I know my house can't be all my own, that I can't outfit every room with a TV that only airs MTV dating-game shows. My spouse has opinions; my toddler, demands. Even our infant lays claim to a favorite 3 square feet of couch space.
So there's more than one factor to consider here, and alongside the others, the Susan factor is coming up short. We'll make this decision based about 70 percent on our kids, 20 percent on my husband—who has to commute, unlike I do—7 percent on our potted plants and 3 percent on me. The kids have a funny way of coming first, whether you want them to or not. For instance, will the house have a playroom? A fenced-in lawn? What is the house's public-school zone? How many doors can we afford separating our bedroom from the children's?
My husband's parents no longer live in his childhood home, and he loves that we can still go back to mine. It was his idea that we get married there; he's even talked about buying it one day. What I'm saying is he really likes that place. He also really likes soup bread bowls. Soup bread bowls are possibly his favorite thing, tied with animals and the time he got to ride in an F-16 fighter jet. Curiously enough, there is a Panera Bread within walking distance of where my parents live.
And that's just one instance of how a house shapes you: Live with my parents, and you have easy access to carbs. But there are lots of other ways. Buy a house with a breakfast nook, eat more breakfast. Buy one with a fireplace, tell more spooky stories; make more s'mores. We are clearly investing, here, in more than a house.
My aunt's a real estate agent, and I haven't gotten up the guts yet to tell her we're shopping around. All the real estate agents I know seem very good at their jobs, almost alarmingly so. I have this fear that once we tell one of them, they'll communicate it through their network with lightning-quick speed—using Bluetooth headsets? pheromones?—and the next thing you know, we'll wake up handcuffed to a three-bedroom colonial with covered carport and spacious office with fourth-bedroom potential.
My husband looks forward to not having a landlord. I dread it. Who do I call when I can't turn on the heat? When I've locked myself out, as I do at least once every six months? I like having someone to call, an intermediary between me and whatever goes on in a garbage disposal. My mother recently mentioned in passing that it was time she and my dad replace their roof, which has always looked fine to me. "How do you know?" I asked her. What about this roof tells you it needs replacing? Well, it's been 20 years, she said. You replace this kind of roof about that often.
Everyone knows that, she said.
Did you know that? I didn't know that.
I say to my husband, but what happens if we move and can't sell, or move and don't want to? He says he's thought about that and has come up with the solution: We keep the house and rent it to somebody else. So then we're the ones showing up with the spare set of keys, with the wand that magically restores heat to the radiator. We become the fishers of items lost to the bowels of the kitchen sink.
My next question is this: Is there a way for us to buy a house and rent a landlord on the side?
Here's what I am looking forward to: Choosing my own wallpaper. Drilling holes in every damn wall, should I be so inclined. If not outfitting every room with a TV for playing trashy shows designed for middle-school-aged viewers, then perhaps at least my own bedroom.
When the day does come—and it is coming, much like 40 and my next fleeting scoop of vanilla—I can take comfort in knowing I bit the bullet, that the bite, at least, is behind me. I can take my 6 p.m. wine at my new kitchen counter in sight of my baby's new view from the couch. I can sit down in our new living room, open the laptop and flip forward on my Google calendar, flying past the sleepovers and prom nights and graduations of my children, to make an appointment for 20 years out, for Feb. 1, 2036:
Check roof. Replace?
( February 2016 )