Editor's Note: This post was updated on Sept. 11, 2020 to reflect the most up-to-date information for our readers.
You've spent the day being at one with Mother Nature. Maybe you've hiked to the highest peak of the nearby mountain, nabbed some freshwater fish, drifted down the river in a tube or lounged in a hammock reading the latest best-seller. Now it's time to rest. While some in your party are all for pitching a tent and sleeping on Earth's carpet, others would rather enjoy the comforts of home. Now you don't have to compromise.
Behold 10 spots in the area where camping goes glam—think king beds adorned with luxury linens, radiant floor heating, personal chefs and mountain views.
This is glamping, after all.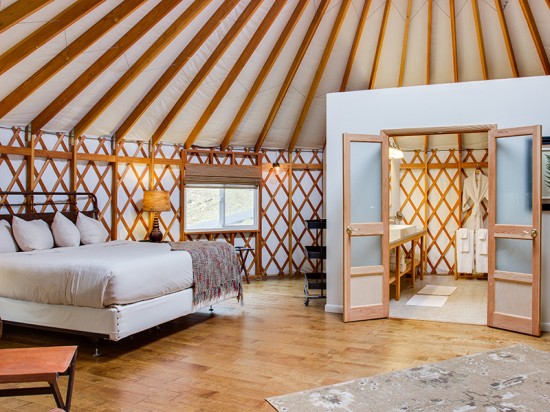 Savage River Lodge
1600 Mt. Aetna Road, Frostburg, MD
301-689-3200
On a 40-acre island amongst the 700-plus acres of Savage River State Forest sits Savage River Lodge, a campus consisting of a 15,000-square-foot communal lodge with a restaurant, bar, massive two-story stone fireplace and a two-tiered deck on the back overlooking a bonfire area and views of the surrounding forest. But what brings people to this hideaway is the unique opportunity to say they went camping in luxury yurts, or circular tents used by nomads in Mongolia, Siberia and Turkey.
While the lodge opened in 1999 with 18 cabins (sleep four) handcrafted from white pine, the yurts (sleep two) came in 2014 with attention to detail.
Each of the eight yurts offers a wide spread in the 30-foot diameter tent with radiant floor heating and includes a sitting room outfitted with a gas fireplace, king-sized bed with Comphy linens, a beverage center, a breakfast nook and a bath with full plumbing including an extra-large shower and double sinks.
While the restaurant serves American regional cuisine options for lunch and dinner (marketing manager Elizabeth Williams suggests ordering the signature maple bacon-wrapped meatloaf, "a favorite of guests") and breakfast on weekends, those staying also get the added treat of fresh-baked muffins and orange juice delivered to your yurt or cabin each morning. There is also in-cabin dining available.
At night guests can take advantage of the bar area, the library and communal rooms in the lodge, or step outside and enjoy the evening bonfire (weather permitting). The cabins and yurts do not have Wi-Fi—remember the point is to relax and be at one with nature—but access is available in the lodge.
Lodging: Cabins ($250-$300/double occupancy), yurts ($270-$300/double occupancy)
Amenities: Restaurant, library, lodge, gift shop, ski shop, hiking trails, bike rentals, shuttle service, massage by appointment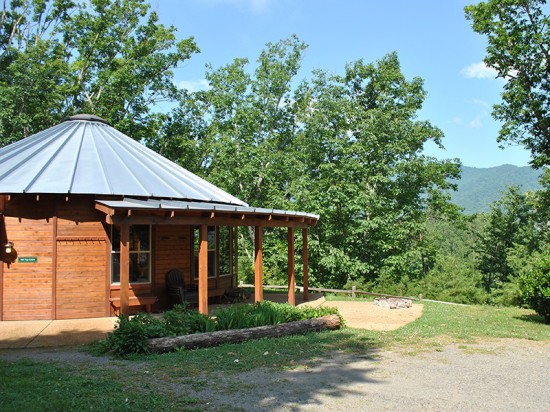 Rose River Farm
2130 Old Blue Ridge Turnpike, Syria
703-209-2832
An easy hour or so drive from Northern Virginia via Route 29, one can encounter a spot where the accommodations blend with nature and fishing is on the docket.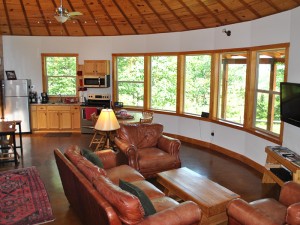 Rose River Farm features three modern interpretations of Mongolian yurts outfitted with today's luxuries on a 20-acre parcel. The yurts, made from cedar, glass and steel, offer panoramic views of Old Rag Mountain and the Rose River Valley from the 17-foot domed living area and feature two bedrooms each with two double beds and a full bath. The spacious 1,000-plus-square-foot yurt also holds leather club furniture, a full kitchen, a dining area and almost any tech entertainment one could want: a jumbo flat screen TV with satellite, a DVD player and unlimited high-speed Wi-Fi.
While the pull of these tech toys is great for an evening in, what Rose River Farm is known for is fly-fishing. There is a stocked pond with bass, bluegill and trout that is catch-and-release for guests only, but there is also the option to book a fly-fishing lesson; both full-day and half-day options are available.
Not one for casting a line? There are also horseback riding and guided kayaking trips, along with the 9-mile circuit hike on Old Rag or the 5-mile loop at Whiteoak Canyon.
Once the day is done, sit back and relax on the private decks of the yurts, throw some wood in the fire pit and take in the views.
Lodging: Yurts ($250/night)
Amenities: Stocked private pond, fly-fishing lessons, horseback riding and kayak tours, nearby hiking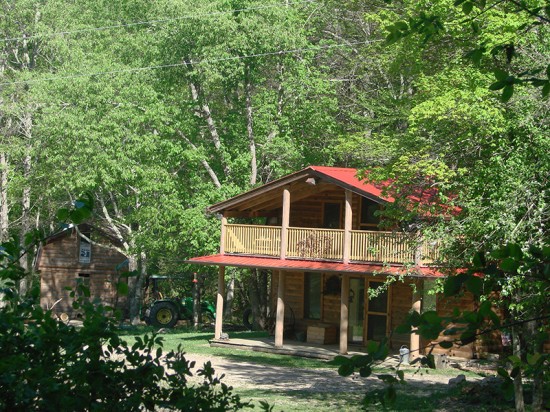 Rock-n-Creek Cabin
964 Zinks Mill School Road, Montebello
540-377-9383
Hot dogs and beans are for amateurs.
At Rock-n-Creek Cabin camping cuisine goes upscale with proprietor and chef Richard Christy making his cabin a foodie getaway.
Christy's Blue Ridge Mountain cabin is perfect for those looking for a respite from the go-go-go world, with a 26-acre site holding a 2,100-square-foot cabin that sleeps 11 comfortably in their own beds. Tents can also be pitched on the grounds.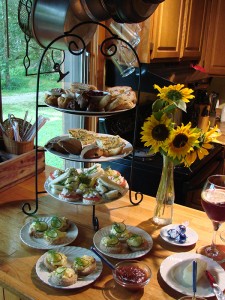 Surrounded by the George Washington National Forest and the Appalachian Trail and situated 3,220 feet above sea level (one of the highest peaks in the Blue Ridge), this oasis sits at the headwater of the Tye River, making it a perfect spot for trout.
But what better getaway than to have someone else do the cooking for you? This is what Christy bases the cabin's uniqueness on.
He offers multiple options when it comes to food, from things as simple as doing the grocery shopping for you—send him a list and he'll have the food waiting in the cabin—to him fully planning menus for your stay and everything in between: sack lunches for hikes, picnic foods, premade meals for your stay (just reheat) and a chef's table where guests can either lounge about as he cooks in-cabin or join him at the counter to learn his ways.
Another fun foodie factor: The grounds hold a courtesy garden stocked with produce such as cucumbers, squash, lettuce, spinach, tomatoes, green beans and more. Guests can help themselves; just make sure to not gorge.
So what to do during the days? Well for one, you are right next to a national park, or you can take advantage of the on-site woodworking shop—Christy is a juried artisan with the Artisan Center of Virginia, and he makes hand-carved waterfowl decoys, baskets, hand-hewn dough bowls and utensils using traditional methods in his Buck Island Bay Decoys studio—and there is always the option of relaxing near one of the ponds or waterways and enjoying a good book. Not far from the site is a byway that leads to breweries, wineries and a cidery. You can also find orchards and farms, caverns and outdoor sporting sites for rafting, canoeing and golfing.
After you take it all in, head back to dinner on the table.
Lodging: Cabin (starting at $195/night, double occupancy)
Amenities: Culinary options, fishing, nearby hiking, golfing, breweries, wineries, cidery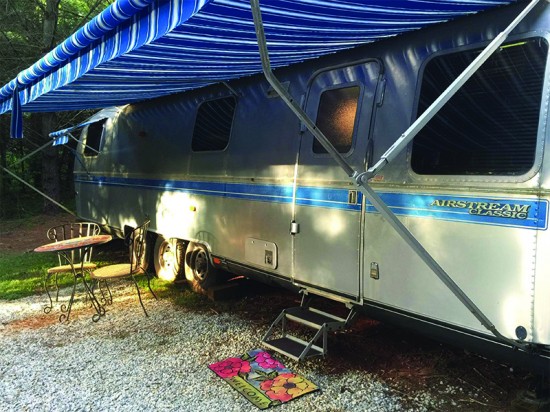 Blue Haven 151 Farm + B&B
10531 Patrick Henry Highway, Roseland
434-688-4391
No one thinks, "Let me go to a high peak in the Blue Ridge and sleep in a vintage camper." Except Elizabeth Anne Wachtmeister did, and now she has big plans. Wachtmeister, owner of the property, opened Blue Haven 151 Farm & B&B in October 2014 and currently has three vintage Airstream campers, fully equipped with showers and stoves, ready for anyone looking for some R & R.
On the 38-acre spread that is Blue Haven sit the camper cottages, each of them decorated in a theme (Caribbean, '70s style or '90s modern); an above-ground saltwater pool; fire pits; and the Hacienda House, a five-bedroom house with rooms for rent that includes a kitchen and common game room/lounge area outfitted with decor from Wachtmeister's travels around the world. Breakfast is served continental-style in the house with views of The Priest peak, the highest peak in the Blue Ridge range, through the Palladian windows, or guests can have food brought to the campers.
Keeping with the mobile tradition of the glamping concept, Blue Haven also owns Beulah and Farmer Wayne, the shuttles used to transport guests on wine, cider, beer and moonshine tours, hiking and kayak excursions, antiquing or take them to the famed Lockn' Festival, Festy and the Virginia Craft Brewers Festival.
As Blue Haven 151 grows, more vintage campers will be added—they are hoping for a total of five—and they are exploring the idea of making one camper a treehouse.
Lodging: Guesthouse ($375/night)
Amenities: Wi-Fi, working farm and garden, goats and chickens, hiking, spirits tours, shuttle service to nearby attractions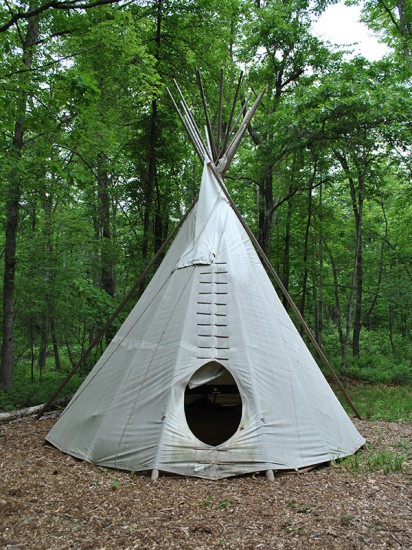 Wild Yough
1976 Herrington Manor Road, Oakland, MD
877-389-9740
Primitive camping goes back in American history to the homes of the natives of this land: the tepee. And Wild Yough offers guests the chance to stay in one.
Located in Oakland, Maryland, just 2 miles from Swallow Falls State Park—location of the highest free fall waterfall in Maryland—Wild Yough (pronounced yok after the Youghiogheny River, which runs through the property) has five huts, but only the Stanley hut comes with an adjacent tepee.
The campground spans 350 acres, with the huts spread out to offer privacy but close enough that all guests can enjoy the pavilion space, fire pit and bathhouse. All of the huts are one-bedroom spaces that sleep four, allow up to two pets and include a couch and dining space, propane burner stoves, heaters, cookware, dinnerware and utensils.
On the property are 8-plus miles of hiking trails with geocache sites throughout the site. Nearby is Herrington Manor State Park beach and Swallow Falls State Park, and the campsite is just outside of historic downtown Oakland.
Lodging: Huts ($85/night)
Amenities: Pavilion, trails, geocaching, nearby state parks and historic downtown Oakland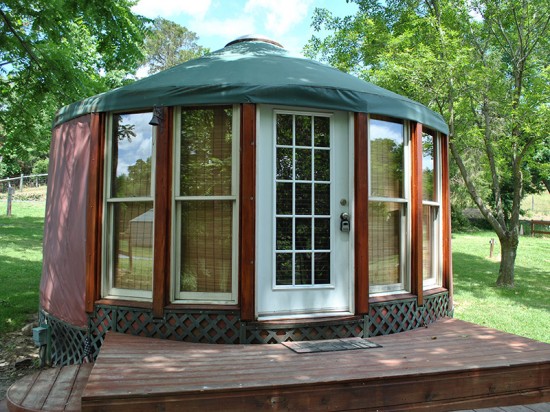 #1 Rock Tavern River Kamp
1420 S. Page Valley Road, Luray
540-843-4232
On a small lot of land (1.5 acres) along the Shenandoah River is #1 Rock Tavern River Kamp, which opened in 2013 with 12 lots for pitching tents and three yurt options. The yurts—Hummingbird and Cherokee Rose, which both sleep four, and the Painted Horse, which sleeps six and has a TV and a DVD player—all offer conveniences the neighboring tent campers don't get: a refrigerator, microwave, coffeemaker, toaster, waffle irons, slow cooker and more. But all guests at Rock Tavern River Kamp do get the beautiful views and use of the river for tubing, kayaking, canoeing and, in some spots, wading. A communal comfort station (i.e. bathrooms and showers) is available to all guests.
The small retreat is a great place for a group stay as either portions or the entire spread can be booked.
Lodging: Yurts ($130-$170/ night), tents ($60/night)
Amenities: Abuts the Shenandoah River, shuttle bus for tubing with advance notice, nearby hiking, distillery and riding stables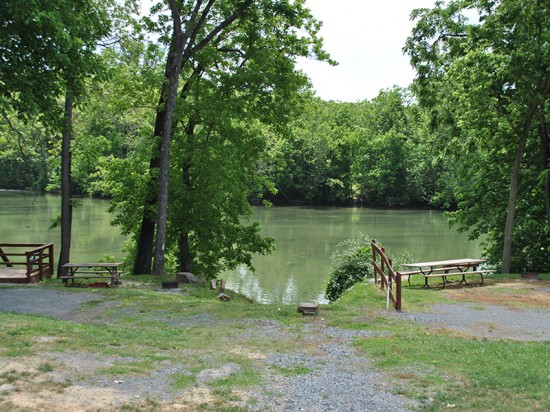 Farther Out…
The Depot at Paint Bank
The Depot at Paint Bank is an old train depot dating back to 1909. The current owners opened a retreat offering rooms in the well-appointed lodge, rustic cabin and cozy cottage, but here's what makes this a perfect spot for glampers: The Caboose (queen bedroom with bath and private patio), the glamping tent (either a king-size or two twin beds, full bath, gas fireplace and deck overlooking a private pond) and the 1967 Airstream Overlander trailer (26-foot camper with two single bunks, a foldout full-size bed and full bathroom).
Primland Resort
The best way to take in the mountains is from a bird's-eye view. It's possible at Primland Resort in one of their three treehouses perched on the edge of the mountains, where each offers a king-size bed, bathroom with soaking tub, flat-panel TV, 400-thread-count Frette sheets, robes and slippers, daily housekeeping, nightly turn-down service and a four-wheel drive vehicle to get guests to and from the lodge.
Kiptopeke State Park
Kiptopeke State Park is the only park in the state's park system to embrace glamping with a yurt. This one has views of the Chesapeake Bay from its large wooden deck. The yurt sleeps six in a pyramid bed, a bunk bed and a futon sofa and uses a heat pump for heat and air conditioning. The only downfall of this getaway: After Labor Day the yurt is used for research programs, so it is only open to the public from the first Friday in March through Labor Day.
The Lee Glamping Tent
Conceived as a respite from the rush of current day life, The Lee Glamping Tent offers a getaway in a luxury tent with a large bed, sitting space and a sitting porch overlooking the 170 acres where the tent resides. Visitors can check out the kitchen garden or visit the neighboring farmer, who opens his farm to visitors to see sheep shearing, cow milking and more.