Fairy tales have found a home on the silver screen over the years. Cinderella, Beauty and the Beast and more have made lasting impressions. Now, Harold and Gennet are looking to do the same, though it's a different kind of fairy tale.
Fifteen years ago Harold Mintz was the first participant in an altruistic organ donation program organized by the Washington Regional Transplant Center. Gennet Belay, an Ethiopian-born immigrant living in Springfield who had suffered from kidney failure since she was a girl, was the recipient. Their story has now received its own big-screen treatment in the short documentary 1-800-Give-Us-Your-Kidney.
Like many fairy tales, this story had humble beginnings. Mintz had long been an avid blood donor, and he registered to be an organ donor on his license, but it was an in-flight movie that would change his life forever. A Gift of Love: The Daniel Huffman Story starred Debbie Reynolds as a grandmother who falls ill and sees her grandson sacrifice his dreams of playing high school football to donate an organ to her. Mintz didn't think the movie was anything special, but something caught his eye.
"As the credits were rolling, the phone number came up," says Mintz, that number being 1-800-Give-Us-Your-Kidney. "It was like the last thing on the screen, and it held it for a little bit. It was like it was saying, 'Hey Harold, are you looking at this? We're holding it on the screen just for you.'" Mintz listened; he wrote down the number and called to get more information.
He learned about how this was the first program of altruistic donation, and for him it quickly became an opportunity, not a choice. "Once my hand was raised … choice was no longer a part of it. Now it was just, 'Come on, let me do it; I want to do this.'"
The program wasn't as gung ho as Mintz. Ten other people initially went through the application process before he did; all failed. Once he went through, he discovered that it was a long and arduous series of tests, both medical and psychological. Months went by before he finally heard he had been accepted into the program. "I swear it felt like I won the lottery," he says.
The day of the surgery came, and Mintz says he was more excited than nervous. When he woke up from surgery, he quickly learned it was successful for both him and the recipient.
Mintz was aware if both donor and recipient agreed, the program would arrange for them to meet. But Mintz was hesitant. "All I kept thinking was, 'This is a fairy tale. This is once upon a time, there was a guy who decided to give his kidney to a stranger. He did. He helped this person, saved a life, and they all lived happily ever after.' What screws up this fairy tale? What happens if that person that got the kidney looks at me and goes, 'You're not what I'd thought you'd be.'"
However Mintz relented, and a meeting was arranged. When he walked into the room where Belay was waiting with a bouquet of flowers, Mintz says that everything else in the room faded away and he made a beeline for her and embraced her in a hug. For the next few hours, they shared the story of how they were brought together—two completely opposite stories, now forever connected.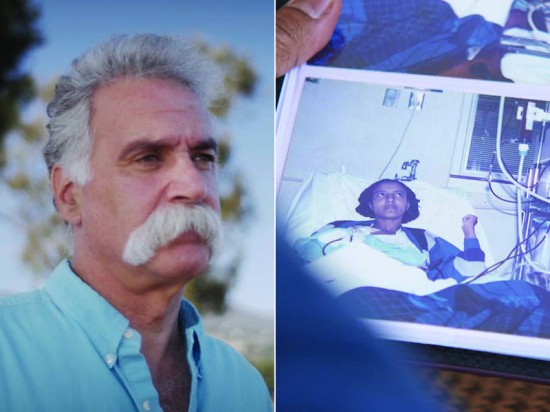 They allowed that connection to grow between them and their families. They would share family dinners, join each other at special gatherings and celebrate the anniversary of the donation—what Belay calls her rebirthday. Even now that Mintz and his family have moved across the country to Malibu, California, they still keep in touch. "We are a family now," Belay says.
However, in California, the fairy tale found a new and exciting way to continue. Samantha Smith was a graduate student at Pepperdine University when she heard Mintz's story. In need of a subject for her thesis film project, Smith was intrigued about what made Mintz sign up to donate to a complete stranger, and 1-800-Give-Us-Your-Kidney got underway.
"It's just this incredible metaphor of how we're literally made of the same parts, obviously, but we're just packaged differently," Smith says.
The film made its premiere at the Telluride Mountainfilm Festival back in the spring and is now heading to where the story started as a selection of the Washington West Film Festival, which Mintz and Belay expect to attend together.
Mintz is excited about the new possibilities the film can bring. "The story just keeps getting better because the more I tell my story, the more lives it could affect, and it just keeps getting passed on and passed on. It's doing nothing but getting better." // Washington West Film Festival, Oct. 19-24