Scout & Molly's, named after the founder's dogs, can be found in the same Mosaic corridor as Arielle Shoshana, Kendra Scott and Undeniable Boutique's upcoming second location. "I've looked at several different options, and Mosaic really appealed to me because they are trying to bring in unique stores and restaurants," says owner Teresa Snedeker. Although it is a chain, each boutique is independently owned, which ensures that the items offered will differ according to location.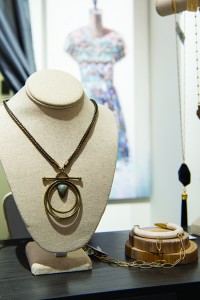 The "rustic chic" design aesthetic remains the same at every Scout & Molly's. The interior boasts dark wood paneling with pops of pink or green and the signature turquoise chandelier. The Mosaic spot also incorporates silver vases, floor-length mirrors and abstract watercolor paintings for a modern touch. The walls are lined with contemporary designs from BCBG, Tracey Reese, Olive + Oak and Cupcakes and Cashmere. The store's jewelry selection is a major draw for customers, with quartz pieces from Lush, tassel and natural stone items from Betsy Pittard and minimalist gold-plated items from Elizabeth & James.
Despite the target demographic being between 35 and 55 years old, Snedeker finds that younger women who come in with their mothers always leave with something that they love. The boutique also aims to please each customer by offering personal styling, trunk shows and champagne, wine and mimosas on the weekends.
With almost every item under $200, the stylish NoVA woman can easily find classic and trend-driven quality pieces at an affordable price point. // 2920 District Ave., Suite 135, Fairfax; 703-280-4440