By Claudina Hannon
As Northern Virginians, we have the great advantage of living in a very culturally diverse area. Though at times we may be connoisseurs of international cultures, their respective cuisines and even customs, we may not always be aware of the fashion design talent the world has to offer, many in the form of emerging global designers. Thankfully, the Northern Virginia area is witnessing a rising trend of new shops that do carry international designers, such as shop DOKU, an Arlington-based online boutique, and Take 5 Boutique in Mosaic District. But it's also great to know one can shop for lesser-known international designers at a store like Bloomingdale's at Tysons Corner. We inquired about which designers the NoVA woman should shop for this summer, and here's what the local experts had to say:
@ Shop DOKU
Andrea Iyamah
 Shop DOKU's cofounder Tomara Watkins says Andrea Iyamah's swimsuits "really highlight your curves." This designer's bright shades and patterns will add a pop of color to your swimsuit collection.
Ame'yo
This design duo based out of Ghana delivers flattering silhouettes. The Baby Doll dress can serve as a flirty addition to your summer wardrobe.
ZAAF Collection
Abai Schulze, the designer behind this Ethiopian brand, creates luxury leather handbags. "It's probably a bag that you'll have for the rest of your life," Watkins says. The bags also showcase subtle, tribal-inspired African designs that are the perfect touch of international inspiration. This Weekender Tote is an ideal accessory for a summer trip.
 @ Take 5 Boutique
Roman
"It's everybody's favorite," says Take 5 Boutique owner Sakina Iskender of the European brand. Roman's designs are wearable sophistication for the NoVA woman. Many of the pieces can be transitional: During the day they can be fashionable office attire, and at night they work well as going out outfits.
Resm
The Resm jewelry pieces are beautifully detailed, and each piece is either 14- or 18-karat gold. Handcrafted in Azerbaijan, this jewelry collection's ornamental patterns and symbols tell a story behind each design. Available in-store at Take 5 Boutique.
Gamze Saraçoğlu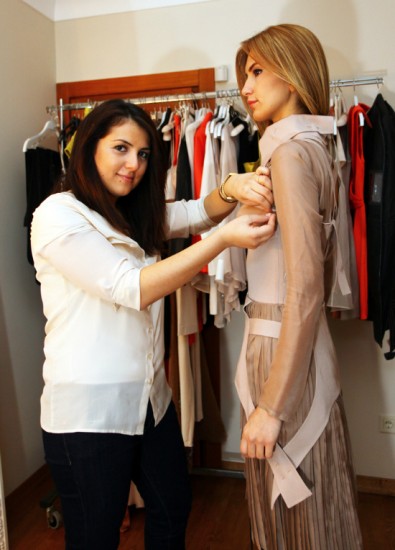 Gamze Saraçoğlu is a Turkish designer whose designs Iskender describes as "very modern, clean looks [that are also] very feminine." She's absolutely right—if you are a fashion risk-taker, then these designs will fit your style sense like a glove. This designer knows how to balance a cutout with an accentuated waistline, along with lines that elongate the leg. Shop her collection in-store at Take 5 Boutique, and view her runway collections here.
@ Bloomingdale's
Maje
The items in this Parisian collection show the brand's versatility. There are more structured pieces like boxy motorcycle jackets and flared skirts, but there are also silk blouses and shift dresses that are perfect for this season. Overall, the pieces are sporty yet feminine everyday wear.
Sandro
This Parisian designer's collection is full of formfitting and casual designs that showcase simplicity and French chic. Any NoVA woman will love the easy-to-wear pieces, detailed work and lace in the collection.