New townhomes open at Vienna Station and The Peterson Cos. ask for a residential expansion for its Loudoun site, plus two more new properties in Chantilly and Crystal City.
Metro Row at Vienna Station Opens
Metro Row at Vienna Station, built by NVHomes, is now open offering modern townhomes, some with rooftop terraces. Starting from the upper $790,000s, the townhomes offer 3.5 baths and up to four-bedroom options and finished lower levels, ranging from 2,507 to 2,697 square feet. One- and two-car garages are also available. Once complete, the community will house 141 three-level townhomes. The community is 2.5 miles from Mosaic, 5 miles from Tysons Corner and less than 1 mile from I-66 and Route 29.
Peterson Cos. Asks for Expansion on Avonlea Project
In 2015 The Peterson Cos. was approved to move forward with its plans to develop a 28-acre site in Loudoun County, south of Route 50 and east of Pinebrook Road, for a 300,000-square-foot development that will include the region's first Cinepolis movie theater along with retail and commercial offerings. Now Peterson is back before the county asking to double the size of the campus after acquiring an additional 48 acres, some of which are already under contract with Toll Brothers, and to rezone what is now zoned for commercial and retail to include residential units, specifically 725 multifamily units and a 150-bed assisted living facility.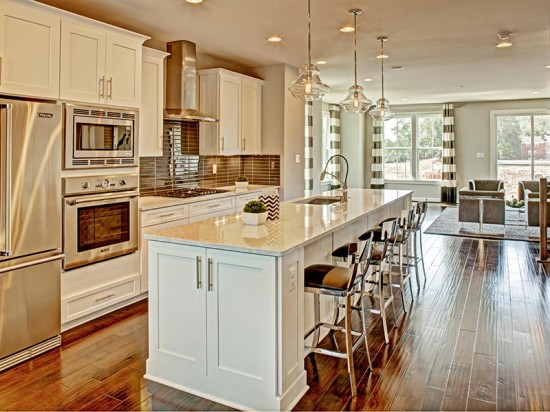 Chantilly Wegmans Project Hoping to Include Residential
Last October the Fairfax County Board of Supervisors signed off on a Wegmans to open in Chantilly in what is currently a vacant field on the north side of Westfields Boulevard at Newbrook Drive. Already zoned in 2007 for the overall Commonwealth Centre complex to include 1 million square feet of office space, a 212,000-square-foot hotel and 76,400 square feet of retail, nothing much has come of the site except for two office buildings. The current owner, Regency Centers, is now hoping to add in residential to get the project up to speed with what residents are looking for in developments such as this. Regency is working with Toll Brothers to add hundreds of residential units—117 townhomes, 126 multifamily units plus parkland, trials and a plaza—to 36 acres on the northeastern side of Commonwealth Centre and include a multiplex, retail and standalone restaurants.
Crystal City's Century Center Proposes New Residential
In June Lowe Enterprises, property owner of the Century Center office and retail complex in Crystal City, proposed a 286-unit residential building to be built above existing retail space at the intersection of Crystal Drive and 23rd Street South, currently where California Tortilla, Buffalo Wild Wings and Mezeh Mediterranean Grill now reside. The residence will include a rooftop patio, fitness area, a club room and outdoor courtyard to go along with the contemporary units, all of which will be built to a minimum of LEED Silver certification. Residents will be offered transportation amenities such as their choice of a $65 SmarTrip card or one-year bikeshare or carshare membership.