There's no place like home. Such was the case for a Northern Virginia homeowner who purchased a three-bedroom 2,000-square-foot luxury condo in a Reston high-rise building in 2015.
"I've been in this area for many years, and I really like it. I saw Reston get built," he says. "Up until now, I've always lived in large, mostly secluded houses. I wanted something different this time, something more intimate in a convenient location—something that took advantage of an urban lifestyle. I wanted to walk out the front door and have access to amenities, services and restaurants."
Downtown Reston, with its plethora of restaurants, boutiques and businesses, as well as its easy entry to the Washington & Old Dominion Trail (the homeowner is a bicyclist) proved the ideal location. But it was the northeast corner penthouse in the building that sealed the deal.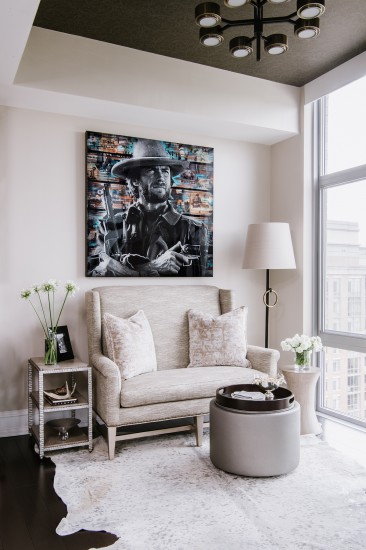 The unit has spectacular views that reach all the way across to Sugarloaf Mountain in Maryland on a clear day. The homeowner fell for the panoramic scenery afforded by the condo's floor-to-ceiling glass windows and doors, as well as its open floor plan and ready-to-move-in condition, with Brazilian cherry wood floors, white-lacquered built-ins and freshly painted walls. But he wasn't bringing a stick of furniture with him and needed help furnishing the condo.
After a sound web search and several meet-and-greets with interior designers, the homeowner ended up hiring Syntha Harris of StoryBook Rooms to help him realize his decorating goals. She was the only candidate who understood his vision and came up with a plan that would integrate the condo's existing built-ins into the design. These include a rectangular white-lacquered cabinet in the main living area as well as two nightstands in the master bedroom. All are cantilevered off the walls and appear to be floating.
"Most of my adult life I've been surrounded by very traditional furniture in reds, greens and golds," says the homeowner. "I was looking to move away from that, but I was concerned about going too contemporary. I also wanted a masculine feel but not heavy, dark and overbearing. Syntha really understood what I wanted and was able to help me find my comfort level on the design spectrum."
When she first walked the condo, Harris was infinitely pleased. "I loved the ebonized wood flooring, the contrast of the lighter walls and darker floors. The openness was beautiful. My job was to enhance the beauty of the unit with a neutral, transitional, clean-lined design that the homeowner desired. Something fresh and new, yet warm and comfortable that felt like home."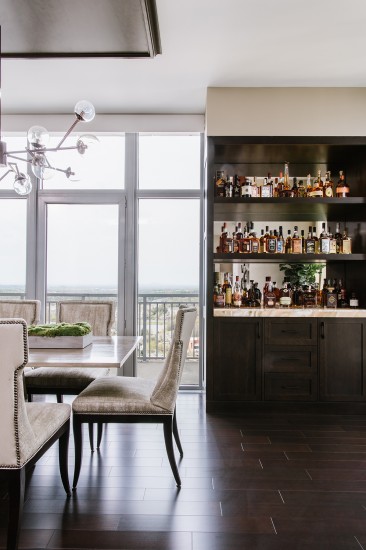 Owning a large flat-screen TV was a priority for the homeowner, and Harris quickly found the perfect spot for it—above the rectangular white-lacquered cabinet in the main living space. That discreet interior wall, not visible from the foyer, became the media wall. This placement also allowed the floor plan to grow organically, with a crisply tailored chenille sofa situated across from it.
"I paired the sofa with two swivel armchairs in a wool-blend with a striated finish. They can turn to face the adjacent fireplace or the TV wall, be part of a conversational grouping with the sofa or simply swivel toward the view from the dining area's windows," says Harris.
But it was the rug that really became the starting point for the interior design. Harris sourced the silk, hemp and wool area rug from the Mansour Rug Gallery, drawn not just to its warm neutrality (the creams, grays and browns that became the condo's palette) but also to its fluidity of pattern.
"Most traditional rugs have a defined pattern," adds Harris. "Knowing that the furniture in this space would have cleaner lines with sharper edges, I wanted something to offset that. This rug's pattern is soft and has movement. It's also very textural, with the coarser hemp, the weighty wool, the fine silk."
Turns out textural—and material—contrasts feature large in the condo's decor. For example, all the accent tables have different finishes and forms, lending a collected feel to the space. In the living area, a dark-stained wood-top lamp table, with a wire-rubbed wood base, is paired with a smaller metal-based drinks table, which has a thick bubbled-glass top. The coffee table itself is a tidy square of upholstered pleather, plump enough to put one's feet on and practical enough to take an accidental spill from its built-in lift-out tray.
"When working with an exclusively neutral palette, it's important to lend depth, interest and variation to the overall design. Part of that is achieved through forms, fabrics and finishes, and part of it is by varying subtle patterns," adds Harris. Case in point are the sofa's accent pillows, running the gamut from plush faux fur to a banded silk with sheen to a woven raised polka dot.
The adjacent dining chairs, with their faux ostrich pleather backs, linen-blend fronts and seats and nailhead trim detail, continue the theme of discreet yet potent contrast. The custom-made walnut dining table, with its chunky, faceted pedestal base, is a showstopper.
"I didn't want to put a lot in that area because of the bank of windows," adds Harris of her dining area selections. "But whatever I put there would be seen a great deal because it's in the forefront of the view. It needed to be special."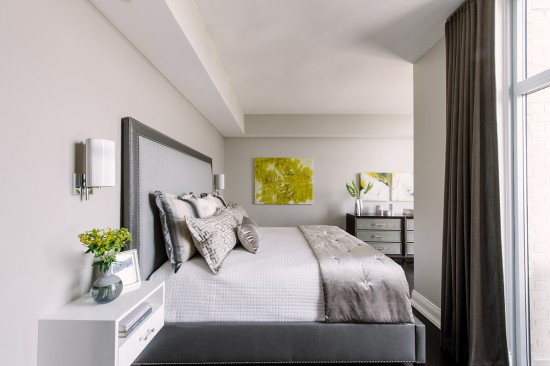 One of the challenges of working in a condo is lighting, seeing as the ceilings are concrete and everything is prewired. Though this unit had recessed light in its peripheral soffits, Harris added task and ambient illumination by way of table and floor lamps. Her biggest challenge, however, was that the dining area's chandelier wiring was in the wrong location.
"I felt strongly that the dining table needed to be centered on the view (the largest bank of glass windows and door) and that the chandelier would have to be centered on the table," recalls Harris. "The wiring was completely off, so I had a rectangular wood medallion built for the ceiling so we could properly achieve this."
Now, a dramatic, yet airy, sculptural chandelier is perfectly and centrally suspended above the dining table, adding spatial definition and design presence without blocking the views. What Harris calls its second cousin (multi-armed but more compact on a matched medallion) hangs above the former breakfast eat-in off the kitchen, which Harris repurposed as a sitting nook, a place to have coffee or a cocktail.
"There was no need for two dining areas next to each other. It just didn't make sense, too many tables and chairs, so I added a high-backed bench and a faux hide rug—it has random edges but defines the niche area."
The ottoman here has a reversible top, one side a built-in tray, the other a plump upholstered surface—ever comfy, ever practical.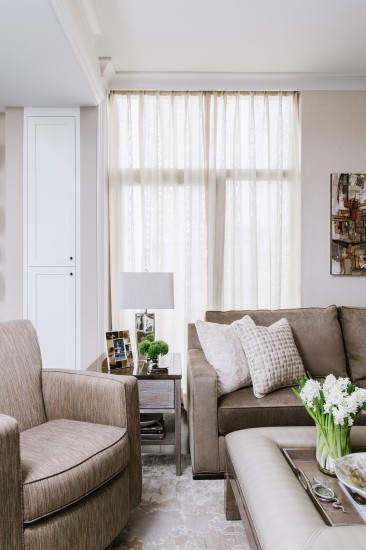 "One of my favorite design elements is the bar," says the homeowner of the custom built-in bar. "With penthouse views of mountains in Virginia and Western Maryland and of the metropolitan skyline of Maryland and D.C., it becomes a sort of sky bar. It used to be a TV cabinet. We were trying to figure out what to do there when Syntha suggested a custom bar."
Because the bar is on the same wall as the best views, Harris wanted its design to be impactful. She didn't want to use the same finish (mostly white lacquer) as the other built-ins in the condo but rather have the bar become its own unique piece of furniture.
"We went with the same finish as the floors, the ebonized Brazilian cherry," says Harris. "It has loads of storage, but the open areas are truly standout. The lowest shelf is of a waterfall-cut backlit onyx, and the upper shelves are framed in wood but have frosted glass LED-lit insets."
The shelf-backs are also lined in antiqued mirror, and the bar now holds the homeowner's extensive collection of bourbon. All the bar's individual shelves are on their own light-dimmer switch controls.
"When lit up at night, the bar has such a unique wow factor with the reflective mirror and illuminated amber liquid," adds Harris. "Ethereal, rich, warm and sexy. It's like another piece of art in the room."
Not surprisingly, the art throughout the condo was individually sourced, purposefully placed and custom-designed to work with the interior design, including several pieces by Virginia artist Lisa Tureson of Studio Artistica, who added hints of warm ochre to the master bedroom.
"The master bedroom is primarily gray and silver tones and heavily textured for added interest," says Harris.
A king-sized bed has a custom headboard of pleather with nailhead trim detail, as well as a menswear-inspired tweed inset. Lest it appear too masculine, Harris added an arrangement of accent pillows, including striped silk Euros, a silk-embroidered Greek key on linen lumbar and a velvet boudoir pillow with trim. There is also a dark wood-framed chest with plenty of storage in the bedroom, with pale gray shagreen fronts and silver chrome linear handles.
"The homeowner was seeking interior design to reflect a new chapter in his life and a place to call home. He didn't want a straight up bachelor pad but somewhere warm and inviting," says Harris.
"I'm really pleased with how it turned out," adds the homeowner. "It exceeded my expectations. It's livable, comfortable and fresh. It makes me happy and feels right. It's the perfect transition into my new life."
(May 2017)