It's not uncommon for master suites to get the last look when it comes to renovating older family homes. For better or for worse, public living and entertaining spaces tend to take precedence over private ones. This was definitely the case for Kia and Bob Barker, who bought their four-bedroom, 5,000-square-foot French manor-style house in Oak Hill back in 2012 but only decided to remodel their dated '90s-era bedroom and bathroom in 2015.
"We live such an exhausting life right now with our three little kids, Maya (3), Brayden (5) and Max (7). It's all go, go, go. It was past time for us to have our own sanctuary," says Kia, a busy stay-at-home mom who also volunteers for a local nonprofit, distributing gently used baby gear to mothers and babies in need. Kia heard about Oakton-based interior designer Pamela Harvey by word-of-mouth and reached out to her with the master suite SOS. Kia had previously worked long-distance with a D.C. decorator, a process she found challenging, so she knew she wanted someone local this time around. Harvey, a seasoned professional with sound sense, took one look and knew right away what the couple needed.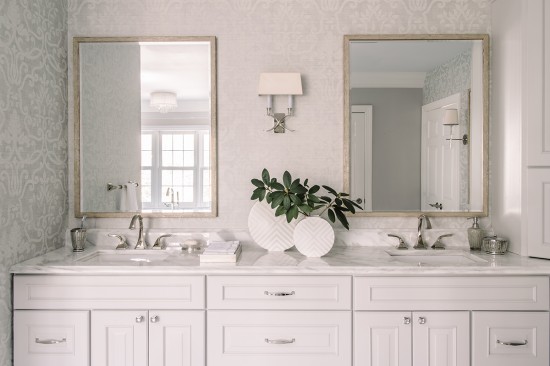 "Let's just say it was interesting," says Harvey wryly, referring to the heavily draped pink-and-blue bedroom, with its terracotta Southwestern-style fireplace, not to mention the choppy, builder-grade bathroom with dark counters and ugly tiles. "The Barkers are a fun, young couple," she says. "They wanted something fresh and up to date. Her tastes are more traditional, her husband's more modern. My job was to bridge their aesthetics and create the sophisticated retreat that they both desperately wanted."
Keeping the adjacent bedroom in mind, Harvey began space planning in the poorly designed bathroom. Previously, it contained a walk-in closet right off the bedroom and was divided into two sections, with a sunken tub and small shower in front and the vanities off in a separate area in the back.
"I worked with Bob Street, who is a builder and building engineer," Harvey says. "We moved the closet to the back and completely opened up and reconfigured the bathroom's layout, save the enclosed WC, which we kept in the same location for a measure of economy."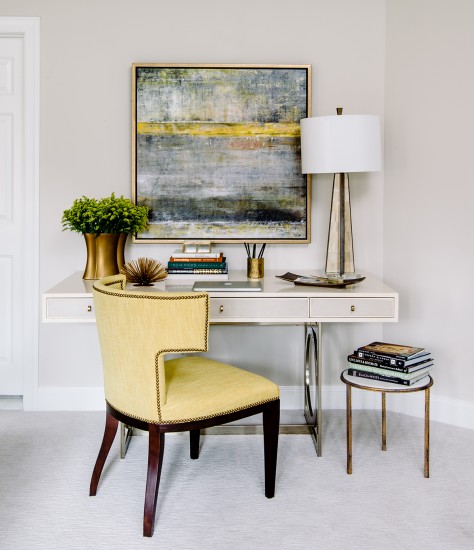 Now upon entry into the new bathroom from the bedroom, there is a wall of double vanities and lower cabinetry to the right as well as a built-in dressing table with a tall corner storage tower. Beyond is a double shower and, opposite that, a freestanding tub tucked into its own niche.
"I really wanted the bathroom to be spa-like and modern, with heated floors, dual-head rain showers, a sculptural tub, all the gizmos," says Bob, who owns a software consulting business and works very long hours. "I definitely had more of a role in the bathroom's design," he adds.
The couple, however, both loved marble, a timeless, traditional material, and Harvey flexed her creativity and expertise when it came to working with it.
"We wanted the bathroom to feel very serene, restful and neutral but also warm," she says. "Calcutta Gold, the marble we selected as our base stone, is perfect because it has both warm (beiges and taupes) and cool (grays and whites) tones in it. We used it on the floors as well as in the laser-cut chevron wall in the shower."
But to balance the Calcutta Gold, which also has strong veining and a sense of movement, Harvey integrated calming doses of Mystic White marble. She used the almost-snow white stone for the countertops, on the shower's sidewalls and as a "pencil liner" atop the bricked Calcutta Gold wainscoting in the freestanding bathtub's niche.
"It gives the eye a place to rest," she adds of her decision to incorporate the Mystic White. "It would be overwhelming to have the bathroom all be in Calcutta Gold."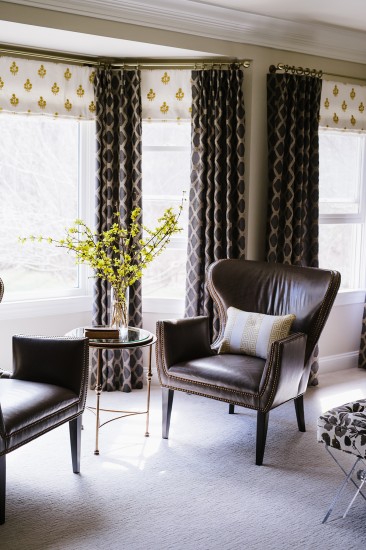 "The kids are in there every night, my girl in the tub, the boys in the shower," says Kia of the marble-clad space. "It feels like we're at the Ritz."
Other design touches in the elegant bathroom include the L-shaped placement of the double vanities and dressing table against a contemporary damask-patterned wall covering; the pearl-gray cabinetry with crystal knobs and polished chrome pulls, the champagne-finish framed vanity mirrors and the whisper of sky blue paint on the ceiling.
"For bathroom accents, I used acrylics in the drapery hardware, the dressing table stool, and the tub table," adds Harvey. "One of the goals was to keep the room open and airy and light. The acrylics achieve that. The rods make the drapes look like they're floating, the table allows the tub to be the focal point, yet they still add dimension to the space."
Meanwhile, Bob and Kia awaited the master bedroom transformation with bated breath. Though Bob was less involved in the day-to-day decision-making on the bedroom's overall design, he was very opinionated on the necessity of changing everything in there—and fast.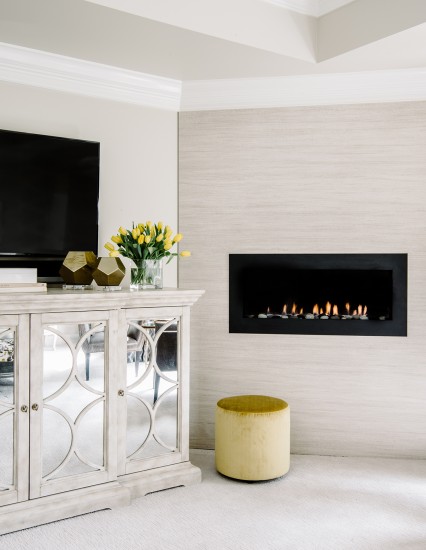 "Our old bedroom was hideous," he says. "The paint was bad; the tile was bad. It was driving me nuts. The new bathroom blew me away, but that bedroom made me anxious and claustrophobic." Bob pauses and then playfully confides, "I really wanted a bedroom like you see in magazines. I wanted to walk into a stylish space and see the bed made. I even like all the pillows."
Bob's love of modern design was embraced when Harvey replaced the old fireplace with a contemporary one. The new fireplace is made of a sheet of smooth porcelain with a floating gas-fueled firebox.
"We used one of the new porcelain body tiles in a 4-by-8-foot piece, so there are zero seams. It's very clean-lined," she says.
Harvey also carried the quiet, neutral palette out of the bathroom and saturated it, going with charcoal grays, chocolate taupes and forsythia yellows in the bedroom. The metallic of choice in the bedroom is also warm gold, not cool silver.
"The bedroom's aesthetic is sophisticated, modern elegance with traditional elements that ground the space. It has a relaxed feel, too, a comfortable place for adults to hang out in, but for kids too," says Harvey.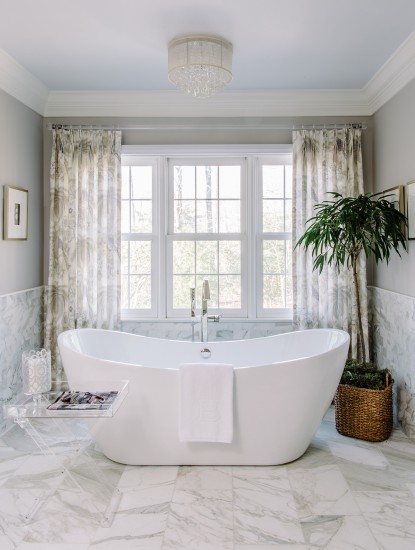 "There's no hiding from these kids," jokes Bob about his family. To which Kia adds, "But we have new rules in place now: No eating or drinking in mommy and daddy's bedroom. The rest is fair game."
One supposes this might include bouncing on the plush, king-sized bed so long as the pillows are in place when dad comes home.
"Our previous bed had been very modern, masculine and hard, and I wanted a softer, romantic, curvy bed," says Kia of the charcoal gray velvet platform bed Harvey sourced with gray piping detail. It is layered with crisp white bedding and a variety of plump bed pillows in the room's color scheme.
"Other than the pillows," says Bob, tongue in cheek, "as the furnishings came into place, I wanted the modern leather chairs, and I definitely wanted the desk. I always envision I'll do work there but haven't yet. But I love how the desk looks, like a piece of art."
Bob refers to the furniture that Harvey used to create sitting and desk areas respectively in the spacious 380-square-foot room. The furnishings are fresh takes on traditional designs, with a pair of clean-cut wingbacks for lounging in and a white lacquered desk with shagreen drawer fronts and a sculptural metallic base. The T-backed desk chair is upholstered in bold yellow, its outline studded with brass nailhead trim.
"I picked a darker faux reptile-finish chest for him and a white lacquer one for her," says Harvey of the mismatched nightstands. "I did this for visual interest and not have everything feel so matchy-matchy. So the bed is flanked with a pair of nightstands in a similar aesthetic, feel and style, yet different. His and hers. Like the bedroom, they belong to both of them."
A pair of fluted gold gourd-shaped porcelain bedside lamps ties the nightstands together, as do two wall-mounted mirrors with gold frames. These elements also lend cohesion and glamour to the space. The beaded chandelier and bed-end bench on its acrylic base add other stylish touches. The bench top is a tufted botanical print, which appears to be floating in space.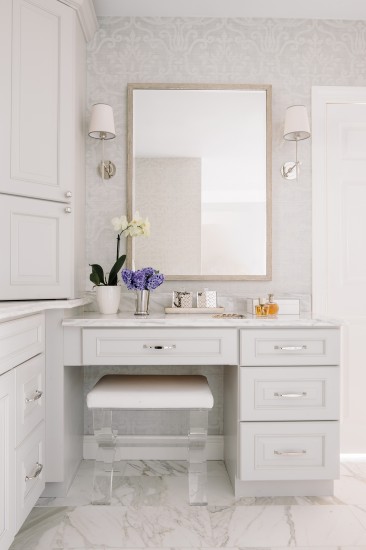 For fabrics, Harvey clearly likes to mix it up, using velvet, leather, linen and textured embroidered fabrics. She has the same approach with patterns. For example, the window treatments include floor-to-ceiling panels in a textured linen charcoal and cream trellis pattern, as well as flat valances with smaller-scaled embroidered floral designs. There are also pull-down blackout shades tucked above the valances.
"We really love it," says Kia of the resulting haven. "Once the kids are in bed, we literally drop into our bedroom. We put the fire on and watch TV or turn the bedside lamps on and read. I might take a bubble bath, Bob a long shower. The only time we get to relax is in the hour or two before we sleep. This is where we chose to be."
To that Harvey adds, "One of the things I loved about this project was helping my clients define their own sense of style and then bringing their looks together."