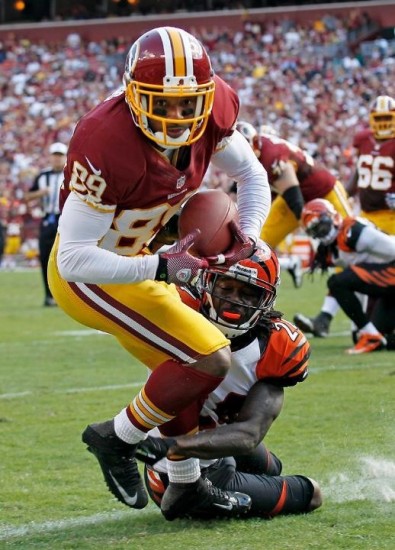 "That's the main thing I want to give these kids: a great time," says retired Redskins wide receiver Santana Moss.
From June 19-23 at Philip A. Bolen Memorial Park in Leesburg, children ages 7-17 can attend the Moss Academy Football Camp, the first weeklong camp in the area hosted by Moss. Each day will offer lessons in on-the-field skills and off-the-field life skills such as self-respect, meditation and perseverance. Moss will serve as head coach alongside other area coaches and a few surprise guests.
"Santana's always been a very humble person, and he loves giving back," says Carmen Felder, co-founder of Authentic Connections, which represents Moss and is collaborating with him on the camp. "He's decided that he's going to live here in the community, and he wants to be involved in the community and give back to the fans who celebrated him and were very supportive of him as he played for the Redskins."
Moss—a Miami native who logged 14 seasons in the NFL after a college career with the Miami Hurricanes that landed him in the University of Miami Sports Hall of Fame—has settled in Ashburn and is eager to create this opportunity for kids in his community where his own children attend school.
"I was blessed and fortunate to have a support system from my mom and my dad that helped me make it to where I have made it," Moss says. "But I know regardless, without that supporting cast or not, you have to be a believer."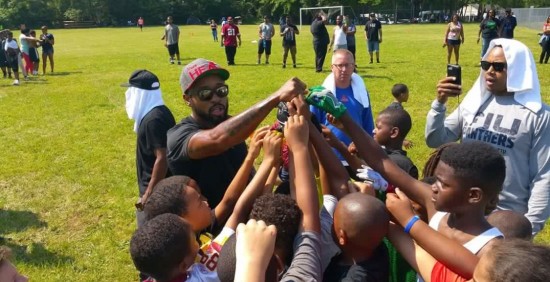 In his senior year of college, Moss established the Santana Moss Foundation to support inner-city kids in the Miami area with lessons in football and life skills. The foundation is sponsoring the Leesburg camp and offering partial scholarships to families in need that can be applied toward the camp's $450 cost. Before and after child care is also offered for an additional fee.
Glenn Wooten, co-founder of Authentic Connections, views the Moss camp as singular among other local camps. "You're doing life skills, and you're learning fundamentals as far as respect and things like that," Wooten says. "I think that's what sets it off because you're not only working with the physical part but you're also dealing with the mental aspect of the game, and that's the best part—it's always overlooked."
In his time in the NFL, playing for the New York Jets and then the Washington Redskins from 2001-2014, Moss saw the mental part of football as just as crucial as the physical. "I found myself in my later career being able to will myself through just by being mentally tough," Moss says. "Yeah, we can go out here and run around all day. I've seen some of the best of the best when it comes to guys that are just athletically gifted, but if you don't have the mental game down, you will always lose."