By Savannah Behrmann, Juliane Kim, MacKenzie Reagan, Sophie Reardon, Katherine Rohloff, Adrienne West
Whether you will maintain your annual tradition of watching the spectacular fireworks show or if you're in the market for a new way of celebrating this Independence Day, we have suggestions to make it your most memorable Fourth yet.
NoVA Skies Light Up in Celebration of the Fourth
Find the closest festivities near you with our breakdown of regional firework displays. –AW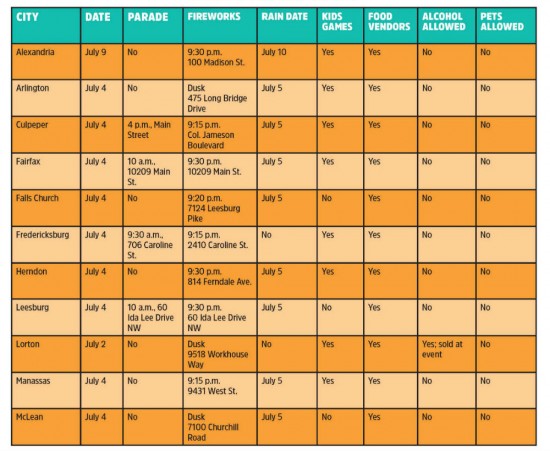 Six Independence Day Cruises
Get front-row seats to the D.C. Fireworks Show by nabbing a spot on an Independence Day cruise on the Potomac River. –KR
Fireworks Cruise aboard the Miss Mallory: Watch the hundreds of thousands of firework shells soar more than 550 feet in the air from the spacious double-decker catamaran. An on-board concession stand will be provided and will include refreshments such as water, soda, beer and iced tea as well as popcorn, but no outside food, drinks or coolers can be brought on to the boat. The cruise will begin boarding at 6:55 p.m., depart from the Alexandria City Marina at 7:15 p.m. and will return at 10:15 p.m. Tickets are $100 per person, including infants, and must be purchased at least 72 hours in advance either online or over the phone at 703-684-0580 and brought on the trip. // Potomac Riverboat Company: 211 N. Union St., Suite 250, Alexandria
Nina's Dandy Independence Day Cruise: Hop on board the 3,700-square-foot upper deck of Nina's Dandy dinner boat and experience a night of luxury and fireworks. The cruise ensures a magical night with a candlelit, five-course dinner; an enormous bar full of spirits, beer, wine, champagne, coffee and soda; and a spacious area for dancing. Tickets for this cruise cost $260 per person and include access to the bar. Attire is semi-formal. Passengers can board the cruise at 6:50 p.m., and the cruise will go from 7-11 p.m. // 0 Prince St., Alexandria
Fireworks Cruise: Take a classy monument tour along the Potomac River to view the magnificent D.C. fireworks show as you sip upon an alcoholic refreshment or mocktail from the open bar. The Fireworks Cruise is on a double-decker boat that provides spectacular views of the show. Check-in begins at 7:30 p.m., and the cruise goes from 8-10 p.m. In order to nab a seat, you must book your tickets in advance online and bring your ticket with you. Adult tickets are $130 while teens ages 12-18 are $110. No children under 12 are allowed on this cruise. // 3100 K St. NW, Washington, D.C.
The Family Fireworks Cruise #2: Hop on board the single-deck Ms. Rivershore boat on this family-friendly escapade past the monuments and the Kennedy Center that culminates with a marvelous view of the fireworks. Complimentary pizza, soft drinks and bottled water will be provided. Check in at 7:30 p.m. and soak in the sites on this Independence Day adventure from 8-10 p.m. Tickets must be purchased in advance online and will cost $80 for adults and $60 for children ages 10 to 16. Children under 10 are not allowed onboard. // 3100 K St. NW, Washington, D.C.
Fourth of July Fireworks Cruise: Take in the sites of D.C. from the Anacostia and Potomac rivers on this family-friendly cruise. Each guest is served a complimentary drink with an array of alcoholic beverages and soft drinks on offer. There will also be a large assortment of finger foods such as hummus and veggie platters, hot dogs and desserts. Boarding commences at 7:30 p.m., and the tour will then go from 7:45-10 p.m. Each ticket costs $145 and must be purchased online and then brought with I.D. to the dock before departure. Since parking is not available, in order to get to the Maine Avenue launch location, it is recommended that guests take the Metro to L'Enfant Plaza and then take the scenic, roughly 15-minute walk to the Washington Marina. // Washington Marina: 1300 Maine Av. S.W., Washington, D.C.
Independence Day Fireworks Dinner Cruise: Recognized by Washington.org as one of the "Top Spots to Catch the Fireworks," the Independence Day Fireworks Dinner Cruise onboard the Spirit will provide a stunning view of the fireworks show from the Potomac. Join the party that consists of a live DJ, a buffet dinner and an open bar. Boarding begins at 6:30 p.m. and lasts until 6:50 p.m., departure is at 7 p.m. and return is at 11:30 p.m. Tickets can be purchased online and will cost $169.90 per person. Passengers must be 21 or older with a valid form of I.D. //Pier 4, Water Street SW, Washington D.C.
A Fourth Without Fireworks
Maximize your Monday off with an activity-packed Fourth of July Itinerary. –MR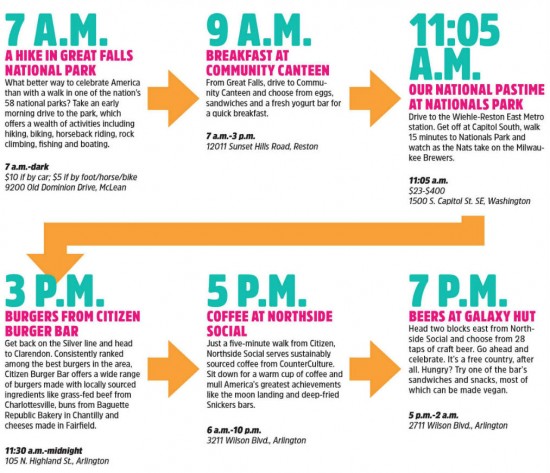 … And Even More Patriotic Events that Don't Involve Fireworks
You don't have to camp out on a blanket to watch the fireworks to properly celebrate America's birthday. The DMV is full of alternative patriotic activities that are fun for the whole family. –SB
Independence Day Celebration
Fairfax, all day
Fairfax will be celebrate Independence Day in a day chock full of festivities including parades and contests. Head to the parade from 10 a.m. to noon; it will go on rain or shine. Then meet all of your favorite action heroes in the Suntrust parking lot during the Superhero Fest. Later, area firefighters will compete in the Old Fashioned Fireman's Day. That evening, there will be performances by The Hacken's Boys and City of Fairfax Band.
An American Celebration
Mount Vernon, 9 a.m.-evening
Celebrate one of the most important days in our country's history by spending it at the first president's home, Mount Vernon. Interact with Gen. and Mrs. Washington and eat ice cream prepared the 18th-century way. The festivities also include a naturalization ceremony for 100 new citizens, military re-enactments, a wreath-laying ceremony and birthday cake.
Purcellville Annual Parade
Purcellville, 12:30 p.m.
There are plenty of fun daytime Fourth of July activities waiting for you at the Purcellville Annual Parade. It kicks off at Emerick Elementary School and travels through downtown Purcellville to Loudoun Valley High School. Families can expect children's rides, entertainment and food vendors.
Air Force Memorial Independence Day Concert
Arlington, 6-9 p.m.
The Air Force Memorial in Arlington will be hosting the U.S. Air Force Max Impact Band for a night of patriotic celebration before the fireworks in the nation's capital.
Dale City Independence Parade
Dale City, 10 a.m.
Dale City's annual parade will begin near Beville Middle School and culminate at the Center Plaza commuter lot, where the Family Fun Festival will take place. There will be performing arts groups, vendors and games until 2 p.m.
Freedom Museum
Manassas, 10 a.m.-4 p.m.
The Freedom Museum will host an open house on July 4 to celebrate war heroes from Prince William County, Manassas and Manassas Park dating all the way back to the Spanish American War through through present day. Admission is free.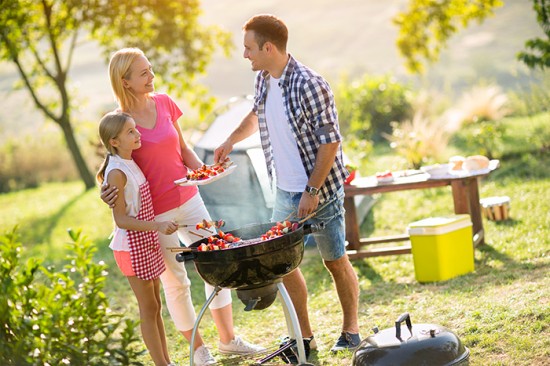 Host Your Fourth of July Cookout at a NoVA Park
What better way to celebrate America's birthday than by hosting an good old-fashioned cookout? Here are some unique spots in NoVA to host yours. –SR
Leesylvania State Park: Four large picnic shelters are available for rent, three of which have grills for a cookout. Visitors can consume alcohol so long as they have approval from the park through the special use permit process. // 2001 Daniel K. Ludwig Drive, Woodbridge
Mason Neck State Park: There is a picnic shelter available for rent with two charcoal grills. Alcohol is prohibited. // 7301 High Point Road, Lorton
Fort Ward: Visitors can rent a picnic shelter, which comes with tables and a grill, at this Civil War fort. // 4301 West Braddock Road, Alexandria
Fountainhead Regional Park: Picnic shelters are available for groups of up to 50 people. Each shelter has tables and a grill. You can reserve a shelter from 9 a.m.-3 p.m., 3:30 p.m. to sunset or all day. Alcohol is prohibited.  // 10875 Hampton Road, Fairfax Station
Temple Hall Farm: Picnic shelters with electricity, fire pits and grills are available to rent. Alcohol is prohibited. // 15855 Limestone School Road, Leesburg
Upton Hill Regional Park: The picnic shelter in Upton Hill Regional Park is available for rent. It seats 64 people and is equipped with a grill. Alcohol is prohibited. // 6060 Wilson Blvd., Arlington
Potomac Overlook Regional Park: The Arlington park has picnic shelters available to rent with grills and picnic benches. It can seat between 30 and 45 people. Alcohol is prohibited. // 2845 N. Marcey Road, Arlington
Algonkian Regional Park: Algonkian offers several picnic shelters to rent. They all come with tables and grills. You can reserve one from 9 a.m.-3 p.m., 3:30 p.m. to sunset or all day. Alcohol is prohibited. // 47001 Fairway Drive, Sterling
Pohick Bay Regional Park: The park offers a range of picnic shelters to rent with tables and grills. You can reserve ome from 9 a.m.-3 p.m., 3:30 p.m. to sunset or all day. Alcohol is prohibited. // 6501 Pohick Bay Drive, Lorton
Bull Run Regional Park: The park offers picnic shelters to rent that come with tables and grills. You can reserve it from 9 a.m.-3 p.m., 3:30 p.m. to sunset or all day. Alcohol is prohibited. // 7700 Bull Run Drive, Centreville
Gravelly Point Park: Situated at the end of one of Ronald Reagan Washington National Airport's runways, the park offers great views of D.C. as well as the airport's takeoffs and landings. The park does not have grills, but it has ample space for a picnic and a game of soccer. // George Washington Parkway, Arlington; 703-289-2500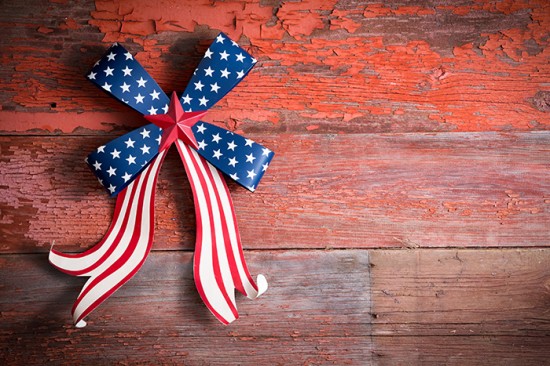 Patriotic DIY Decorations for the Home
Buying holiday-specific home decorations can add up fast. Instead, show off your crafty side this Fourth of July by making these easy and affordable DIY decorations. –JK
Star-Spangled Pinwheels: Put these patriotic pinwheels in front of the house or in a vase to add color and movement to your abode. You will need, among other things, a wooden dowel, scissors, a ruler, paper and a glue gun.
Painted Flower Pots: Grab your unused flower pots, spruce them up with a fresh coat of patriotic paint and use them to display other decorations, like those newly made pinwheels, or go a more traditional route by planting red, white and blue flowers. For this project you will need a flower pot, foam brushes, paint, painter's tape, star stickers and a sanding sponge.
Red, White and Blue Lanterns: These paper lanterns are both festive and functional as a colorful light source for an outdoor Fourth of July party or to add to the ambiance during your family's fireworks viewing. They only require two things: construction paper and string lights.
Painted Bottles: This is another project that puts recycled items to good use: painting wine or beer bottles is an economical and eco-friendly way to decorate. They can be used as a centerpiece, vase or mantel decoration. You will need spray paint, empty bottles, wooden sticks, double-sided tape and ribbons.
Paint Chip Banner: This paint chip banner is not only very easy to make—no paint or glue required—and it looks elegant and professional. Spell out any word or phrase by printing the letters, cutting them out and stringing them above the porch or on a wall. You will need a selection of red, white and blue paint chips, twine or string, a hole-puncher and scissors.
Red and Blue Cushions: This project is useful for making outdoor furniture more comfortable and festive while simultaneously reusing old cushions you may have. You will need bandannas, cushions, rubber bands and ribbons.
Door Wreath: This wreath is a simple, patriotic and unique decoration you can hang on the front door. This project requires felt fabric, straight pins, craft wire, adhesive stars and a foam wreath.