By Cameron Wall
Michael Thompson is a Bristow-based author who started writing when he was in elementary school and has been publishing books for almost 10 years. He published his first book, the first in the children's series Chicken Boy, in 2008 when he was just 13, with the second and third installments following in 2009 and 2011. He is about to release his first young adult fantasy novel, World of the Orb, with a soft release this weekend at George Mason University's Fall for the Book festival, where he will appear on a panel about self-publishing.
We spoke to Thompson about World of the Orb, his writing style and inspirations.
How long have you been writing overall, and how long have you been working on World of the Orb specifically?
I've been writing since I was 9. That was when I really started adding words to the pictures that I [would] draw.
World of the Orb was an idea I had a long time ago in elementary school. I started sketching characters and maps in the margins of my notebooks, and eventually I decided all these characters needed a world to live in. I started creating the world and designating which continent each creature came from, and then eventually, I decided it would be really cool to have a person from Earth find themselves lost in this world.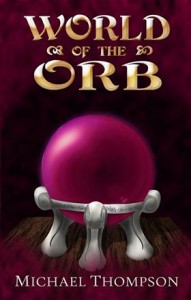 When did you realize you wanted to be a writer?
When I was 9. I had a lot of teachers before then get mad at me for drawing or writing during class. I had one teacher pick up a piece of my work and rip it up in front of the whole class and say, "This is disruptive! This isn't allowed!" Until I had one teacher, Mr. Aracich, who was actually my summer school teacher who I got sent to because I was drawing and writing too much in class, and the first assignment he gave was to make a comic book. His whole class was very writing-centric, and I realized it can be more than a hobby. That was where Chicken Boy was created and the seeds of World of the Orb came from.
What inspires your stories?
I try to write the books I wish existed in the world. There are books that are totally grounded—to the point where there's no room for anything interesting to happen. But there are also books so magical that it's hard to believe …I wanted to bridge the gap between those two things. I wanted to have a magical world that you could also believe in.
Who inspires your writing?
The book is actually dedicated to the person who inspires me the most, and that was my great grandfather Lawrence Schoonover. He was a historical fiction novelist back in the day in New York, and it's just cool to know that writing is in your blood.In terms of other authors, I really like Brian Jacques. He's the author of the Redwall series, and that was a book that I loved for the escapism of it.
What is your favorite part of writing?
Writing isn't something you want to do. As a writer, writing is something you sort of feel like you have to do because it's uncomfortable not to. When you have a story inside you that needs to be told, it's probably the most uncomfortable thing in the world if you're not writing.
You can see and meet Thompson at Fall for the Book on Sept. 25 at George Mason University and the Yabba Festival on Oct. 8 in Warrenton. Keep up with him and World of the Orb on the official book website and Facebook page.