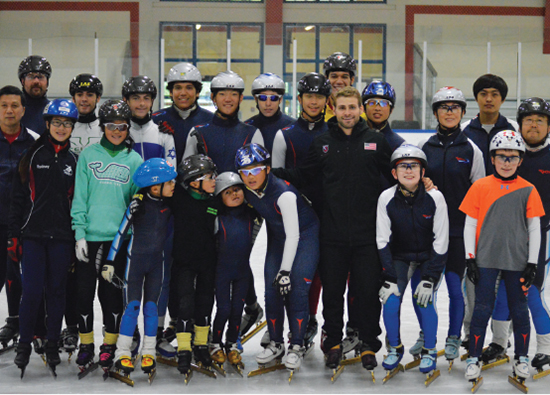 A Seasoned Mentor
The Potomac Speedskating Club's new head coach teaches with experience and expertise.
By Bailey Lucero-Carter
The Potomac Speedskating Club in Arlington made a new addition to their team in the summer of 2014: Jeff Simon. You may recognize him as a national and international speed skater for the USA in recent years. Simon, 25, has won over 30 World Cup medals and was a three-time medalist at the World Speed Skating Championships in 2011. Now working as the club's head coach, Simon says his experiences with past mentors—both good and bad—helped shape his personal philosophy on coaching.
"I try and give confidence, be positive, create a very positive environment for the athletes," says Simon. "I'm not just trying to teach speedskating skills. I'm trying to teach people to be better athletes, be better people, be mentally tough in whatever you do. … That's what's important."
During his time as a competitive skater, Simon coached with several individuals from different backgrounds, including speedskating coach Wilma Boomstra and U.S.A. Track and Field athlete John Smith. Simon also brings experience from his time at the U.S. Olympic Training Center in Marquette, Michigan, where he worked with athletes trained in boxing, wrestling and weightlifting.
Though most of his experiences with coaches were productive, Simon recalls one coach who pushed his athletes by discouraging and insulting them. Even from this, Simon takes away a lesson. "I'm pretty fortunate that I did have that experience because I know what not to do, how not to teach or treat an athlete."
At the Potomac Speedskating Club, Simon teaches all types of athletes: from children to adults, from beginners to nationally ranked athletes.
(January 2015)