Simplify your love life.  Check out this week's step-by-step day trip within the amorous sections of Alexandria.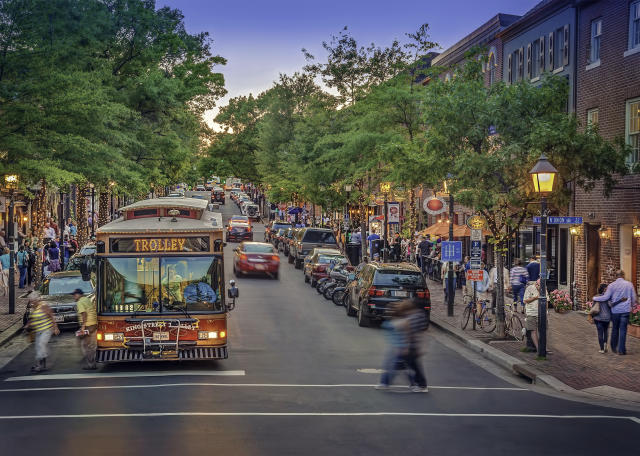 By Meghan Meier
Whether it is an anniversary celebration or just looking for something fun to do with that special person, Alexandria has the outdoor and indoor activities to make that day memorable. From restaurants to shopping and historical adventures, there is always something happening just around the corner. When sorting through all the possibilities, this hodgepodge of ideas can create quite the conundrum. However, there is a solution. To help fix this little teaser, here are some places to help make that perfect itinerary.
Noon: What makes Alexandria an ideal location is its brick-paved sidewalks and buildings that resemble its vibrant historical cosmopolitan district. But to kick start this romantic outing, travel to the coastal edge of Old Town where you can eat and relax while overlooking the panoramic views of the Potomac River. If it is brunch that is on the menu, then head to the Chart House on 1 Cameron St., where there are a variety of dishes to try that stem from traditional eggs Benedict to a fresh fillet of fish or poultry. However, if it is a more conventional lunch that is desired, then stay on Cameron Street, where the scenic views are just as picturesque at Blackwall Hitch.
1:30 p.m.: After a relaxing meal, if it is exploring the city's natural scenery next on the agenda, then the breath of fresh air will be appreciated at its waterfront parks. If you are a couple that likes to go bike riding or jogging for fun in the afternoon, then Oronoco Bay Park is the place to be. But if it is a park that is a lot less energetic and more subtle that is preferred, Founders Park is an ideal location to walk leisurely along the riverside trails or sit back and relax on the viewing benches overlooking the water.
3 p.m.: After enjoying the serenity of Alexandria's waterfronts, make an about-face back toward the dry land of the city's innermost streets. With a mix of modern and old, Alexandria is the ideal place to get a glimpse of Virginia's colonial past. To keep the romance going, skip the group tours and become your own navigator with the help of the Geotourist app. With a simple tap, it is made easy to find all the historical spots and activities without having to share the experience with a group.  However, if it is a museum that is on the game plan for this day trip, then check out the George Washington Masonic Memorial where at the top on the Observation Deck anyone can take the perfect panoramic picture of Alexandria's city silhouette.
5 p.m.: However, exploring these historic streets does not end at the threshold of Alexandria's museums. Sightseeing can only end with a memorable kiss. Just walk to Captain's Row where its cobblestone road and historic homes creates a picturesque canvas reminiscent of its historical past.
7:30 p.m.: For a romantic outing, it does not end until food and drinks are served in entertaining fashion. If it is an European setting that is preferred, then venture to Fontaine Caffe & Creperie located on Royal Street. Not only will the romantic couple enjoy the tastes of European flavors, they can also enjoy French movie night every Thursday at 7 p.m. However, if it is a little more soul and jazz that is wanted to spice up the evening's dinner, then stop by Two Nineteen Restaurant to get a taste of New Orleans. But don't think about leaving early, visitors will be dancing to the rhythms of live music all evening.
Find all our Sex, Love, and Ghosting articles on this month's pop-up blog here.