Harnessing the power of crowdfunding, online classes and family connections, Rebekah Murray started Virginia Dare Dress Co. off a casual comment from her mother one night while she was packing for a work trip to Europe. From there, she Googled "how to start a fashion business." Three years later, she is in production of her first line of dresses.
Murray has been a professional photographer for more than 10 years, mainly focusing on weddings, but has branched out to fashion photography within the past few years. During the same time, her personal style sense was shifting. "I was always more tomboyish and had a gradual transition to loving dresses. I loved the whimsical dresses you could have as a woman."
The timing couldn't have been better. As she was getting frustrated with not being able to find what she was looking for aesthetically—she's almost 6 feet tall—she was also looking to add something more to her work repertoire. That's when the conversation happened with her mother.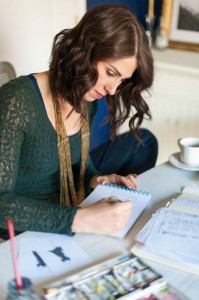 It was a steep learning curve, with Murray finding online courses to learn the industry, things like "how someone starts their own line, how do you design, how do you do patternmaking," she says. She also used some family connections (her grandfather David Leinoff is a well-known furrier in New York) to find production companies. "The first two years were learning," Murray explains. "2016 is when it all came together with designing the first collection and launching the company."
And that first line, which will be finished by mid-April, consists of three dresses (The Camilla, $135, a floral dress with peplum sleeves in rayon and silk; The Emma, $145, a ponte knit in navy or green; and The Samantha, $175, a navy print wrap dress). And she recently traveled to New York to begin work on her fall lines that will keep with the overall vision but include many more dresses, different color variations and new styles and fabrics.
Throughout this whole process, Murray's vision for her company is simple: "Grow the company to be a personable, relatable company, kind of like a friend in the retail industry," Murray explains. And since Murray doesn't have a brick-and-mortar store to have customers stop in, she's doing this through events planned around new collections. "Every time a new collection is launched, we'll hold an event that is inspired by what inspired the collection as a whole. [I] want people to experience the inspiration of the collection themselves." She did this during her first Kickstarter campaign that launched the company. In October at the Birkby House in Leesburg, Murray worked with 20 local companies (bread-makers, restaurants, artists, florists) and put on an event that was equal parts Little Women– and English garden-themed. The next event will be in the fall, when her next collection launches.