By Danielle Harvey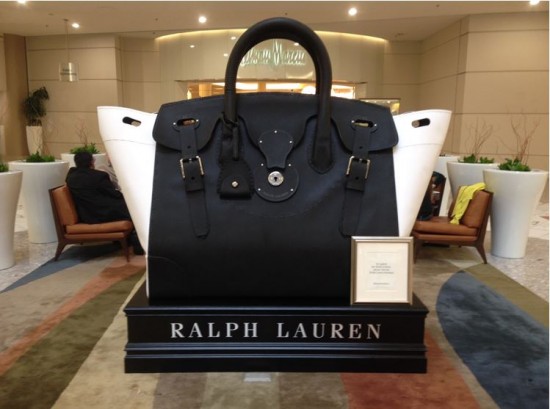 Ralph Lauren Goes Big
Fans of the fashion label know Ralph Lauren uses quality materials to create apparel and accessories. The brand has taken their iconic Ricky bag and created a life-size model. Appropriately named, 'Giant Ricky' the bag is on display  outside of Neiman Marcus at Tysons Galleria through October 15.  At approximately 150 pounds and 6 feet tall, Ricky has been featured around the world from New York City to Paris. Follow along on Twitter with @TysonsGalleria and #RickyWorldTour. 
Potomac Mills Fall Super Sale Weekend
Even the most fashionable people love a good sale. If you fall into that category head over to Potomac Mills this weekend in Woodbridge to check out all of the latest deals on apparel, accessories, home goods and more. From October 10-13, stores such as Bloomingdale's-The Outlet Store, Neiman Marcus Last Call and True Religion are just a few of the brands participating in this sale weekend. One good thing about the temperature beginning to drop is that prices are dropping too. Visit the website for more details.
Baby Bash and Bling Expo
On October 11 from 1-5p.m. the Baby Bash and Bling Expo will be held at the Renaissance Dupont Circle hotel in D.C. This event will be hosted by D.C. native Tanika Ray from HGTV and attendees will get styling tips on maternity dressing. Guests also can visit the Beauty and Bump bar and there will be a "Bump the Runway" fashion show for kids and teens. In addition to learning about how to be stylish during pregnancy, moms and dads will also learn some new parenting tips as well. Visit the website for more information and to purchase tickets to this event.
Fibre Space Hosts the Color Theory Workshop
Knits are a big trend for this season and if you enjoy creating knitwear pieces, visit Old Town Alexandria's Fibre Space on October 11 from 3:30-5:30p.m. for this color theory workshop. Attendees with learn how to create the Albers Cowl, which is inspired by the paintings Josef Albers created. Designer Ann Weaver is teaching this workshop where guests have the opportunity to learn color and knitting techniques for their cowl. Making your own Albers Cowl is great for being stylish and warm on these cool autumn mornings. Check out the website for more details.
Mystique Jewelers Exclusive Trunk Show
If you love jewelry, then you won't want to miss out on Mystique Jewelers trunk show featuring Jude Frances and a personal appearance by designer Jude Steele in Old Town Alexandria. On October 11 from 10:30 a.m. to 5 p.m. guests can browse the Jude Frances collection, which is the perfect time to add some sparkle to your wardrobe or keeping family and friends in mind for the holiday season. Visit the website to view more information about Jude Frances or the designer behind the classic-yet-trendy pieces.