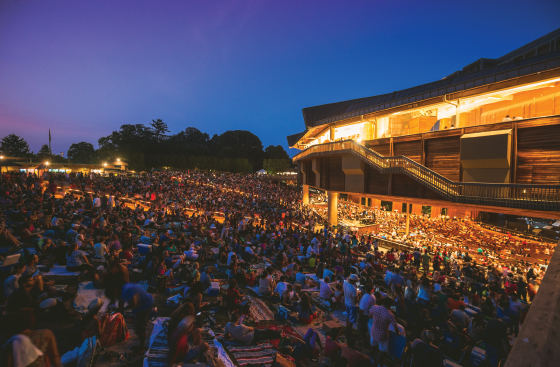 Courtesy of Wolf Trap
By Joseph Hight
Vibrant urban life, rolling hills, open space
NoVA has Clarendon with its bars, restaurants and bistros. NoVA has Shirlington streets lined with eateries and outdoor benches for people watching. NoVA has trendy Del Ray, venerable Old Town Alexandria and Old Town Manassas. NoVA has the bucolic and pastoral. It has the rolling hills, open spaces, wineries and horse pastures in Warrenton and Purcellville. A retiree might be tempted to say, "NoVA's got it all." That retiree may want to add, "We have traffic problems, but we can plan activities and trips off rush hour, use the Metro and other public transportation."
Romance not only for the young
A drink in one hand, your other holds your partner close on the balcony of the Kennedy Center. It is a clear fall moonlit evening on the National Mall while a band plays in front of the reflecting pool, the National Capital building, brightly lit as a backdrop. NoVA retirees who can live within an hour drive or less of the nation's capital have experiences like this; experiences that bring cherished memories and expectations for more.
"Virginia is for lovers." And what's true for all of Virginia is true for NoVA. A couple need not go all the way to our nation's capital to have a romantic evening.
In Fairfax we have the George Mason Center for the Arts, in Manassas the Hylton Performing Arts Center, in Vienna we have Wolf Trap National Park.
Most events offer rush tickets at a discount at the box office for sale a few hours before show time on an "as available basis." For the November 2014 play "Elmer Gantry" at Signature Theater in Shirlington, a regular $100 ticket was available on a rush basis for as little as $30. The National Gallery of Art in Washington, D.C., offers free concerts of jazz and classical music. The museums and art galleries are full of treasures.
Romance doesn't stop when you reach 62 or 72 or 82. An AARP report in 2010 entitled "Sex, Romance, and Relationships," found that 63 percent of 60- to 69-year-old males believe sex is a critical part of a good relationship. The percentage drops for those 70 and over, but 40 percent still believe it critical. It may be that they are just more discrete, but the percentage for women who think so is lower, but still high at 55 percent and 46 percent.
Sex without romance would be like Harry, the great blue heron, with no pond to fish.
Andreadis says with a smile, "Oh yes, we've had several first and second marriages at Westminster." McKay, with a twinkle in her eye, says she's seen romance bloom at Greenspring.
Without the responsibilities of maintaining a home, couples find a spark that rekindles their relationship. It happens when single residents meet and find a lot in common. Interesting enough, says McKay, most senior singles who make a romantic connection don't move in together, preferring instead to keep their separate apartments.
NoVA is for lovers … and for retirees.
Retirement in Northern Virginia
(February 2015)