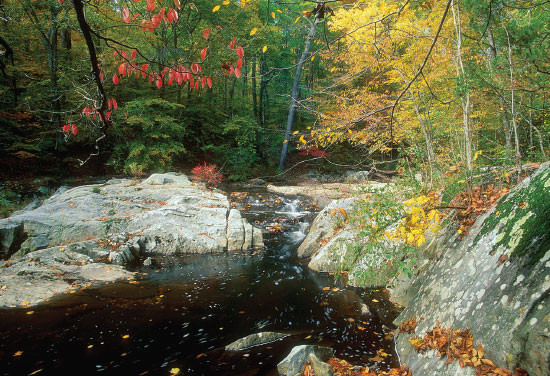 Prince William Forest South Valley-North Valley Out-and-Back Hike
A Peaceful Walk in the Woods
By Jisel Penilla
Nestled in the far southeastern corner of Prince William County 35 miles south of D.C., the Prince William Forest is a sprawling 15,000-acre park managed by the National Park Service and a good choice for those who can't make it to the mountains. As the name implies, the park is mostly forested and runs along Quantico Creek. Because of the park's tremendous size, there are countless loop and out-and-back possibilities here. To get a good feel for the park, start at the visitor center and take the Laurel Trail to the South Valley Trail. A little over a mile in, hikers will walk over a boardwalk that connects to the North Valley Trail, passing the Cabin Branch Pyrite Mine site at the start of the North Valley Trail. Walk along Quantico Creek for an additional mile until you reach the Quantico Cascades Trail intersection. Take a quick detour down to Quantico Cascades and retrace your steps to return to the parking lot for a 5-mile hike. This hike affords excellent views of Quantico Creek, several waterfalls and dense fall foliage. There are a few short inclines, but the hike is fairly easy. Hikers who prefer to do a loop hike can check out a trail map for options. The trails here don't offer the vistas of the Shenandoah area, but visitors will enjoy much more solitude than at most other parks in the area. Trails here are fairly level, and there aren't any dangerous overlooks of cliffs, making this an ideal hike for younger children. The kid-friendly annual Heritage Festival will be held on Oct. 17 and will feature live music, blacksmith demonstrations, a World War II exhibit, Civil War exhibit, quilt exhibit, antique vehicle exhibit, one food vendor, children's activities and crafts. Campgrounds are open through mid-October for hikers who want to make a weekend out of it.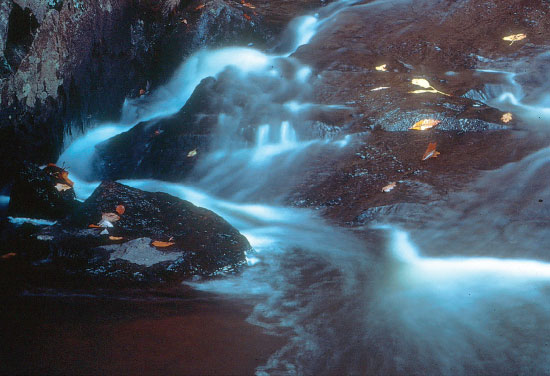 Where: Park Entrance Road, Dumfries; 703-221-4706
Logistics: The park is open dawn-dusk. Visitor center is open 9 a.m.-5 p.m. every day except Thanksgiving, Christmas and New Year's Day. The park has four campgrounds, ranger-led programs, 37 miles of hiking trails, 21 miles of bike-accessible trails, picnic tables and shelters. Those looking to hike the challenging Chopawamsic Backcountry area will need a permit, which can be obtained at the visitor center. There is a $5 entrance fee.
Nearby: There are many chain and independent restaurants in the surrounding communities of Dale City, Dumfries and Manassas. For more quaint dining, head 20 miles north to Old Town Manassas or 20 miles south to Fredericksburg.
Difficulty: Easy to moderate
Directions: There are multiple ways to start this hike. One option is to park at the visitor center and take the Laurel Trail to the South Valley Trail. The South Valley Trail can also be caught from parking lots A, B and C. The North Valley Trail can be caught from parking lot E. Stop by the visitor center for a trail map, as the Scenic Loop is one-way in some areas and passing your designated trailhead can mean a lengthy return. Rangers can alert you to trail conditions and provide hike recommendations.
Traffic: Light to moderate
(October 2015)