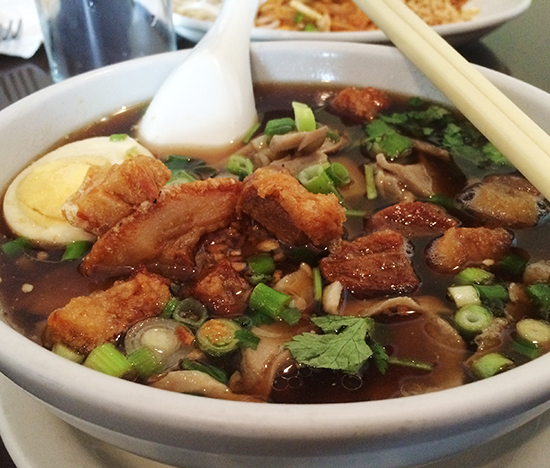 Photography by Stefanie Gans
Thai Square
Eating blood with a nurse is both a delicious and educational experience. "See this around the bowl," says Apinya Ross, pointing to reddish-black dots, a residue from where the broth once stood.
The particles, Ross explains, are leftover platelets from the pig's blood that help flavor and thicken the broth in Thai Square's floating market noodle soup.
Ross, who first came to the United States from her native Thailand as an au pair, now works full-time as a nurse and is a co-founder with her husband, Adam, of their Herndon-based hot sauce company, Apinya Thai Food Company.
Knowing the language, Ross receives Thai Square's menu written in Thai and reminisces about the dishes from her time in Asia, when she used to wash dishes and cook at her family's Isaan restaurant.
The deep brownish floating market noodle soup exudes warmth, with notes of cinnamon and anise, but is also spicy, sweet and sour. It's fantastically complex with delicate cellophane noodles and fried pork rinds adding to the varying textures.
We also lunch on a tom yum noodle soup in a clean, light sweet-sour broth with cellophane noodles below the surface and fried wontons bobbing atop. Kuay jub nam kon gains richness from organ meats, including the stomach and small intestine, revealing a sweet-savory broth that is quite magical.
▶ Thai; Order: Floating market noodle soup; tom yum noodle; kuay jub nam kon
Thai Square, 3217 Columbia Pike, Arlington
(January 2015)