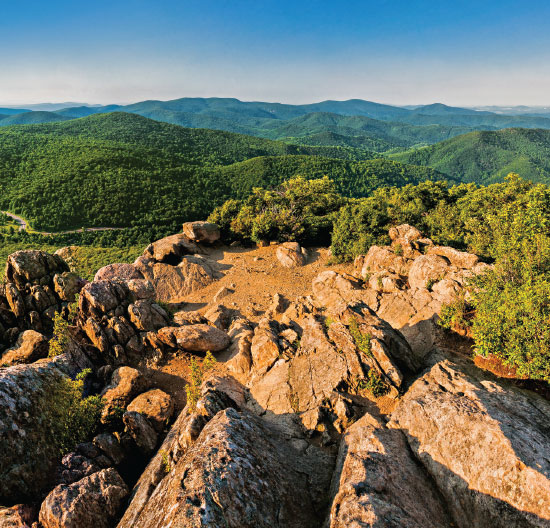 Mary's Rock
Incredible Views on the Appalachian Trail
By Jisel Penilla
Mary's Rock is one of the loveliest hikes at Shenandoah National Park and not nearly as crowded as better-known White Oak Canyon or Old Rag. There are several ways to do this hike, depending on how far you want to walk. The prettiest and longest option is a half-day out and back 6.2-mile hike that starts from the Jewell Hollow Overlook parking lot and follows the AT until it reaches the blue-blazed Mary's Rock Spur trail in the last 0.1 miles. At the summit, there is plenty of space to relax and enjoy the view. Hikers can enjoy 270-degree vistas of foliage and gently rolling mountains, the only drawback being the road that is visible from the top. The hike from the Jewell Hollow Overlook parking lot has about 1,200 feet of elevation gain spread over 6.2 miles and is considered moderate. The trail is not particularly challenging or steep and includes uphill and downhill sections in both directions; in fact, the Jewell Hollow Overlook parking lot is actually slightly higher than Mary's Rock Summit, making this one of the easier views to reach, despite the distance. However, there is a fairly lengthy uphill section on the way back, which can be challenging when you've already been walking 4.5 miles. The trail itself is peaceful and picturesque and features intermittent 180-degree views of the Blue Ridge Mountains and valleys below at several small overlooks. The trail is rocky in a few spots making it a bit tricky to maneuver at times. Experienced hikers looking for an all-day challenge can catch the Buck Hollow/Buck Ridge trailhead from a small parking lot right off of Route 211, about 2 miles west of Central Coffee Roasters. Buck Hollow/Buck Ridge adds another 1,400 feet of elevation gain for a total elevation gain of 2,600 feet spread over 9 miles. For shorter hike options, you can catch the trailhead from the Meadow Springs parking (mile 33.5) or the Panorama parking lot (mile 31.6). Both of these options are under 4 miles round-trip but significantly steeper than the Jewell Hollow route. Except for the Buck/Hollow/Buck Ridge option, all the Mary's Rock Trail options included are doable for kids over 8.  
Where: Milepost 36.7
Logistics: Park is open from dawn to dusk. Amenities include bathrooms, showers, ranger talks, picnic areas, camping, visitor centers.
Nearby: Skyland Resort, located at milepost 41.7 and 42.5, offers food, lodging and gifts. The Skyline Resort dining room stops serving at 9:30 p.m.; the taproom is open later. Points of interests outside the park include Central Coffee Roasters, Copper Fox Distillery and the town of Sperryville.
Difficulty: Moderate; challenging when including Buck Hollow/Buck Ridge.
Directions: The trailhead is accessible from the Jewell Hollow Overlook parking lot, the Meadow Springs Parking lot or at the Panorama Parking lot. From the Jewell Hollow Overlook lot you'll want to bear right and follow the white-blazed AT trail markers downhill. If you find yourself on a very rocky and poorly maintained trail, you've missed the turnoff; turn around and bear left to get on the AT. You won't see signs for Mary's Rock until you're about 2.2 miles into the hike.
Traffic: Light on the AT from Jewell Hollow Overlook; Moderate-heavy from Meadow Springs and Panorama parking lots.
(October 2015)