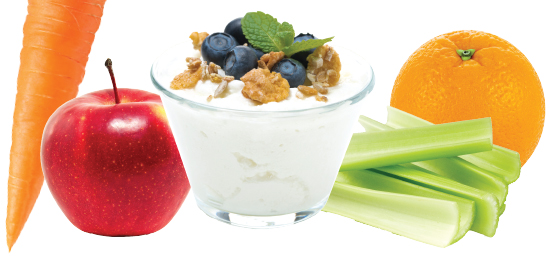 Makeover Your Meals
All of your hard work taking walking breaks and squeezing in workouts can be undone if you blow it on a calorie-heavy lunch—or not eating lunch at all. With busy and hectic days, it can be hard to take the time to always make good choices when it comes to what we eat. To solve your healthy office eating conundrums, we have reached out to registered dieticians Kim Passmore and Elizabeth Shipley-Moses at Kaiser Permanente to give you the tips you need to stay in shape this year.
The Breakfast vs Lunch Debate
Start your day strong with breakfast … don't let lunch be your first meal of the day. Breakfast translates to 'breaks the fast' and is therefore a very important meal since you have gone all night without eating. 2010 Dietary Guidelines for Americans strongly support eating breakfast; breakfast determines our hormonal control of hunger for the rest of the day. Breakfast helps us avoid late-in-the-day energy slumps and evening cravings."
Should You Play Lunchtime Hooky?
"No, you should not skip lunch. Skipping meals usually results in overeating at the next meal or in the evening. People who skip meals usually do not eat enough of the foods that go into healthy eating such as fruits, vegetables and milk/yogurt, but may end up eating more calories and fat than they need. Lunch is also necessary to combat workday fatigue and keep us alert in the afternoon. Large meals or too many energy-dense foods can backfire and cause us to be more tired or sleepy. Plan a powerful combination of lean protein/vegetable protein, whole grains and vegetables and/or fruit."
Should You Eat Lunch at Your Desk?
"You might be better off eating in the lunchroom so you have time to relax and get a break from the day's work. If you do eat at your desk, try to avoid working while you eat. Put out a placemat or paper towel, set out your lunch and notice the colors, textures and smell of the foods. Remind yourself to eat your food slowly. Savor each bite so you really enjoy your meal and have time to relax and recharge yourself."
Building Blocks of the Perfect Lunch
"A healthy, satisfying lunch should include three to five different food groups i.e., starch, protein, vegetable, fruit, milk/yogurt. Some healthy lunches may include: a sandwich on whole wheat bread with turkey, lettuce, tomato, and a slice of avocado, red pepper strips and an apple; whole-wheat wraps with hummus, spinach, crumbled feta, diced tomatoes and cucumbers, and turkey. Have a yogurt as well. [Another option is] a healthy frozen meal, a small green salad and a light yogurt."
Four Healthy Fast Food Fixes
Need to grab a bite while on the road? Kaiser Permanente's Passmore and Shipley-Moses offer these suggestions as a healthy choice.
McDonald's
The fruit and maple oatmeal sans brown sugar (290 calories).
Chick-fil-a
A grilled chicken sandwich without creamy sauces (approx. 320 calories).
Wendy's
A small 'rich and meaty' chili with a garden side salad (370 calories).
Subway
A six-inch roast beef sub on a whole wheat roll, add green and banana peppers, cucumber and lettuce (190 calories).
(January 2015)