While Eugenia Hobson worked as a chef at Mykonos Grill in Rockville, Maryland, and then as part of the founding team at Nostos in Vienna, her sons lived in Europe. Alex was in Greece as a consultant for a telecom company, and Phil played professional basketball both in Greece and Italy. Phil came back to the U.S. and waited tables at Nostos for a few years. Alex returned last year.
"We wanted to do something for ourselves, for my boys," says Hobson, who left Nostos to open Our Mom Eugenia, a family restaurant.
The restaurant, where Great Falls meets Reston, sits in the crook of a shopping center. The space is one large, warm room packed with tables; drop Edison bulbs fall in clumps around the exterior, and framed prints depict some aspect of Greek life or the beauty of the sea-rimmed nation.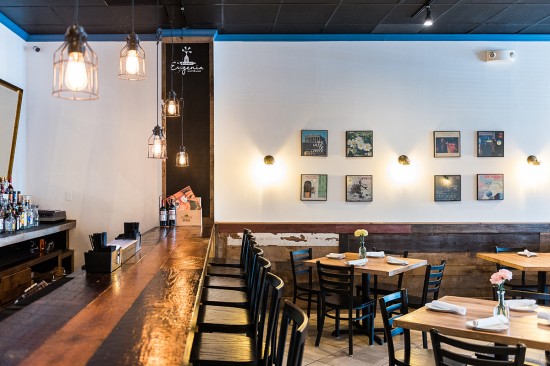 Where Nostos is stark white and formal, Our Mom Eugenia exudes tenderness. The menus, though, are fairly similar, especially because Hobson helped create Nostos' menu, and she tracks closely to the classic Greek dishes both restaurants adhere to.
Though it seems like a touristy show, lighting a rectangle of cheese on fire with the help of brandy is actually something that occurs in Greece, says Hobson. It's finished with a squeeze of lemon, and it's just one of those dishes that once one table orders it, there are suddenly servers with lighters all over the restaurant. The resulting cheese forms a quick crust while the inside starts melting. It's salty, creamy and gone in seconds.
The menu leans heavily on shared smaller plates: meatballs as tender as a loosely packed burger and just as juicy; long swaths of zucchini beer-battered to a crispy, light effect and even better swiped through an extra-thick dilly tzatziki sauce; and a light mousse of fish roe and potato keeps only a whiff of the sea.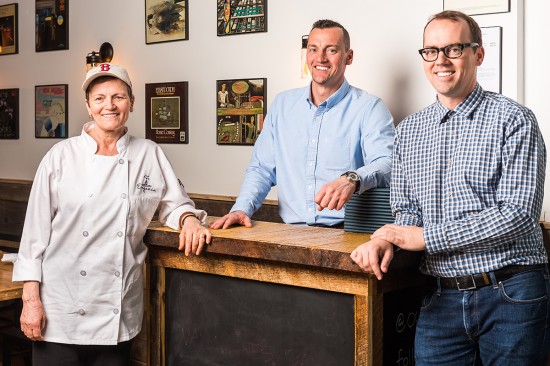 The octopus must have spent time in a sous vide machine. The interior was creamy, almost custardlike, while the skin proved time on the grill. But no—like so much of the menu, the techniques are simple. The ingredients are simple. It almost felt like Hobson couldn't believe someone called to ask about her recipes. Most dishes use a variation of salt, pepper, oregano, garlic, lemon, honey, oil and maybe one or two other items, but nothing ventures into the exotic or newfangled. The octopus, imported from Portugal, is baked in an oven for an hour and a half with pepper, bay leaf and a little red vinegar. No salt, says Hobson. The water-dweller stores enough naturally.
Our Mom Eugenia, opened at the end of last year, is not without its faults. A braised lamb shank, though the meat was tender, suffered from a lack of seasoning. Slotted on top of a bed of orzo sauced lightly in a tomato mixture, it still tasted bland.
That same night, an otherwise-indulgent moussaka arrived disappointingly cool.
A special of grilled grouper was the table's finest act, a fish with a pan-seared crust, flesh forking off in huge chunks. With its old-world, homey origins, most plates lack the swishes of sauce so often found in modernist restaurants, but a carmelized beet sauce somehow managing to be sweet without treading into dessert territory flipped the dish into something special. Sauteed Swiss chard and another puree of fava beans rounded out the assembly.
Though short on beers, the wine list is 100 percent sourced from Greece, and the Kir-Yianni Dyo Ellies 2011 will stand up to, and stand out against, the heaviest of meals.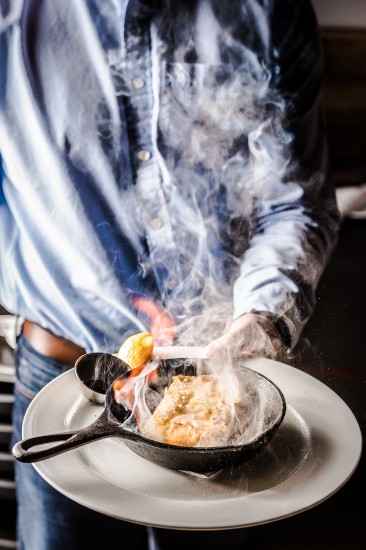 Dessert, so often imported or brought in otherwise, is made here. The baklava is dense and moist, packed with cinnamon and walnuts with all the honey filling the layers between phyllo dough.
The family has already been approached for a second location or a new concept, a sign that leaving a restaurant to open another was the right move. Says Hobson, "I think it was a good idea, after all."
Notes
Our Mom Eugenia
1025 Seneca Road, Great Falls
Open for lunch and dinner Tuesday through Sunday
Small plates: $6-$18 Entrees: $16-$30
(May 2017)