Dinner at a restaurant is no longer a special occasion. With new places opening all the time, dinner out is now the norm, weekday or birthday.
But that's not to say dinner can't be a show. Or be special. There has always been something exhilarating about tableside service. It used to happen more often, when a man wearing a formal jacket tossed the now-ubiquitous Caesar salad in front of guests.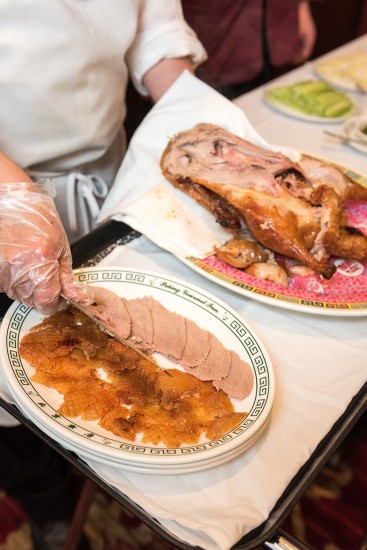 At Peking Gourmet Inn we sat at a large round table in the middle of the room and watched, eagerly, as women pushed carts to the table there and there and over there. Breaking down the golden duck into three plates of meat and skin, served separately, takes little more than four minutes. There isn't a lot of flash or pomp.
The woman at our table first skinned the duck, sliced into the breast and then kept maneuvering her knife to yield more and more swaths of meat that we would tuck into pancakes, spread with hoisin sauce, top with scallions and, for $3, layer with cucumbers. The skin is crisp but also lush, with a tiny bit of silky fat clinging underneath.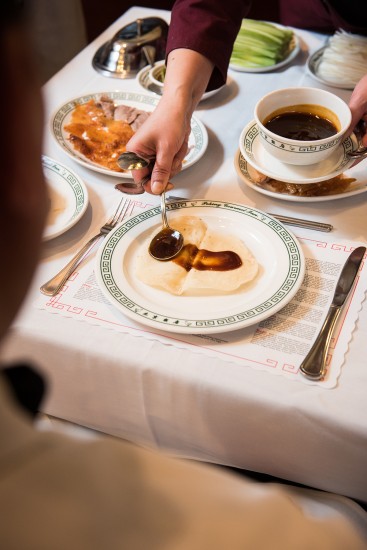 Duck, though the star at this legendary restaurant with pictures of actors and musicians and politicians on the wall, shares table space with tightly packed dumplings stuffed with pork and leeks; a giant platter of housemade noodles in a light gravy ribboned between bok choy, snow peas, giant mushrooms, chicken and shrimp; and soft slices of beef mixed with spring onions and served with a heaping portion of white rice. But yeah yeah yeah, get the duck. • 6029 Leesburg Pike, Falls Church
(April 2017 Best Asian Restaurants)