By Winn Duvall, Stefanie Gans and Tonya Stewart
Here's where to get your coffee fix in Arlington:
Commonwealth Joe Coffee Roasters & The Java Shack
In just over two weeks at the end of 2015, four coffee shops—Commonwealth Joe (Pentagon City), Blümen Café (Clarendon), Rare Bird Coffee Roasters (Falls Church) and Rock 'N' Joe (Ballston)—opened within in mere miles of each other. (And one closed: Caffe Aficionado in Rosslyn).
"This movement is continuing to build in momentum, and there's no shortage of coffee companies," says Robert Peck, co-owner of Commonwealth Joe Coffee Roasters, a roasting company and coffee shop that's part of the recent boom.
He also sees coffee as a part of the area's artisan food and drink culture. "There was this craft movement going on in coffee that is analogous, maybe, to craft beer … We saw that people were willing to pay more for a higher quality product and a better experience."
At Commonwealth Joe, that includes an extensive line of nitro coffees as well as new types of cold brews. Peck plays with infusions and experiments with cascara, a tea-like drink made from the dried skins of coffee cherries.
But before that, more than a decade ago, Peck and his mother, Julia Peck, worked together at Cameron Street Coffee House in Culpeper. When he left for college, his mother stayed on at the shop and began a hobby that would become the cornerstone of Commonwealth Joe: roasting coffee beans. She still roasts the beans (from a variety of countries like Peru, Nicaragua and Indonesia) for Commonwealth Joe, which started as an online store.
Peck's first customer was Chase Damiano, a co-worker of his at Accenture, who purchased a Mason jar of coffee beans. The business later switched packaging to a less breakable material, and Damiano eventually came on as a partner in Commonwealth Joe.
Prior to launching its headquarters in Pentagon City, the duo purchased The Java Shack, the oldest coffee shop in Arlington. It celebrated its 20th anniversary last year.
Commonwealth Joe is decidedly not The Java Shack. The Shack is incredibly intimate, tiny and cozy in that well-worn sort of way. Commonwealth Joe is spacious, sleek and modern, with simple lines and neutral colors with an eye-catching detail above the menu board: the shou sugi ban effect on the wall. The Japanese charring technique causes the wood's light blond hue to slowly warm and intensify, eventually culminating in a color like dark roasted espresso. "The technique is very similar to coffee roasting," Peck says. He smiles and offers his own translation: "This is expensive wood that looks cool." –TS // Commonwealth Joe: 520 12th St. S., Arlington; The Java Shack: 2507 Franklin Road, Arlington
While coffeehouse-loungers might not be able to crank out hours of work at Bayou Bakery—there's plenty of ambient noise with a playlist of brass band music and a general sense of New Orleans revelry—the shop exudes warmth and hospitality with a mini-living room (leather couch, chairs and a coffee table) complete with an exposed brick wall ornamented with plenty of Big Easy-themed decor. Or you can slide into a booth or pick a seat at the counter and wait to hear "Evangeline"—they'll let you know your order's ready by calling out a Louisiana parish name. –WD Wi-Fi: free; Beans: Counter Culture Coffee (Durham, North Carolina), for sale // 1515 N. Courthouse Road, Arlington
With plentiful seating, from pub tables inside to chairs on the sidewalk almost overflowing into the parking lot, BeanGood! is a place to linger. Nosh on healthy eats (oatmeal, yogurt, soup or wraps) or sinful treats (croissants, cookies, whoopie pies). –TS Wi-Fi: free; Beans: Swing's Coffee Company (Alexandria), for sale // 1737 Wilson Blvd., Arlington
Though its focus is tea (from Germany) and a few European and Middle Eastern-inspired small plates, the modern, gorgeous and gleaming whitewashed space is a serene spot for a sip of coffee, too. –SG Wi-Fi: free; Beans: Illy (Trieste, Italy) // 2607 Wilson Blvd., Arlington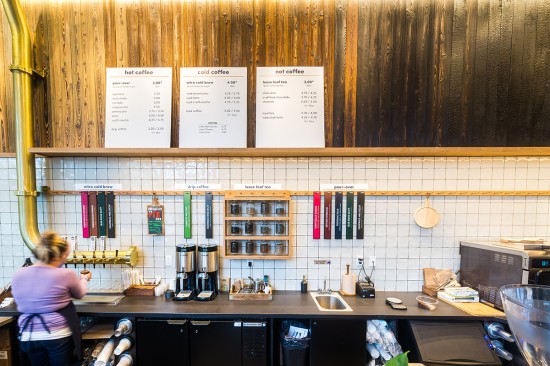 With a stylish, retro-vintage vibe, Boccato welcomes walk-ins with plenty of tables (mostly for two), couches, stuffed armchairs and funky lamps. Velvet movie theater roping divides the space, reserving half for members of CoworkCafe (coworkcafe.com). Food options include gelato and housemade empanadas. –TS Wi-Fi: free; Beans: PT's Coffee Roasting Co. (Topeka, Kansas) and Cervantes Coffee (Springfield), for sale // 2719 Wilson Blvd., Arlington
Mostly a smoke shop, Burn & Brew has no tables, chairs, Wi-Fi or decaf, but you can get a freshly ground pour over coffee to go. Open daily until midnight. –TS Wi-Fi: no; Beans: Beanetics Coffee Roaster (Annandale), for sale // 566 23rd St. S., Arlington
Always, always packed, and with good reason: There's excellent coffee, plenty to eat (thanks in part to an award-winning pastry department) and wine by the glass. Downstairs you'll find laptops, meetings in progress and maybe an adult coloring. After 5 p.m., upstairs turns into full-service wine bar. And this spring, the second Northside Social will open in Falls Church. –SG Wi-Fi: free; Beans: Counter Culture Coffee (Durham, North Carolina), for sale // 3211 Wilson Blvd., Arlington
Open since 2001, it feels worn and welcoming with a few tables, sink-in couches and a bookshelf with wildly disparate titles: a biography on Dick Cheney, a Spanish dictionary and Barbaric Culture and Black Critique, an academic study on black anti-slavery writers from the early 19th century. There's freshly roasted coffee, ice cream and housemade bagels. –SG Wi-Fi: free; Beans: roasts on-site, for sale // 2406 Columbia Pike, Arlington