By Stefanie Gans and Tonya Stewart
Here's where to get your caffeine fix in Fairfax:
After losing its lease in late 2015, 29th Parallel Coffee (it dropped the "& Tea" from its title) is reopening this winter in Fairfax, about 3 miles from its original location.
The shop will offer the normal array of espresso drinks and will concentrate on made-to-order service with pour over options (Chemex and Hario V60) and a siphon, a chemistry-class looking gadget combining immersion brewing with a filter. Coffee will be served in a somewhat European style, with no extra-large cups and limited housemade syrups.
The toast trend continues here with savory, sweet and occasionally seasonal options, plus sandwiches and pastries.
Beans come from Madcap Coffee Company (Grand Rapids, Michigan) and Ceremony Coffee Roasters (Annapolis, Maryland). "It's kind of a thing that you have to see what is going on," says Amir Khalil, the operations director of 29th Parallel, on reading his customers' preferences. "That's why we have two different roasters. It gives us a bigger selection on a regular basis," which will include beans from Guatemala, Colombia and South Africa.
The name of the shop refers to the fact that the 29th parallel south is a circle of latitude running through a couple of regions renowned for coffee, like Brazil. "It's a good coffee region. And our first shop was on 29th Boulevard," laughs Khalil. "But that was just a coincidence." –TS // 5616 Ox Road, Fairfax
A novel approach to a coffee shop: unpretentious service and really good, freshly roasted coffee. The space is tight with only tables and chairs, no lounge-style pieces. When you're ordering that latte to go (one of the best around; it's a pleasure to actually taste the espresso), pop off the lid and check out the art. That's how you know it's good: The barista takes the care to pretty it up even if you won't see it. –SG Wi-Fi: free; Beans: roasts on-site, for sale // 7028 Columbia Pike, Annandale
First opened in Rwanda, Bourbon Coffee focuses on beans from its five growing regions; it's one of the few shops in the region that sources beans solely from one specific country. The cafe, minimally decorated (industrial-rustic rope Edison bulb chandeliers read very hipster), offers a few tables and chairs and seems geared to the grab-and-sit-in-traffic commuters of Tysons Corner. –SG Wi-Fi: free; Beans: private label from Nagadi Coffee (Silver Spring, Maryland), for sale // 7900 Westpark Drive, McLean
A cafe so endearingly "neighborhood coffee shop" it could be used as a sound stage, Café Kindred mixes tables with couches and cozy chairs, plus spots reserved as Wi-Fi-free zones. Though there are record sleeves (Paul Weller, Johnny Marr, The Who) lining the walls, it's still quite classy: Espresso drinks are served with a gratis glass of sparkling water. Late last year, the owners opened Townshend Bar within the space, serving bar food and burgers at night. –SG Wi-Fi: designated Wi-Fi-free zones, no Wi-Fi after 5:30 p.m. and on weekends; Beans: Vigilante Coffee Company (Hyattsville, Maryland) // 450 N. Washington St., Falls Church
The shiny red roaster is the showpiece in this tiny Vienna cafe, where if you get there at the right time, you can smell the beans as you sip and type. The shop also hosts events, including Vienna Idol and Penny University, moderated discussions and group gatherings ranging in topic from "Election Excess Decompression" to a Dungeons and Dragons tournament. –SG Wi-Fi: free; Beans: roasts on-site, for sale // 107 Church St. NE, Vienna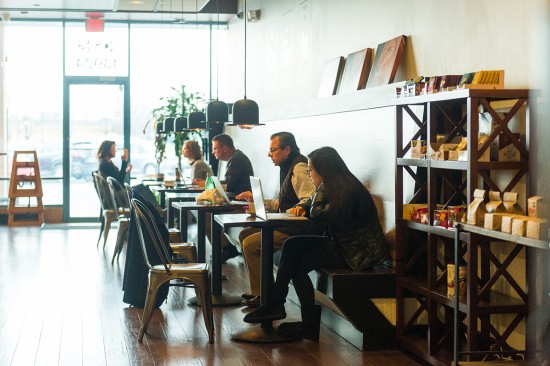 Yes, this is Chantilly, 30 miles from the trendy shops in D.C., and yes, in this suburban town a pour over (Aeropress) Gesha Village coffee from Ethiopia costs $8, a dollar more than a slice of cake and a dollar less than a panini. But the drink is dead-on beautiful, served in a beaker with a side of sparkling water. –SG Wi-Fi: free; Beans: Stumptown Coffee Roasters (Portland, Oregon) and Lofted Coffee (Brooklyn, New York), for sale // 13924 Metrotech Drive, Chantilly
This tiny shop with limited seating focuses on chocolates with a range of hand-dipped classic flavors like dark chocolate salted caramel and lemon truffle. There's a light menu with housemade quiches and scones and grab-and-go lunches. But the shop's real focus is employing those with both intellectual and physical disabilities through the nonprofit Every1 Can Work. –SG Wi-Fi: free; Beans: private label, for sale // 9639 Fairfax Blvd., Fairfax
What started as a warehouse for coffee roasting turned into a cafe as well with people, shockingly, conversing without screens. (See page 120 for more on their classes and tour.) –SG Wi-Fi: free; Beans: roasts on-site, for sale // 7644 Fullerton Road, Springfield
Tightly packed with tables and chairs and lots of meetings and screens, this Old Town Fairfax coffee shop serves all the right drinks in a more business than Seattle vibe. –SG Wi-Fi: free; Beans: Intelligentsia Coffee (Chicago), for sale // 10389 Main St., Fairfax
Started in Charlottesville, with most of its dozen or so U.S. locations within the state (internationally, it's open in Saudi Arabia and soon Japan), Greenberry's lives in a crowded shopping center off Old Dominion Drive in McLean. There's limited tables and chairs (no couches) with a case of mostly baked goods, a few sandwiches and the ultimate breakfast combo: Swiss oatmeal, which layers cold cooked oats under Greek yogurt. –SG Wi-Fi: free; Beans: Greenberry's (Charlottesville), for sale // 6839 Redmond Drive, McLean
The fact that Mosaic didn't debut with a proper coffee shop is bananas. Luckily Dolcezza, which sells gelato mere feet away, filled a tiny glass building with a full espresso bar and nitro on tap. There are also toast boards (can't make this up), sandwiches, quiches and a naughty chocolate croissant. –SG Wi-Fi: free; Beans: Stumptown Coffee Roasters (Portland, Oregon) // 2909 District Ave., Fairfax
This minimal, modern coffee shop plays to coffee geeks, with lighter roasted beans, and to their kids: toys are scattered around courtesy of neighbor Doodlehopper 4 Kids. There are beautiful paintings of birds for sale, plus the requisite locally baked goods and pies and the (maybe) trending Czech pastry, kolaches, from Republic Kolache. –SG Wi-Fi: free; Beans: roasts on-site, for sale // 230 W. Broad St., Falls Church