See our 2019 Best Summer Camps list here.
Editor's Note: This post has been updated to correct the Top Kick Martial Arts camp listing, changing the name from InCourage Martial Arts to Top Kick Martial Arts. 
This summer make sure your child has a ton of fun. It's easy to do so by enrolling them in one of these top 44 summer camps as voted by our readers.
Academy of Christian Education
This year's theme is "Passport to Adventure" with an exploration of different regions each week. Your kids will travel around the world from the harbor of Rio de Janeiro in Brazil to the Great Barrier Reef off the coast of Australia. Academics, Bible teachings, field trips and music are just some of the ways that the campers get to learn and grow. Aftercare is available from 4-6 p.m. for $25 per day.
Ages: Prekindergarten through
sixth grade
Session info: June 19-Aug. 11
Registration: online
Fees: $100 registration fee, $350 per week per student
Acting for Young People
This theater training organization is reaching its 20th anniversary this year. Professionals teach all of the know-how of the theatrical arts, which includes but is not limited to acting, voice, movement, on-camera skills, musical theater and improvisation. Each weekly session will have a different theme and new challenges to conquer. Your child will be a part of a high-energy environment and will not only learn a new talent but will also gain self-confidence. And, of course, they'll be making friends along the way.
Ages: All ages
Session info: Summer Showcases: June 26-July 1 and Aug. 7-13, Summer Acting Camp: July 3-Aug. 4
Registration: Early bird registration starts May 15; registration closes June 1
Fees: $295 per session, $370 for the Summer Showcases
Adventure Links
Founders and husband-and-wife pair Anna and Austin Birch believe in the deep value of outdoor education to foster social, emotional and mental development. Their summer camps include day camps, residential camps and expeditions. There are low instructor-to-camper ratios for all of the programs and locations throughout Northern Virginia. Beginner and experienced adventurers can rock climb, paddle in canoes and kayaks, compete in challenge courses and more.
Ages: 7-17
Session info: June 19-Aug. 25
Registration: online
Fees: $455-$1,425; tuition for Leadership in Training varies based on new and returning participants
Alexandria Archaeology Summer Camp
Kids work with Alexandria City archaeologists to learn the ins and outs of excavating and recording real artifacts. Previous excavation sites include Fort Ward Park, where campers and professionals dug up artifacts of a Civil War era family home. But this camp isn't just about digging in the sun: The kids get a well-rounded lesson on the historical era and local history of the site. History buffs and nostalgic dreamers will love discovering remnants of the past.
Ages: 12-15
Session info: July 17-21
Registration: online
Fees: $400 (scholarships available)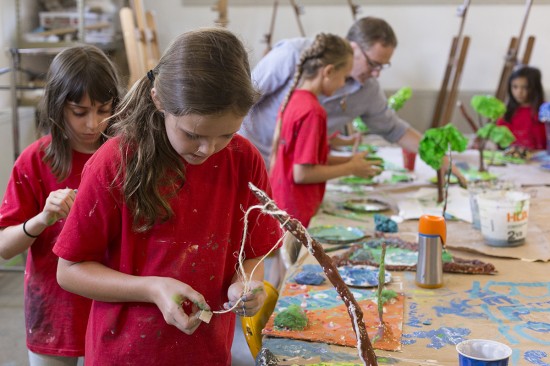 Arlington Arts Center
At the AAC kids and teens are encouraged to experiment, observe and, most importantly, make art. Campers are immersed in life's innovative possibilities with a combination of traditional and nontraditional art materials and approaches. Teens receive inspiration and guidance from contemporary artists while they hone their artistic techniques. Brand-new and well-versed artists alike are welcome in this summer program.
Ages: 4-18
Session info: June 26-Sept. 1
Registration: online
Fees: $155+ per camp
Arts on the Horizon
Be a part of the first theater company that focuses on working with kids from infants to 6-year-olds. The goal with their performances and programs is not "to produce better actors but to help nurture better human beings." This nonprofit works toward this mission using the medium of creative play. According to their website, creative play helps with language skills, physical development, social and emotional development and more.
Ages: 3-6
Session info: June 19-Aug. 11
Registration: online
Fees: $170 per week per child
Ashburn Ice House Summer Camps
Northern Virginia summers are known for high temperatures and unbearable humidity. But if your kids love the bitter cold season, then they should spend their summer break at the Ashburn Ice House. There are four summer camps for 2017: summer fun ice-skating, hockey fun ice- skating, tiny tots ice-skating and power play hockey ice-skating.
Ages: 4-13
Session info: June 12-Aug. 21
Registration: online
Fees: $350 per week
BalletNoVA Center for Dance
Dancers of all levels and ages can stay on the dance floor all summer long with this dance studio. Have your kid dedicate a week to the art of contemporary or take their dedication to the next level with the summer intensive camps. These programs emphasize classical ballet training as well as modern dance, contemporary, hip-hop, African and more. Students even learn the history of ballet, how to stay fit and uninjured and the body's anatomy with the help of workshops and seminars.
Ages: Prekindergarten-16
Session info: June 26-Aug. 18
Registration: Registration and payment must be received 14 days prior to the first day of the camp or intensive
Fees: Prekindergarten camp: $250-$540, intensive: $400-$800 per week
Brooksfield School Summer Camp
On 5 beautiful acres in McLean, kids take part in weekly themed curriculums. Participants are divided by age group: Lambs (3 years), Kangaroos (4 years), Bears (5 years) and Eagles (6 to 10 years). The activities for younger kids include swimming, tennis lessons and field trips. The older kids have Adventure Field Trips once a week to find more fun outdoors. Past trips include hiking, horseback riding, indoor rock climbing and more.
Ages: 3-10
Session info: June 12-Aug. 4
Registration: online
Fees: Prices vary based on weekly, four-week and full summer camp options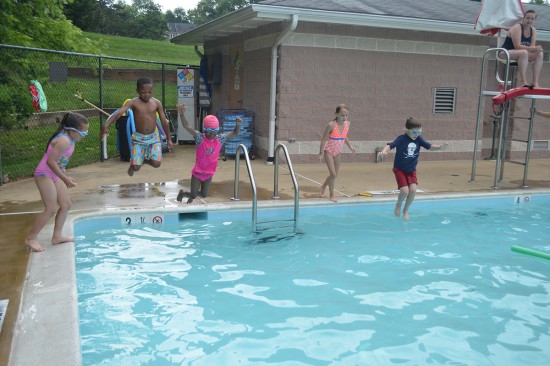 Browne Academy Summer Camp
The independent day school in Alexandria says that its summer camp "is more than just a camp; it is a community." This community is fostered by a staff team whose members all undergo a detailed screening process. The counselors and other staff encourage every child to try every program and to embrace learning new things. At the end of the summer, the campers perform in the grand finale in front of their friends and family.
Ages: 3-15
Session info: June 19-Aug. 17
Registration: online
Fees: Morning and aftercare: $35-$130, camps: $305-$595 per week, lessons by the half-hour and hour: $35-$70
Camp Friendship
This camp is accredited by the American Camp Association and was founded in 1966. Many years later, kids are still enjoying over 40 different activities, some co-ed and others exclusively for young girls. One facet that makes the Camp Friendship experience unique is the internationally diverse program with campers representing nearly 100 different countries. Here are the programs offered: Junior Village, Senior Village, Equestrian Camp, Junior Camp with Riding and Counselor in Training.
Ages: 7-17
Session info: June 18-Aug. 19
Registration: online
Fees: Weekly camps: $1,150-$1,350, counselor in training: $1,800, half-day options: $35-$150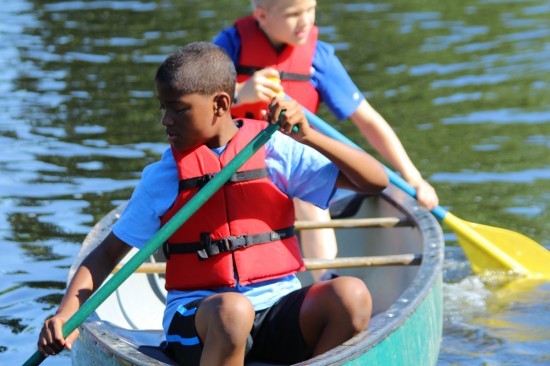 Camp Horizons
At this Shenandoah Valley camp, there is something for both kids and teens. Its motto is "there's something about being outside," and that rings true with the range of interactive programs. Horse-lovers can join the equestrian camp, thrill-seekers will find their home in the outdoor adventure camp and more. There are one-, two-, three- and four-week session options running from mid-June to mid-August. You can get discounts for early registration and sibling registration.
Ages: 6-17
Session info: June 11-Aug. 19
Registration: online
Fees: $1,395-$2,695
Camp Varsity
Who knew that 125 acres of the Blue Ridge Mountains are available for summer camp entertainment? From sports and fishing to movies and good old campfires, Camp Varsity has it. And better yet, activities take place at Virginia landmarks like Old Rag Mountain, White Oak Canyon and Rapidan River. Campers can join in the merriment for just one week or up to six weeks.
Ages: 7-15
Session info: June 25-Aug. 5
Registration: Registration opened in mid-January with a first come, first served system
Fees: $650-$3,400
City of Fairfax Summer Camps
Here's an affordable option for kids "to grow and develop intellectually, physically, culturally and socially." There are traditional day camps and specialty camps that range from art to languages to even fun with Legos. But wait, there's more: There are also sports, drama, Minecraft and coding camps. Even better: City of Fairfax is American Camp Association accredited. Financial aid is available for residents who qualify.
Ages: 3-15
Session info: June 29-Aug. 11
Registration: online
Fees: $64-$215 per week depending on the camp and date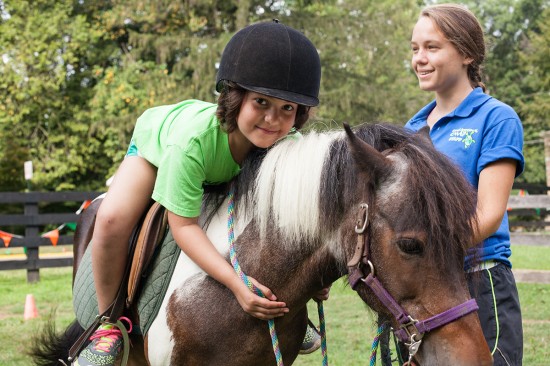 Congressional Camp
For over 75 years (yes, since 1940) campers have been going to Congressional Camp in Falls Church for exploration and growth. The camp's mantra, "An adventure a day!", is reflected in the vast array of programs, like travel, academic and specialty camps. Their most popular program is the Day Camp for rising first- through ninth-graders. The school has a gym, pool, a climbing tower, high- and low-rope obstacle courses, playgrounds and more facilities.
Ages: 3-14
Session info: June 19-Aug. 25
Registration: online
Fees: $445 per week
Culinaria Cooking School
Kids will find inspiration in the kitchen while learning basic knife skills, food safety and, of course, a variety of recipes. Each weeklong session has a different recipe every day, and at the end, campers receives a recipe packet, certificate and souvenir T-shirt. Recipes include a nod to the D.C. area with a Maryland crab cake and plenty of other dishes that highlight regional cuisine. There's rolling registration, but the summer class sizes are limited between 10-20 students.
Ages: 9-17
Session info: June 26-Aug. 11
Registration: online
Fees: $390 per child per week, $235 per child for mini-camp
Fairfax County Park Authority Summer Camps
The variety of programs for Fairfax County Park Authority Summer Camps seems as long as a Cheesecake Factory menu. But to give you an idea of what they offer, there are camps focused on science, sports, performing arts, nature, equestrian events, computers, arts … and the list goes on. A helpful hint from their site is to have your kids wear play clothes and sneakers every day so they're ready for whatever activities are in store. Even preschoolers can join the fun in the Kiddie Day Camp.
Ages: 3-17
Session info: July 5-Aug. 10
Registration: Starts April 24, early registration ends June 9
Fees: $34-$120
Flint Hill School
For the second year in a row, Flint Hill School will continue its partnership with Headfirst Summer Camps for Summer on the Hill. There will be a well-rounded offering of activities including academic, athletics and STEM camps with coding, robotics and more. Campers can also look forward to a creative project-based camp led by Headfirst called "Connect. Create. Discover." Headfirst will also bring back its successful Washington Nationals Baseball Camp.
Ages: Prekindergarten through seventh grade
Session info: June 19-Aug. 18
Registration: online
Fees: $295-$695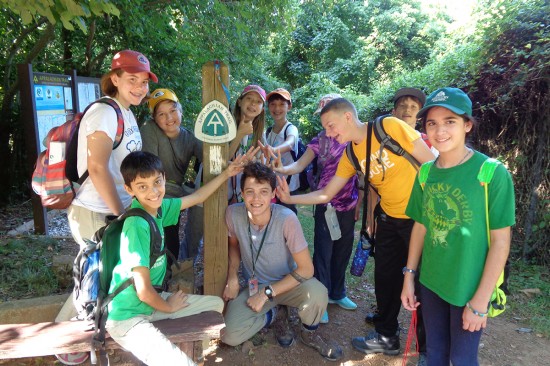 FONZ Nature Camp
Your child can learn how to respect, preserve and connect with nature in the center of the Shenandoah Valley. Budding scientists will appreciate learning up-to-date research and conservation science at the Smithsonian Conservation Biology Institute. According to the camp's website, campers learn how to identify, monitor and observe plants and animals in the park. With the help of professional scientists, they grasp how the environment around them connects with the global ecology.
Ages: Fifth through 10th grade
Session info: July 9-Aug. 12
Registration: online
Fees: $995-$1,095 per one-week session, $1,825-$2,095 per two-week session
Fun Bot Lab
This is the place to be for Lego-lovers and engineering enthusiasts. In either one- or two-week programs, attendees learn Lego robotics and digital media in lessons, projects and thrilling challenges. This year's themes are "Fun Bot City," "Star Wars," "Spells and Castles" and "Bots of Sea and Sky." Fun Bot Labs has locations in McLean and Annandale, and its newest location in Arlington is open as well.
Ages: Rising second through eighth grade
Session info: June 26-Aug. 11
Registration: Any registrations after April 7 must be paid in full
Fees: $475 for one-week program, $950 for two-week program
Ignite Kids Club
This year's name for Ignite's 11 weeks of camps is Summer of Discovery 2017. Every session has a different theme, a field trip, a field day and a pool day and includes access to the sports facility. For middle schoolers, there's the Ignite Inspired Leadership program that teaches them personal finance, health and wellness, time management, community projects and more valuable lessons. They even get to work with the younger camp participants to learn leadership skills. Their hard work is rewarded with a certificate and letter of recommendation.
Ages: Prekindergarten through eighth grade
Session info: June 12-Aug. 25
Registration: online
Fees: $195-$249 per week
Leport Schools
The goal for all of Leport Schools' programs is to foster a learning environment where each child can be an independent thinker and an embracer of adventure and can become "successful adults tomorrow." Through the Montessori method, campers learn and grow through creative, educational play. The national private school has seven locations in the NoVA area.
Ages: 18 months-6 years
Session info: June 19-Aug. 11
Registration: online
Fees: Available online
Lola's Laboratory
Lola Lombard's "fun-losophy" is all about getting artsy with some help from campers' creative imaginations. This weeklong summer camp combines expressive arts, theatrical scenes and immersive storytelling. Here, stories aren't stuck on paper: They come to life. Limited signed copies of Lombard's book Zoopossible, story and activity books and Lab T-shirts will be available for sale. Financial aid up to 75 percent off is available for those who qualify.
Ages: Rising kindergarten through seventh grade
Session info: Aug. 21-Sept. 1
Registration: online
Fees: $375-$400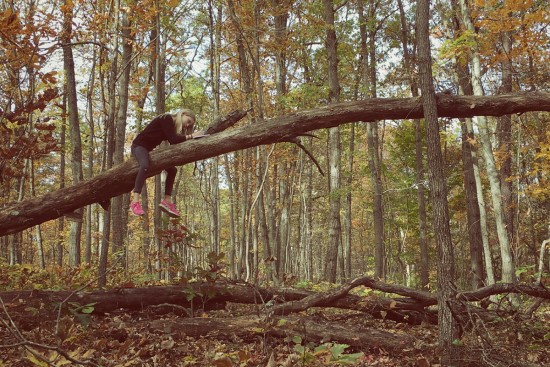 Mighty Girl Art Camp
Imagine going to a 30-foot teepee in a Northern Virginia meadow where there are plenty of art tools to use freely. Well that's not just a dream: It's a reality at Mighty Girl Art, where tween girls do just that to find new avenues of self-expression. This workshop is founded by artist Wendy Cook with the goal to create a welcoming community by encouraging self-discovery, girl power and strong self-esteem. Together, women and girls are stronger.
Ages: Tweens
Session info: Aug. 7-11
Registration: online
Fees: $175, art supplies included
Montessori School of McLean
The Montessori Method of teaching has been flourishing in Mclean since the early 1970s. Your children can join this unique program via the school's weekly summer camps. The themes cover a wide array of interests like science, dinosaurs, the environment, spanish, art and the animal kingdom. Campers can sign up for one, all or any combination of the themed weeks.
Ages: Primary school-age students
Session info: June 19-July 28
Registration: All tuition due no later than May 19
Fees: $50 per week, per class
Mulford Riding School
This summer camp is more than just riding horses. It gives a well-rounded approach to learning about all things equestrian. Kids practice feeding, grooming and cleaning the animals. They even get to play games on horseback and do barn activities like horse psychology and braiding and painting their steeds. At the close of camp, each kid gets a T-shirt and trophy for their successful completion.
Ages: 7+
Session info: June 26-Aug. 11
Registration: online
Fees: $525 per week, $10 extra per hour to extend for full day
Northern Virginia 4-H Camp
The Northern Virginia 4-H Education Center has been hosting camps since 1978. In a "socially positive environment" 2,000 kids learn and grow while having summer fun. Counselors guide campers with a wide array of outdoor activities. This year there are seven specialty camps: Mother-Daughter Weekend, Father-Son Weekend, Adventure Fridays, Horse Camp, Camp Corral (for military families), Parent/Child Cloverbud Camp and Home School Day Camp.
Ages: 5-15
Session info: June 11-Aug. 11
Registration: Varies by county
Fees: Vary by county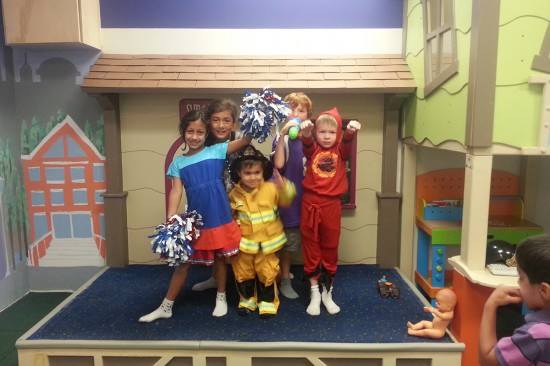 NoVA Play Labs
This organization is a place for children to accomplish three things: play and have fun, learn new skills and give back to the local community. From the morning through the afternoon, kids are entertained and engaged with "a good mix of fun and academics, learning and chill time and quiet activities and active play," according to the camp website. In short, it covers just about everything a kid needs to have a fun summer and not simply sit in front of the TV.
Ages: 5-14
Session info: June 16-Sept. 1
Registration: online
Fees: $350 per week
NoVA Writing Project
Rising writers in first through fourth grades will feel at literary home with the Early Writers Camp. Don't be fooled into thinking that this is an individualistic or quiet camp—the Northern Virginia Writing Project Teacher Consultants lead small-group activities where participation is highly encouraged. Those pens and pencils don't have to be abandoned until the school bell rings. Instead kids can devote time daily to their writing craft.
Ages: Rising first through 12th grade
Session info: July 10-21
Registration: online
Fees: $480-$530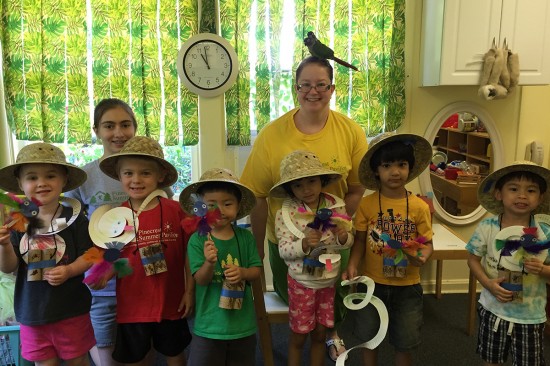 Pinecrest Pavilion
There will be 16 to 18 themed camps in Annandale that stick to Pincrest School's mission statement of "providing a positive social and emotional environment for student development." Last year some of the themes included "Super Sleuths" for aspiring detectives and "Silly Science" to teach the chemistry and physics behind kooky things like shrinking marshmallows and bouncing bubbles.
Ages: Preschool through sixth grade
Session info: June 26-Aug. 18 (either morning or afternoon)
Registration: online
Fees: $190 per week for each half-day camp
Primrose School
At this private school, the Summer Adventure Club doesn't just have participants—it has fearless explorers. Hunt for treasure in a deserted island, travel back in time or visit a D.C. museum at midnight. These programs have Primrose's Balanced Learning Approach that emphasizes "purposeful play and nurturing guidance" to keep kids learning in an engaged way. Contact your local chapter (there are six in NoVA) for more information.
Ages: 5-10
Session info: June 12-Aug. 25
Registration: online
Fees: $325 per week plus $150 registration fee
Prince William County Parks and Rec Summer Camps
There is no need to worry about scheduling conflicts because there are over seven program locations and hundreds of different camps in Prince William County. Last year there were plenty of field trip destinations including the Udvar-Hazy Center, the National Zoo and Leesburg Animal Park. From educational to active to artsy, there are field trips for any interest. The full-day camps have weekly themes so the excitement never dies down.
Ages: 2.5 to 17
Session info: June 19-Aug. 25
Registration: Registration opens March 6
Fees: $24-$395 per week
Randolph-Macon Academy
The Middle School Summer Enrichment Program is a rigorous academics camp that incorporates the fun of activities like sports, arts and crafts, volunteer work and laser tag. The students take four classes in the morning, and the activities listed above are during the afternoons, evenings and weekend. If your child is interested, he or she can apply with a school transcript and a letter of recommendation. Applications will be accepted until June 27 or until space runs out.
Ages: Sixth through eighth grade
Session info: July 2-July 28
Registration: Application available online. Then, an in-person or phone/video interview will be set up.
Fees: $4,480 per camper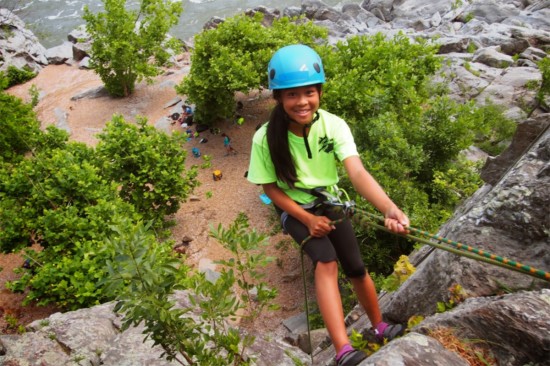 Sportrock Climbing Camp
There are three levels of summer camps: Beginners will learn the basics in Approach Camp, intermediate-level climbers will take their skills to the outdoors, and advanced outdoor climbers are challenged in the Summit Camp. If your kid doesn't want to commit to a week of camp, then the Day Camp is the perfect option. They'll learn rock climbing and climbing safety while taking part in games and team-building activities.
Ages: 6-14
Session info: June 19-Aug. 21
Registration: Closes 72 hours prior to the first day of camp
Fees: $80-$450
STEMTree Education Center
Don't let your kids' brains fry in the summer sun. Instead have them keep their noggins working at the STEMTree Education Center in Vienna. Each kid gets one-on-one instruction—no large classes to get lost in—for customized courses in science, technology and engineering. The science curriculum covers the learning requirements set by the state of Virginia so you know your child is preparing for the upcoming school year.
Ages: Kindergarten through 12th grade
Session info: June 26-July 28
Registration: online
Fees: $119-$499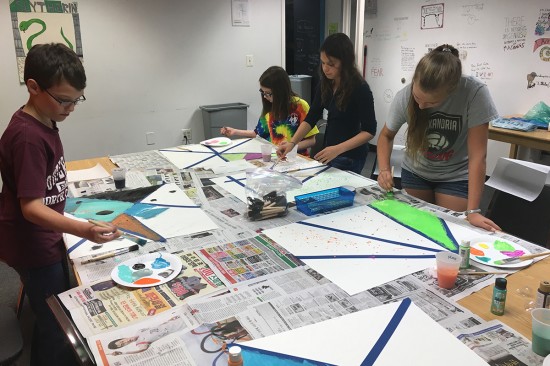 Summer Cove
This year's Summer Cove camp will host 20 different themes at the Howard Gardner School in Alexandria. The program focuses on middle school-aged kids with the goal to promote creativity, innovation and individuality. This is achieved through various outlets, including creative camps like baking and DIY projects, active camps like The Amazing Race and specialized camps such as filmmaking and photography. At such a transitional age, preteens are offered an environment to grow and make new friends.
Ages: Rising sixth through ninth grade
Session info: July 10-Aug. 11
Registration: online
Fees: $225-$250 per camper for each camp plus $25 registration fee
Summer Drama Camp with Pickwick Players
Kids learn every facet of theater from the stage performance to backstage production. They'll hone their acting skills and help with preparing props, costumes and the set. All of this preparation is for the grand finale of the camp: the musical show, which campers audition for. Last year's musical was the enchanting show Into the Woods.
Ages: 7-13
Session info: Will announce on website
Registration: online
Fees: Will announce on website
The Appalachian Mountain Club's Teen Wilderness Adventures
Running 26 years strong, The Appalachian Mountain Club has taught wilderness and survival skills in beautiful locations throughout New England, including Connecticut, Vermont, New Hampshire and Maine. The duration of the adventures can last from five to 20 days. There are youth adventures for younger participants, single- and multisport adventures and an ultimate adventures trip for older teens who are ready to learn more advanced skills.
Ages: 12-18
Session info: June 25-Aug. 20
Registration: online
Fees: Prices vary by program and for members and nonmembers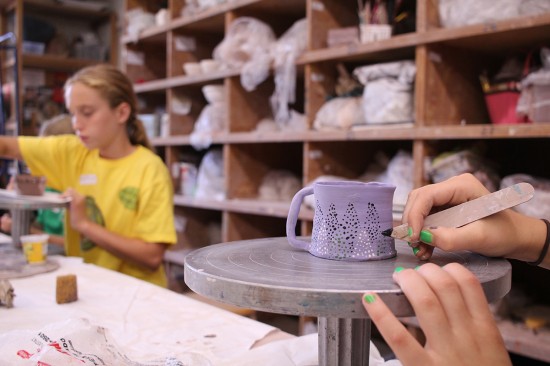 The Art League in Alexandria
With this nonprofit, kids delve into the visual arts with a new project each day, including drawing, painting, printmaking and sculpture. Camps run Monday through Friday, and there are half- and full-day options. There are also immersive programs called Specialty Camps, like Drawing Camp or Painting Camp. These focus on one particular medium and are a great option for children and teens who have already found their artistic passion. Not to worry if you're in a time crunch for summer camp registration because The Art League has a unique curriculum for each week.
Ages: 5+
Session info: June 19-Aug. 20 (half-day or full-day)
Registration: online
Fees: $155-$345 per week
TIC Summer Camps
Whether your child thrives on the soccer field or in the math classroom, they'll find a program they love with TIC's balance of technology and athletics. Campers pick one tech option per camp session; options include programming, robotics, circuits, graphic design and more. The sports program works a little differently with campers getting to experience three different sports daily on a rotating schedule. Besides the traditional sports, there are other games like Quidditch, Minecraft and Hunger Games.
Ages: 7-16
Session info: Dates vary by location (D.C. West, D.C. North, Virginia and Maryland)
Registration: online
Fees: $880 per camper per session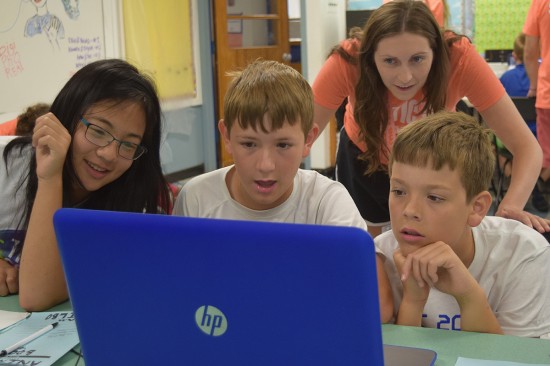 Top Kick Martial Arts
Convince your kid to put down the electronics to get more fit and confident with Top Kick this summer. Martial arts may be thousands of years old, but it still reaps high rewards for kids, such as learning how to handle stressful situations and building character for their bright futures. The martial arts studio has five locations in the Northern Virginia area: South Riding, Sterling, Broadlands, Leesburg and Purcellville.
Ages: 4-11
Session info: June 12-Aug. 18
Registration: online
Fees: $325 per week
Traveling Players Ensemble
Aspiring actors will take their theatrical art to the great outdoors. This classical training goes back to the roots of theater in ancient and medieval times. The "traveling" bit of the camp name comes from the practice of having the campers tour their show in multiple locations on the last week of camp. There's also a campout every Thursday where they'll learn proper camping techniques and truly become performing backpackers.
Ages: Third through 12th grade
Session info: June 26-Aug. 18
Registration: online
Fees: Varies based on camp chosen
Virginia State Parks YCC
Nature-lovers and hard workers will be rewarded with knowing they're helping conserve Virginia's beautiful state parks. Activities include restoring and preserving wildlife habitats, mapping, landscaping, water-quality testing and more. But there's also play with swimming, hiking and gazing at the stunning constellations. Lastly, teens will be given a $500 payment at the end of the camp.
Ages: 14-17
Session info: June 22-Aug. 11
Registration: Limited space of 10-12 members per group
Fees: None
Wakefield School
On a hilltop in The Plains sits Wakefield School, an independent college preparatory school. Their mission is to nurture liberal arts education with a content-rich curriculum and extracurricular activities, like the Summer Enrichment Experiences.
Ages: 4-18
Session info: June 19-July 28
Registration: online
Fees: $150-$800