Mt. Defiance Cidery & Distillery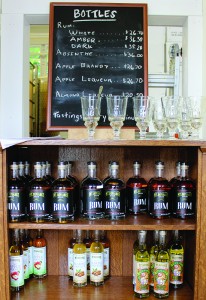 "Distilling is where science meets art," says Marc Chretien, who hired a retired NASA rocket scientist to run the spirits program at Mt. Defiance Cidery & Distillery.
Peter Ahlf still has a boyish sparkle at 56. Maybe it's his Renaissance man nature that keeps him energized. He can design shuttle missions, build furniture (see: distillery tasting room) and, now, turn grains and fruits into exquisite spirits.
Scrolling through dedicated chatrooms, finding enthusiasts who translated 200-plus-year-old French recipes and befriending gardeners growing grand wormwood is how Ahlf came up with his version of absinthe. Because as the whiskey and bourbon age …
"There's no substitute for time," says Chretien, the owner and cider-maker at Mt. Defiance. "How are you going to survive for the two years it takes to let bourbon sit?"
Ahlf's answer is quicker-to-market spirits: absinthe, amaretto and a slew of liqueurs, brandy, rum and vermouth. On one late spring morning, Ahlf brought together a tasting panel with the likes of bartenders, winemakers and amateur mixologists (aka friends with great palates) to compare almost 20 versions of his forthcoming sweet vermouth.
Vermouth's revival is "an urban hipster thing," Chretien says, but it also falls under Mt. Defiance's purview of focusing on the renewed. Rum, once the dominant drink in this country (before whiskey took over), is finding new fans with craft versions. Now that some states have lifted the ban on the cultivation of black currants, cassis can once again be made in this country. (Ahlf sources his from a farm in New York.) And the famously illicit absinthe, now about a decade into its legal resurrection in this country, is the flagship product from Mt. Defiance.
Just like the '90s revival of dark lipstick and choker necklaces, what's old is new again.
INVENTORY
• Absinthe
• Apple Brandy
• Amaretto
• Almond liqueur
• Apple liqueur
• Cassis
• White Rum
• Amber Rum
• Dark Rum
NOTES
Established: 2014
Tours: Free
Tasting: Spirit flights $7, cocktail flights $10, absinthe flights $11
Purchase: On-site and in ABC Stores
Address: 207 W. Washington St., Middleburg